Laboratory of Neural Development and Intellectual Disorders

Dual hemisphere fate mapping using in utero electroporation
The Haydar Laboratory is focused on forebrain development and function.  We use a wide range of molecular and cellular techniques to understand how the brain is formed and how cellular and molecular determinants influence cognition.  We have particular interest in how brain development is modified in developmental disorders such as Down syndrome, epilepsy and autism.  In collaborative studies, we use a variety of techniques, including gene expression profiling, in utero electroporation, patch clamp electrophysiology, laser scanning microscopy and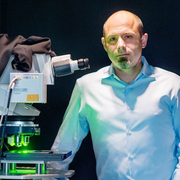 cognitive behavioral testing to study this problem.
A major goal of the lab is to discover the mechanisms by which forebrain stem and progenitor cells generate the extraordinary level of neuronal diversity and circuit complexity during development.  We are also exploring how the hundreds of triplicated genes in Down syndrome lead to motor dysfunction and intellectual disability.
Our research is supported by several NIH grants and our projects include collaborations with investigators at the Uniformed Services University of the Health Sciences (Bethesda, MD), Yale University School of Medicine (New Haven, CT) and Tufts University School of Medicine (Boston, MA).

3D-reconstruction of multiplex fate mapping (see Tyler et al., 2013)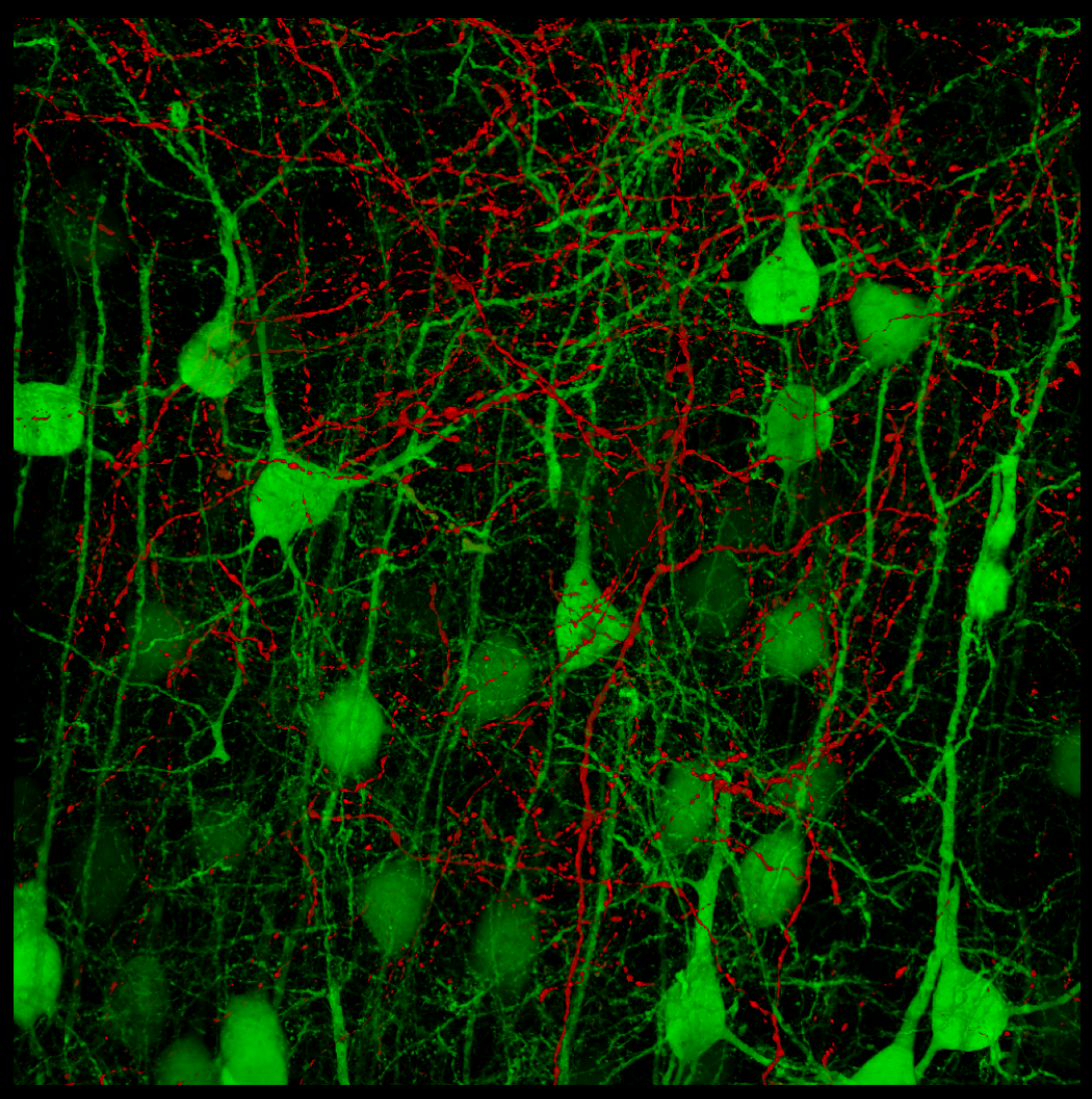 Callosal axons (red) from contralateral hemisphere infiltrating cortical layer 2/3 pyramidal neurons (green)
Methodology
Cognitive Testing
We have a Noldus analysis system for testing rodent cognitive and motor behavior which includes various water mazes, open field testing and neonatal milestones analysis.
Confocal/Multiphoton Microscopy
The Laboratory hosts and directs the BU Multiphoton microscopy Core which consists of a Zeiss LSM 710 NLO microscope coupled to a short pulse-width ultra-fast titanium sapphire laser.  This system has been optimized for in vivo and in vitro time-lapse imaging studies as well as for 3D scanning of fixed preparations.
Image Analysis
We use several analysis programs to reconstruct and quantify fluorescence image volumes.  The capabilities include following cells in four-dimensional time lapse studies, quantifying the numbers and distributions of cells in an image and deconvolution of image stacks to count and classify dendritic spines.
In utero Electroporation (IUE)
We use IUE to introduce DNA expression vectors into fetal neural precursor cells to determine the role of a particular gene or mutation in brain development.  This technique allows us to image and/or quantitatively measure the consequences of gene expression directly in the three-dimensional environment of the developing brain.
Gene Expression Profiling
We are using fluorescence activated cell sorting and RNA sequencing to understand how gene expression patterns influence brain development in both normal brain and in brains of humans and mice with Down syndrome.
Immunohistochemistry
We use immunohistochemistry to localize proteins of interest within sections of the developing and mature nervous system.  Usually the antibody staining is followed by fluorescence imaging and quantification.
Cell Proliferation Assays
We use various techniques, including immunohistochemistry and in utero electroporation, to measure the proliferation of neural precursor cells both in vivo and in culture.
Electron Microscopy
Ultrastructural studies are conducted to examine subcellular elements of nervous system anatomy, including the establishment and maintenance of myelin.
Recent Publications
Goodliffe, J.W., Olmos-Serrano, J.L., Aziz, N.M., Pennings, J.L., Guedj, F., Bianchi, D.W. and Haydar, T.F. (2016) Absence of prenatal forebrain defects in the Dp(16)1Yey/+ mouse model of Down syndrome. Journal of Neuroscience 36(10):2926-44.
Olmos-Serrano, J.L., Tyler, W.A, Cabral, H.J. and Haydar, T.F. (2106) Longitudinal measures of cognition in the Ts65Dn mouse: Refining windows and defining modalities for therapeutic intervention in Down syndrome. Neurol. 279:40-56.
Olmos-Serrano, J.L.1, Kang, H.J.1, Tyler, W.A.1, Cheng, F.1, Zhu, Y., Silbereis, J.C., Pletikos, M., Jankovic-Rapan, L., Cramer, N.P., Galdzicki, Z., Goodliffe, J., Peters, A., Sethares, C., Haydar, T.F.* and Sestan, N.* (2016) Developmental transcriptome of human Down syndrome brain reveals defects in oligodendrocyte lineage progression and myelination. Neuron, 89: 1-15. 1, co-first authors; *, co-corresponding authors.
Asai, H., Ikezu, S., Tsunoda, S., Medalla, M., Luebke, J., Haydar, T., Wolozin, B., Kugler, S., Ikezu, T. (2015) Depletion of microglia and inhibition of exosome synthesis halt tau propagation. Nature Neuroscience, Oct. 5. doi: 10.1038/nn.4132. [Epub ahead of print].
Bartesaghi, R., Haydar, Tarik F., Delabar, J.M., Dierssen, M., Martinez-Cue, C. and Bianchi, D.W. (2015) New perspectives for the rescue of cognitive disability in Down syndrome. Journal of Neuroscience, 35(41):13843-52.
For more publications, please see Dr. Haydar's faculty page.