Bio-imaging Informatics Lab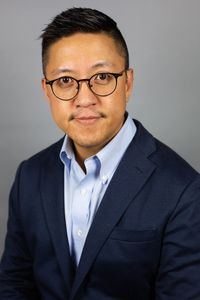 Bio-imaging Informatics lab is focused on developing new types of imaging features that allow us to assess previously undetectable changes of healthy and diseased brain structure and function. We use a wide range of neuroimaging techniques including diffusion magnetic resonance imaging (MRI), functional MRI, Positron Emission Tomography, 3D near infrared optical tomographic imaging and Computerized tomographic imaging. Along with improvements in neuroimaging techniques, we study computational methods and infrastructure on effective uses of biomedical imaging data for scientific inquiry, problem solving and decision making, motivated by efforts to improve human health. We have particular interest in studying of brain-immune interactions in aging.
Research: Imaging and Informatics
---
Diffusion MRI

The tissue water diffusion information can be potentially sensitive to many factors including axons, dendrites as well as myelinated fibers. Recent studeis based on diffusion MRI have shown that the diffusion imaging can provide a sensitive measurement to astroglial plasticity induced by a learning taskt or mild traumatic brain injury. We have been working on developing high order diffusion magnetic resonance imaging framework (hd-MRIf) to reconstruct brain water diffusivity information with improved sensitivities. The hd-MRIf was applied to assess brain microstructures and also, demonstrated a record of successful application of hd-MRIf in in-vivo imaging works.
Functional Connectivity Imaging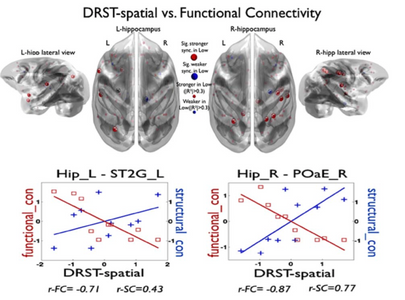 Resting-state fluctuations in the blood oxygenation level-dependent signal from functional MRI may provide  novel insights on the basis of neural functional architecture. Recent techniques on assessing functional connectivity analysis have provided valuable data resources for delineating a variety of neuropsychiatric disorders. This technique can also be valuable for discriminating the mild disease progression symptoms. We have recently developed a bimodal imaging framework on structural and functional network analysis and provided insight into how changes in the efficiency of structural and functional network connectivity can provide a marker for diffuse deterioration the complex connections in the brain.
Brain Morphometry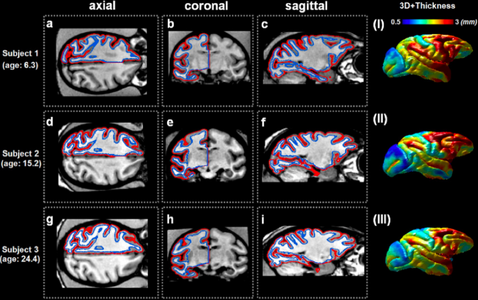 Brain morphometry is a technique involving the quantification of structural characteristics of the brain, and changes thereof, in individual or group subjects. Brain morphometry has successfully shown a detailed figure of morphological changes in the brain and its possible relationships to various psychological, behavioral, clinical or demographic factors. We are developing brain morphometry techniques for studying animal models.
In- & Ex-vivo Image fusion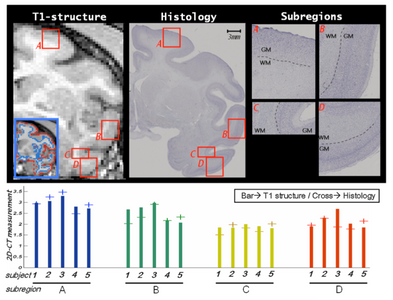 Histological sectioning and MRI are two complementary techniques that can provide both, ultra micro-scale validation on tissues and sequential high throughput in-vivo monitoring of biological processes. Interfacing in-vivo scans to the histological data requires a series of image processing steps including down-sampling, linear and nonlinear transformations. Based on those processing steps, information collected from in-vivo scans and be transferred into histological scans and vice versa. We're developing in-house programs to perform such image processing steps.
ML in Neuroimaging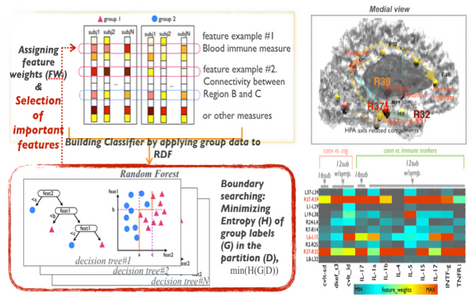 Machine learning methodologies have been essential for identifying meaningful patterns within the massive amount of data we collected. We are applying various types of machine learning methods to incorporate multiple biomarker data in order to generate the individual subject level information.
GABA Quantification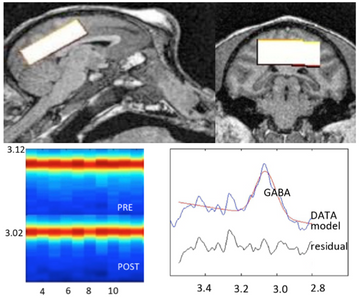 We are working on partial volume adjusted GABA quantification framework for studying animal models.
Flow Imaging
We have been working on developing MR imaging and analyses framework on imaging blood and CSF flow using pCASL, pcMRI and pencil beam imaging.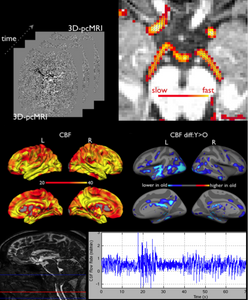 Collaborative Research
---
Gulf War Illness
Symptoms of Gulf War Illness (GWI) typically include persistent headaches, widespread pain, fatigue, memory and concentration problems and other difficulties in this complex multi-system disorder. Converging evidence suggests that a clear understanding of brian-immune interactions can help us understand the origin of these symptoms. Biomarkers from different body systems affected in GWI including brain, immune interactions can provide a better understanding of GWI etiology over methods using a single marker or a simple concatenation of markers. The primary aim is to develop a novel supervised machine learning framework based on multi-modal biological measurements to establish a single subject level diagnostic inference marker of GWI.
Dietary Quality and Cognitive Aging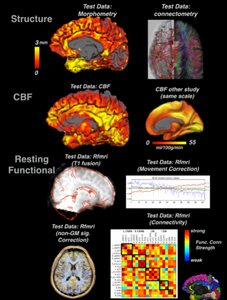 Consumption of highly processed foods contributes to cognitive decline with aging. There is evidence that highly processed foods contribute to high intake of bioavailable P though P-based food additives. While an essential mineral, excess P may elevate CVD risk and vascular risk factors predict cognitive decline. The goal is to study associations between indicators of P status (serum P, klotho, FGF23, and PTH), vitamin B6 intake, plasma PLP, cognitive decline and brain structure, brain infarcts, white matter integrity and connectivity; and mediation by inflammation and insulin resistance.
DBS in Epilepsy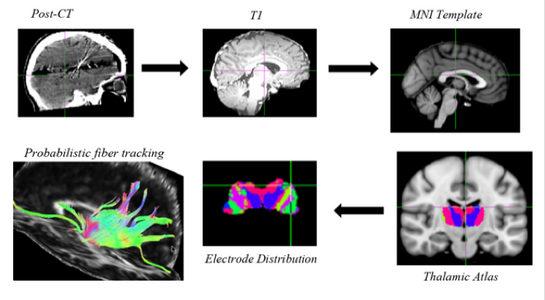 Deep brain stimulation (DBS) is a novel tool that has a potential to treat patients with medically refractory epilepsy who are not surgical candidates. Were applying multi-modal imagin to develop image guided DBS planning for better treatment outcomes. We also have interests on studying potential impacts of severe and repetitive seizures on neurodegeneration.
Curcumin Study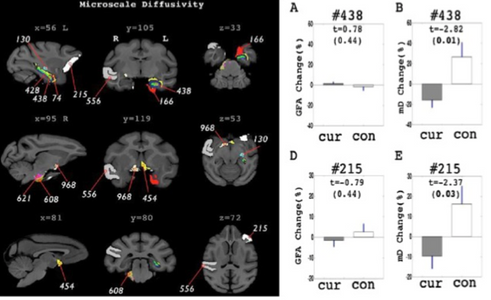 Curcumin treatments on non-human primates: Multi-modal imaging based treatment effect assessments.
LED Light Treatments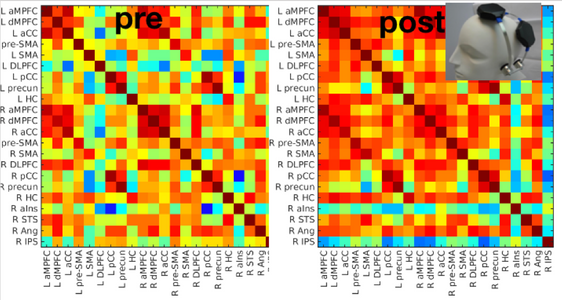 In-vivo monitoring of LED light treatments
Exosome in Stroke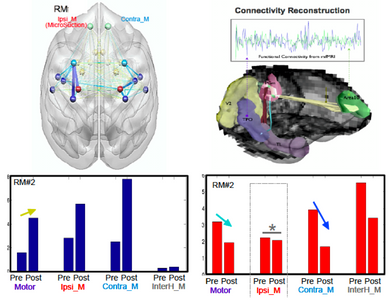 In-vivo assessments on Exosome treatment on recovery of fine motor functions in stroke.
Resources:
---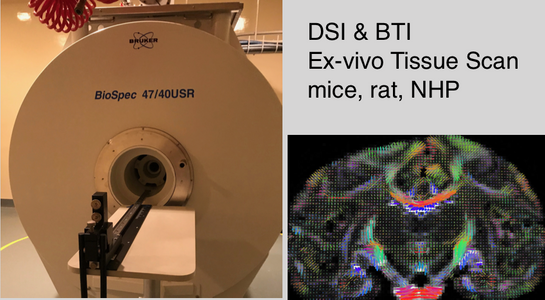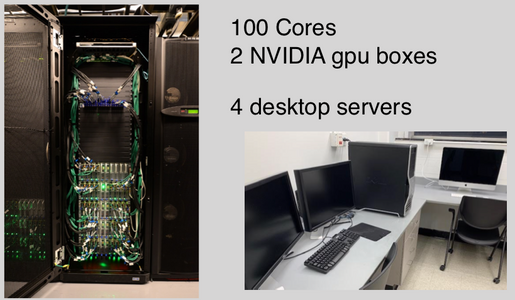 Members
---
BIL offers trainings on image acquisition, image processing, basic to advanced computing skills and visualization techniques.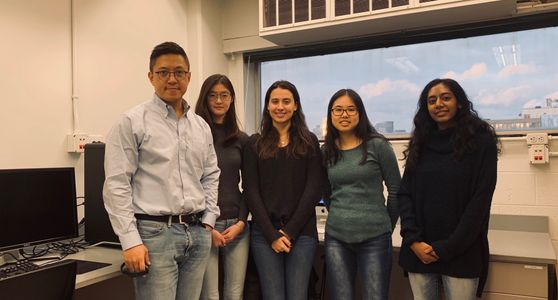 Principal Investigator
Research Assistants 
Jasmine Cheng
Wendy Guo
Alekha Kolli
Nada Naguib
Visiting Scholars
Clara Zundel
Samantha Calderazzo
Publications
1. Long-term effects of curcumin in the non-human primate brain. Koo BB, Calderazzo S, Bowley BGE, Kolli A, Moss MB, Rosene DL, Moore TL. Brain Res Bull. 2018 Sep;142:88-95. doi: 10.1016/j.brainresbull.2018.
2. Koo BB, Michalovicz LT, Calderazzo S, Kelly KA, Sullivan K, Killiany RJ, O'Callaghan JP. Corticosterone potentiates DFP-induced neuroinflammation and affects high-order diffusion imaging in a rat model of Gulf War Illness. Brain Behav Immun. 2018 Jan; 67:42-46.View Related Profiles. PMID: 28782715.
3. Farrar DC, Mian AZ, Budson AE, Moss MB, Koo BB, Killiany RJ. Retained executive abilities in mild cognitive impairment are associated with increased white matter network connectivity. Eur Radiol. 2018 Jan; 28(1):340-347.View Related Profiles. PMID: 28695358.
4. Drew DA, Koo BB, Bhadelia R, Weiner DE, Duncan S, la Garza MM, Gupta A, Tighiouart H, Scott T, Sarnak MJ. White matter damage in maintenance hemodialysis patients: a diffusion tensor imaging study. BMC Nephrol. 2017 Jul 05; 18(1):213. PMID: 28676035.
5. Bauer CM, Zajac LE, Koo BB, Killiany RJ, Merabet LB. Age-related changes in structural connectivity are improved using subject-specific thresholding. J Neurosci Methods. 2017 Aug 15; 288:45-56.View Related Profiles. PMID: 28647426.
6. Zajac L, Koo BB, Bauer CM, Killiany R, Behalf Of The Alzheimer's Disease Neuroimaging Initiative. Seed Location Impacts Whole-Brain Structural Network Comparisons between Healthy Elderly and Individuals with Alzheimer's Disease. Brain Sci. 2017 Apr 06; 7(4).View Related Profiles. PMID: 28383490; DOI: 10.3390/brainsci7040037;.
7. Bauer CM, Hirsch GV, Zajac L, Koo BB, Collignon O, Merabet LB. Multimodal MR-imaging reveals large-scale structural and functional connectivity changes in profound early blindness. PLoS One. 2017; 12(3):e0173064. PMID: 28328939; DOI: 10.1371/journal.pone.0173064;.
8. Corinna M. Bauer, Lauren E. Zajac, Bang-Bon Koo, Ronald J. Killiany, Lotfi B. Merabet. Age-related changes in structural connectivity are improved using subject-specific thresholding. Journal of Neuroscience Methods. 2017; 288:45-56.
9. McKenna F, Koo BB, Killiany R. Comparison of ApoE-related brain connectivity differences in early MCI and normal aging populations: an fMRI study. Brain Imaging Behav. 2016 Dec; 10(4):970-983.View Related Profiles. PMID: 26409470.
10. Naeser MA, Martin PI, Ho MD, Krengel MH, Bogdanova Y, Knight JA, Yee MK, Zafonte R, Frazier J, Hamblin MR, Koo BB. Transcranial, Red/Near-Infrared Light-Emitting Diode Therapy to Improve Cognition in Chronic Traumatic Brain Injury. Photomed Laser Surg. 2016 Dec; 34(12):610-626.View Related Profiles. PMID: 28001756; DOI: 10.1089/pho.2015.4037;.
11. Won YI, Chung CK, Kim CH, Park CK, Koo BB, Lee JM, Jung HW. White Matter Change Revealed by Diffusion Tensor Imaging in Gliomas. Brain Tumor Res Treat. 2016 Oct; 4(2):100-106. PMID: 27867919.
12. He X, Koo BB, Killiany RJ. Edited Magnetic Resonance Spectroscopy Detects an Age-Related Decline in Nonhuman Primate Brain GABA Levels. Biomed Res Int. 2016; 2016:6523909.View Related Profiles. PMID: 27660760.
13. Margaret A. Naeser, Paula I. Martin, Michael D. Ho, Maxine H. Krengel, Yelena Bogdanova, Jeffrey A. Knight, Megan K. Yee, Ross Zafonte, Bang-Bon Koo, John G. Roubil, Michael R. Hamblin. Handbook of LLLT, chap. 39. Low Level Light Therapy for Rehabilitation in Traumatic Brain Injury and Stroke, including Chronic Aphasia. Pan Stanford Publishing (in press). 2016.
Full lists available at: https://profiles.bu.edu/Bangbon.Koo