Laboratory of Intellectual Disorders (Zeldich Lab)
Our Research
Our lab is focusing on studying the cellular and molecular machinery mediating the connection between Down Syndrome and Alzheimer's disease. We are utilizing 2D and 3D cellular models derived from human induced pluripotent stem (iPS) cells to investigate molecular mechanisms leading to neurodegeneration and demyelination in Alzheimer's disease, ischemic stroke, and aging. Using iPS cells, we are trying to identify molecular determinants for the cell lineage commitment, development, and maturation in a number of neuropathological conditions. The main goal of our research is to understand the crucial changes leading to molecular and cellular dysfunction in order to identify potential therapeutic targets and to develop ameliorative strategies.
In addition, we are actively collaborating with Drs. Luebke, Medalla, Moore, and Rosene in investigating the molecular mechanisms that are responsible for the differences in cellular and synaptic properties of cortical networks in physiological and age-related processes.
Our lab utilizes a combination of cutting-edge cellular and molecular approaches, such as single cell transcriptome profiling, Patch-seq, molecular cloning, immuno-labeling, confocal microscopy and more.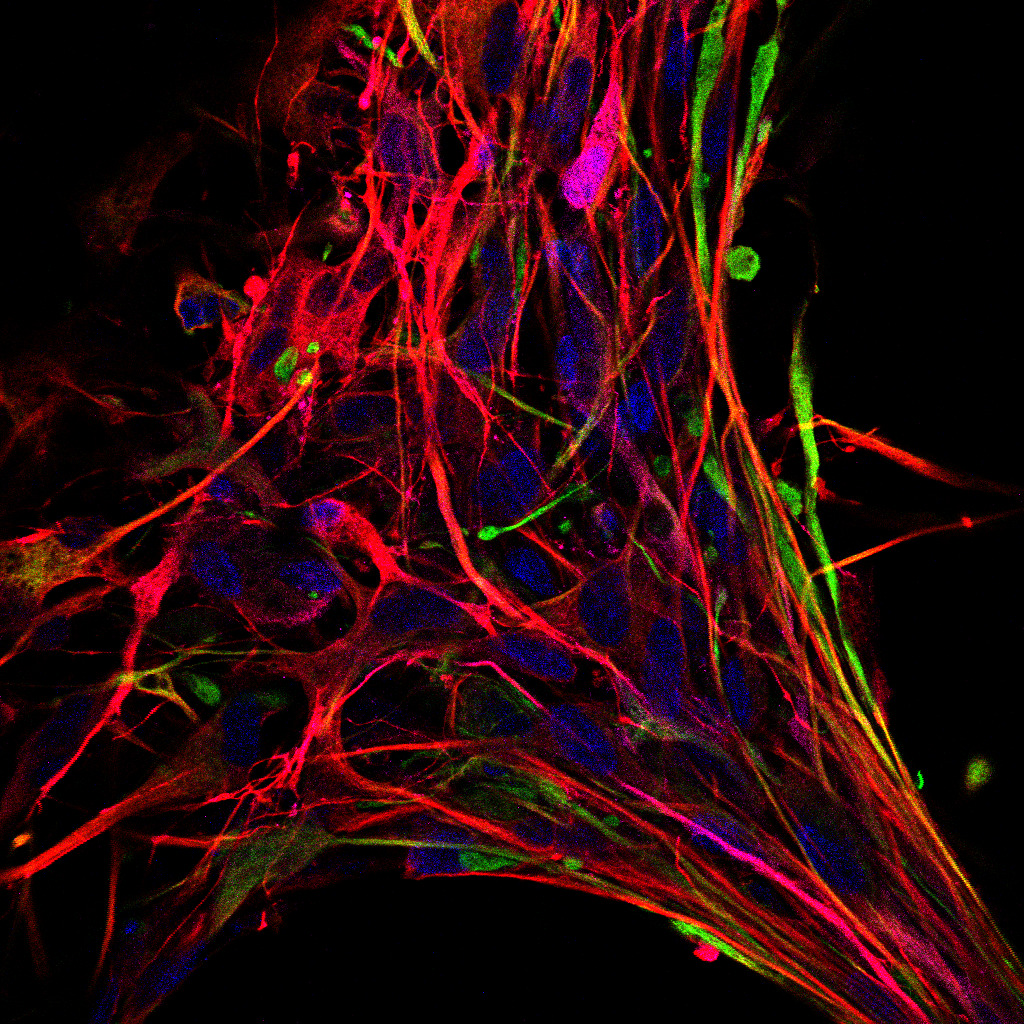 Myelin disruption is an early pathological feature of Alzheimer's Disease (AD) that often precedes the formation of amyloid beta (Aβ) plaques and neurofibrillary tangles within the cerebral cortex. Converging evidence suggests a link between oligodendrocyte maturation and myelin stability in the development of AD-related pathology. Altered expression of myelin-related genes, delayed oligodendrocyte maturation, and disruptions in myelin production have been found in humans with DS and DS-mouse models. DS is caused by the triplication of human chromosome 21, leading to abnormal fetal brain development, white matter abnormalities, reduced neuronal connectivity, and intellectual disability. In adulthood, individuals with DS develop AD earlier than the typical population and comprise the largest AD patient group under age 65. The triplicated genes on chromosome 21, tied with the prevalence of AD in DS conceptually and temporally link the myelin irregularity and later-developing AD pathology.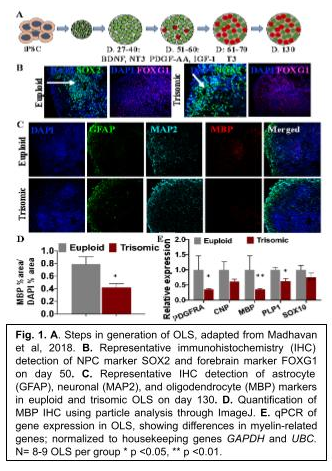 In our studies, we use DS patient-derived oligocortical spheroids (OLS) (Fig. 1A,B) to test whether altered expression of myelin-related genes and proteins influence the production and maintenance of myelin and the development of AD pathology.
Our euploid and trisomic OLS contain astrocytes (GFAP staining), neurons (MAP2 staining), and mature, myelinating oligodendrocytes expressing MBP (Fig. 1C). We observed a significantly reduced expression of MBP in trisomic OLS on day 130 (Fig. 1C, D) and diminished expression of OL markers MBP, PLP1, and PDGFRα in trisomic OLS as compared to the euploid control (Fig. 1E).
In our studies, we perform comprehensive biochemical and histological examinations of extracellular Aβ deposits, hyperphosphorylated tau, cellular viability, and axonal integrity in trisomic and euploid OLS (Fig. 2A-F) and correlate them with the measurements of oligodendrocytes maturation and myelin integrity. Our studies involve single cell RNA-seq profiling of euploid and trisomic OLS and identification of the key dysregulated genes as a common denominator between AD and DS (Fig. 2G).
Back
Through the collaboration with Drs. Luebke and Medalla we have established the extremely novel and technically-challenging Patch-seq approach to correlate functional properties of different populations of neurons in cerebral cortex with their molecular signature. Our lab leads the molecular part of the experiments, generating cDNA from individually isolated neurons and subsequent library preparation and sequencing (Fig. 1). One of the efforts is directed to obtain transcriptomic and functional profile of L3 cortical pyramidal cells in the LPFC, ACC and V1 and to assess the differential vulnerability of these neurons to age-related changes in monkeys. Another effort is dedicated to the assessment of the molecular signature that underlies the functional diversity of lamina-specific anterior cingulate cortex (ACC) cell types and ACC projection neurons directed to the amygdala, which are implicated in regulating emotional stress.
In addition, we are currently in the process of analyzing single nuclei RNA-seq profiling of three regions of primate brain in order to elucidate spatial and laminar differences in gene expression within and between young and old animals.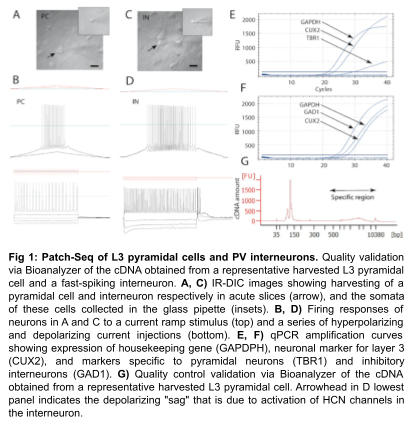 Back
Mesenchymal stem cells (MSCs) have been shown to reverse or slow neurodegenerative, age and injury-related pathology, suppress inflammation and facilitate tissue repair, plasticity and remyelination in animal models. Our collaborators, Dr. Tara Moore and Dr. Maya Medalla showed that MSC-derived extracellular vesicles (EVs), the putative active product of MSCs, promote recovery of motor function in monkeys and rodents after ischemic injury, facilitate microglial shift towards restorative functions as well as promote myelin plasticity and remyelination. While the animal models are indispensable for initial design and testing of therapeutics, human stem cell derived in vitro models provide a unique opportunity for target validation prior to clinical testing.
In our studies, we generated oligocortical spheroids (OLS) containing neurons, astrocytes, and oligodendrocytes to elucidate molecular mechanisms related to injury and recovery in human cells. Furthermore, our OLS generated from embryonic stem cell line are engineered to express tdTomato under the control of the endogenous PDGFRα receptor. Using this system, we are able to assess the pro-myelinating effect of EVs demonstrated in vivo and to decipher the therapeutic link between EVs and the myelin producing cells across the range of developmental stages.
In addition, using our OLS system we are capable to mimic the stroke conditions through the induction of oxygen-glucose deprivation (OGD) and interrogate the effect of potential therapeutics on brain cell viability, oxidative damage and myelin biology following ischemic conditions.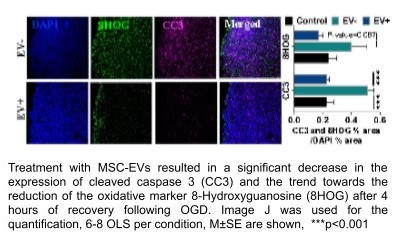 Back
Lab Members
As of 10/17/21
Ella Zeldich, PhD
Lab Director
Jenny Klein
PhD Candidate
Natalie Campbell
Master's Student
Sanjeev Rampam
Biomedical Engineering Graduate
Yesha Patel
Undergraduate Intern
Cecila Downs
Undergraduate Student
Alumni
As of 10/17/21
Zeldich Lab News
As of 11/3/21
Contact Us
Zeldich Lab
780 Harrison Ave., R-903
Boston Massachusetts, 02118
Phone: 617-358-0811
Email: ezeldich@bu.edu