Anatomical Gifts
FAQs
Donating one's body to medical science is often premeditated and considered the ultimate selfless act. Often times many prospective donors ask very similar questions and here you will find a few of them.
How to Donate
Any competent person over the age of 18 years, can arrange to donate their body for medical education and research. For an official donation kit, please call 1-617-638-4245.
Informational Video
Our Anatomical Gifts Coordinator, Mr. Robert Bouchie, discusses the anatomical gift process and explores the motivation for body donation with a prospective donor in this 7 minute video.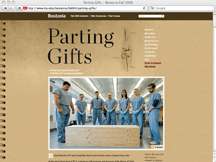 Featured Articles
The Anatomical Gifts Program was the subject of a feature article in Bostonia magazine. Visit the Fall '09 issue website to read the article and view the companion video.