How to Donate
Any competent person over the age of 18 years, can arrange to donate their body for medical education and research. For an official donation kit, please call 1-617-358-2105.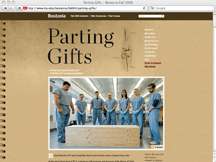 Registering to be a donor is a system of forms that can be sent to an inquiring individual by e-mail or postal mail. Once they are reviewed and properly signed, they must be remitted to the respective medical school of an individual's choice. Once the forms are received by the medical school they are filed and a card indicating their receipt will be sent to you. This "donor card" should be carried along side a driver's license or a similar identification card. For an official donation kit, please call 1-617-358-2105.
Featured Articles
The Anatomical Gifts Program was the subject of a feature article in Bostonia magazine. Visit the Fall '09 issue website to read the article and view the companion video.
FAQs
Donating one's body to medical science is often premeditated and considered the ultimate selfless act. Often times many prospective donors ask very similar questions and here you will find a few of them:
Q. How do I donate my body to Boston University School of Medicine?
A. Any person above the age of 18 can legally fill out an Anatomical Gift Form. Once we have your proper mailing address, we will send you out all of the necessary paperwork. The brochure and forms are self explanatory and your remitted forms are considered a "registry" stating you are a prospective donor. (The signed forms are not contractual, and do not bind the donor, or their estate, to a "must donate when you pass" situation). For an official donation kit, please call 1-617-638-4245.
Q. How long will my donated body be at Boston University School of Medicine?
A. Within 24 hours of your death, your body will be brought to the Medical School and embalmed immediately. For the next 12-15 months you will remain at the Medical School being used for the instruction of medical education.
Q. How much will it cost to donate my body?
A. Boston University will pay for the transportation from your point of death to the Medical School (within the six states of New England). When studies have ended Boston University will pay for the cremation, and delivery of your cremains to your desired place of interment (next of kin, power of attorney, family plot at your cemetery,etc.). The fees that your estate will be responsible for will be any public notifications (obituary in newspaper, etc), also, any certified copies of your death certificate (for Insurance purposes, banking accounts, etc.) Some funeral homes that handle the death will have small fees for their time and the amount is determined by the Individual funeral home.
Q. For what reason will my body not be accepted?
A. Any registered donor that has any contagious property to his/her blood (HIV, Hepatitis, Jakob-Creutzfeldt, Meningitis, etc.) will not be accepted. Also, previously embalmed bodies, autopsied bodies, donors to a regional organ bank, etc. will not be accepted.
Q. Do my past medical surgeries have any effect on my acceptance?
A. No.