Current Trainees
Clive Baveghems, Ph.D.
Structural Remodeling of HDL Proteins in Patients with Diabetes Mellitus
(July 2017-present; Olga Gursky, PhD; mentor)
Dysregulation of plasma high-density lipoproteins (HDL) is implicated in diabetes mellitus and cardiovascular disease. Structurally, HDL forms a heterogeneous population of mature spherical and nascent discoidal particles 8-12 nm in diameter, consisting of lipids and surface apolipoproteins. The major HDL proteins are apoA-I and apoA-II. ApoA-I provides a structural scaffold and a functional ligand on the particle surface, and apoA-II stabilizes the HDL particle and modulates its functions. We are probing the structural and compositional changes that occur in these lipoproteins due to the onset of diabetes. Our goal is to identify and investigate novel biochemical mechanisms involved in HDL remodeling associated with disease. In ongoing studies, blood samples were collected from cohorts of patients who were normolipidemic and normoglycemic (NL-HDL), diabetic patients who maintained good glycemic control due to medication (GC-HDL), and patients with poor glycemic control prior to receiving medication (PC-HDL). Each cohort consists of 20-25 pooled samples that were frozen at -80ºC immediately after fractionation. Lipoprotein fractions are studied for biochemical composition, structure and stability by using circular dichroism spectroscopy, SDS and native gel electrophoresis and Western blotting, and negative staining electron microscopy. Current results suggest an increased degradation rate of HDL proteins in the PC-HDL group when compared to GC-HDL or NL-HDL. Recent Matrix Assisted Laser Desorption Ionization Time of Flight mass spectrometry (MALDI-TOF MS) data confirm the absence of any post-translational modifications in all major apolipoproteins between the normal and diabetic group. Furthermore, irrespective of the cohort, there is an overall correlation between increased triglyceride content and loss in protein secondary structure and stability. We are currently expanding studies of these patient-derived samples with the ultimate goal of elucidating the biochemical, biophysical and structural underpinnings for changes in lipid and apolipoprotein metabolism associated with diabetes and cardiovascular disease.
Poster Presentation:
Clive Baveghems; Shobini Jayaraman; Olga Gursky, Structural Remodeling of HDL Proteins in Patients with Diabetes Mellitus: Evans Department of Medicine Research Days 2017, Boston University School of Medicine, Boston MA, 2017.
Recent Publication/Previous Work:
Baveghems, C. L.; Anuganti, M.; Pattammattel, A.; Lin, Y.; Kumar, C. V., Tuning Enzyme/α-Zr (IV) Phosphate Nanoplate Interactions via Chemical Modification of Glucose Oxidase. Langmuir 2018, 34, 480-491.
Nicholas Chavkin, Ph.D.
Cell Cycle Regulation in Vascular Development and Disease
(July 2017-present; Ken Walsh, PhD; mentor)
Development and maintenance of a vascular plexus requires specification of endothelial cells towards arterial or venous cell fates.  Regulated timing of specification is necessary to develop intricate vascular patterns, and maintenance of endothelial cell specification promotes healthy vasculature.  However, endothelial cells can become dysregulated in response to vascular injury.  The mechanisms of endothelial cell specification, maintenance,  and response to injury are not well understood.  Recently, our lab has shown a role for cell cycle regulation in arterial specification of endothelial cells.  Control of cell cycle has been shown to be important in stem cell differentiation, and recently in the differentiation events of other specified cell types.  To investigate this further in endothelial cells, we are using cell cycle reporter mice and cell lines to relate cell cycle regulation to specification events in development.  Furthermore, we are investigating the role of cell cycle control of endothelial cells in response to vascular injury models.  With these studies, we hope to discover new regulatory mechanisms in vascular development and injury.
Publication:
Attendance in meeting:  North American Vascular Biology Organization Annual Meeting, Asilomar, CA (October 15-19, 2017)
Educational enrichment:  "Science Writing for Grants and Scientific Manuscripts" presenter Angelika Hofmann, PhD, Yale University
Seng Kah Ng, Ph.D.
Involvement of Mechanotransduction in Platelet Production:  The Role of Piezo Proteins
(July 2016- present; Katya Ravid, DSc/PhD; mentor)
Platelets play a central role in thrombosis, and, hence, in cardiovascular disease. Regulators of platelet production and activation bear on this pathology. The goal of Dr. Ng research is to study the role of mechanosensors, particularly of Piezo proteins in sensing the extracellular matrix (ECM) towards control of calcium mobilization and spreading of megakaryocytes (MKs) (the platelet precursors) as they produce platelets. Once activated by mechanic sensing of the ECM, Piezo1 and 2 allow the entry of extracellular calcium into the cells. Calcium signaling pathway is known to allow the attachment of MKs to the ECM and is also a regulator of platelets activation. Dr. Ng has identified expression of piezo1 and 2 in MKs of wild type mice by qRT-PCR. GATA-1 is an X-linked transcription factor that regulates MKs differentiation and pro-platelets formation. In GATA-1 (low) transgenic mice model, the mice develop myelofibrosis with an increase in MKs proliferation but the MKs tends to be of lower ploidy, and importantly, platelet number is reduced by 90%. Interestingly, these mice do not express piezo2 mRNA. This suggests a regulation of Piezo2 by GATA-1 and the possibility of specific function of Piezo2 proteins in platelet production in lieu of high MK number. Continued studies focus on the role of Piezo2 in platelet production. We will also evaluate in the future its effect on platelet activation, which has never been studies before.
Publication:
O Levia, C Leon, SK Ng, P Mangin, C Gachet, K Ravid. (2017). The role of extracellular matrix stiffness in megakaryocyte development and function. Am. J. Hematol. Advance online publication. doi:10.1002/ajh.25008.
A Zhang, K Rijal, SK Ng, K Ravid and V Chitalia. (2017). A mass spectrometric method for quantification of tryptophan-derived uremic solutes in human serum. J. Biol. Methods. 4(3): e75.
O Leiva, SK Ng, S Chitalia, A Balduini, S Matsuura, K Ravid. (2017). The role of the extracellular matrix in primary myelofibrosis. J. Blood Cancer. 7(2): e525.
Attendance in meeting: "Platelets 2016: 9th International Symposium" conference, Boston, MA (September 16-20)
Educational enrichment:
Spring Semester Regulatory course, titled: "Regulatory and Compliance Issues", Boston University School of Medicine.
Skill enhancement course in Python by Software Carpentry and BU BEST
Vladimir Mastyugin Ph.D.
Novel PLA2g6/Ca2+ – targeting approach for prevention of age and/or HFHS diet-induced aortic stiffening.
(July 2017- present; Victoria M. Bolotina, PhD; mentor)
Aging or high fat/high sucrose (HFHS) diet-induced aortic stiffening is one of the major risk factors of cardiovascular disease. However, the mechanism(s) underlying this pathology are poorly understood, and there is currently no prevention or treatment for this pathological condition.
Dr. Mastyugin's studies are focused on the two cellular processes in vascular smooth muscle cells (SMC), inhibition of which can produce the opposite effects on aortic stiffness:
Bolotina's lab discovered that there is no arterial stiffening in the aorta of the mice with impaired Ca2+ signaling function of the multifaceted phospholipase A2 group 6 (PLA2g6) enzyme,
Seta discovered increased stiffening in aorta of the mice that lack BCL11b gene, a C2H2-type zinc finger protein, which exact function is yet to be determined.
These important discoveries pointed to the brand new mechanisms involved in this vascular pathology and opened possibilities for testing new approaches to prevent or reverse aortic stiffening caused by age and/or by HFHS (American) diet.
My research is  focused on in vitro testing of a new molecular approach specifically targeting PLA2g6/Ca2+ signaling, and the possibility for its in vivo application for prevention or reversal of aortic stiffening in mouse models. To mimic Ca signaling deficit that we found in SMC from PLA2g6ex2KO mice that are resistant to aortic stiffening, (a) I am testing the role of specific PIN domain in PLA2g6(L) plasma membrane localization, (b) creating PLA2g6-specific peptides that can affect localization and/or activity of PLA2g6, (c) testing the effects of such peptides on Ca signaling and other properties of vascular SMC.  The overall goal of these studies is to develop novel small peptide PLA2g6-targeting approach to achieve SMC-specific reduction in PLA2g6-dependent Ca2+ signaling, which can mimic its deficit in ex2KO mouse model, and to protect aorta from HFHS stiffening, or to reverse this pathology in two different mouse models (WT mouse fed with HFHS diet, and/or BCL11b KO mice).
Publications
Manuscripts in preparation:

Yen A., Shim J.W., Nipa F., Mastyugin V., Bachschmid M., Mostoslavsky G., Pirot S., Mannoury-la_Cour C., Milan M.J., Bolotina V.M. Restoration of PLA2g6-dependent Ca2+ signalling in dopaminergic neurons as a new strategy to stop progression of Parkinson's disease.
Jason Nasse Ph.D. 
Regulatory and Signaling Mechanism of the Pleiotropic Protein Klotho
(March 2017-present; Carmela Abraham, Ph.D.; mentor)
Aging is one of the major causes of cardiovascular and neurodegenerative diseases, which can share dysfunctions of some major cellular processes. In recent years the anti-aging protein Klotho has garnered much attention for its association with, and ability to ameliorate age-related diseases including, atherosclerosis, vascular calcification, and age-related cognitive decline.  The causes of these diseases involve diverse pathways and mechanisms.  However, increased systemic inflammation and oxidative stress is a common phenomenon among them and contributes to disease progression and other co-morbidities.  The pleiotropic protein Klotho can mitigate systemic inflammation and oxidative damage both in the periphery and in the brain.  Klotho expression is decreased as both a function of age and in chronic diseases such as Alzheimer's, Multiple Sclerosis, and chronic kidney disease.  While the effects of increased Klotho levels are well documented, the mechanisms underlying Klotho signaling and genetic regulation are largely unknown.  The focus of Dr. Nasse's work is identify receptors that interact with Klotho to produce anti-oxidant and anti-inflammatory proteins and to discover transcription factors that regulate Klotho expression.  In collaboration with BU researchers he had identified more the 40 TFs that interact with the Klotho promoter using an enhanced yeast-1 hybrid assay and is currently testing these in mammalian cells lines expressing Klotho.  In addition, Dr. Nasse is employing the novel proximity labeling protein APEX-2 to identify Klotho binding partners in the cell membrane.  By uncovering the signaling and regulatory mechanisms of Klotho potential drug targets and therapeutics may be developed for treating neurodegenerative and cardiovascular diseases.
Meeting attendance:  The Society for Neuroscience Annual Meeting, Washington D.C. (November 11-15)
BU Pharmacology & Experimental Therapeutics – Pfizer Symposium on Emerging Technologies, Boston, MA; (May 1)
Educational Enrichment:  Drug Discovery & Development (D3) Project Simulation, Presented by Novartis Institutes for Biomedical Research (May 30-31)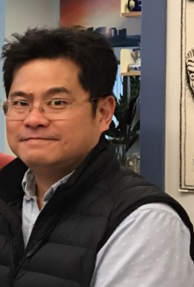 Joon W. "Simon" Shim, Ph.D.
The role of PLA2g6-dependent store-operated Ca2+ entry in arterial stiffening
(Feb 2016-present; Victoria Bolotina, PhD; mentor)
Arterial stiffening (AS) is an independent risk factor of cardiovascular disease (CVD). Interestingly, the risk of developing CVD is low in individuals with Parkinson's disease (PD). Mutations in PARK14 loci are associated with PD but whether PARK14 affects vascular function and AS in PD patients, protecting them from CVD, is unknown. To investigate the mechanism(s) by which impairment of PARK14 gene/phospholipase A2 group6 (PLA2g6) regulates AS, aortic stiffening is measured in vivo by pulse wave velocity (PWV) in wild type (WT) and age-, diet-, and gender-matched mice with impairment of PLA2g6 exon2 (ex2KO), a model of PD. Cell-specific contribution to arterial stiffness has been further tested in a novel mouse model with smooth muscle (SM)-specific PLA2g6ex2 deletion (SMC/ex2KO). Elastin and PLA2g6 gene expressions will be quantified in the thoracic aorta of young (8m/o) and aging (24 m/o) mice and of young mice fed normal or high fat high sucrose (HFHS) diet. Gene expression analysis for elastin and elastin transcriptional regulator will be conducted on SM RNA and validated by elastic fiber staining on aortic sections. Our study will test the hypothesis whether aortic stiffening can be prevented through impairment of PARK14/PLA2g6 exon2 which may be associated with elastin production by SMCs in a mouse model of PD. Our hope lies in an idea that molecular targets promoting elastin expression along this SMC-specific pathway may provide novel therapies for the prevention of AS and related CVD.
Publication:
Shim JW, Madsen JR. (2018) VEGF Signaling in Neurological Disorders. Int J Mol Sci. Jan 17;19(1).
Shim JW, Sandlund J, Hameed MQ, Blazer-Yost B, Zhou FC, Klagsbrun M, Madsen JR (2016). Excess HB-EGF, which promotes VEGF signaling, leads to hydrocephalus. Sci Rep. May 31;6:26794.
Walsh KR, Kuwabara JT, Shim JW, Wainford RD (2016). Norepinephrine-evoked salt-sensitive hypertension requires impaired renal sodium chloride cotransporter activity in Sprague-Dawley rats. Am J Physiol Regul Integr Comp Physiol. Jan 15;310(2):R115-24. Epub 2015 Nov 25.
Manuscript in preparation:
1.Shim JW, Nipa F, Mastyugin V, Yen A, Seta F, Bolotina V. Impairment of PLA2g6-depedent SOCE protects against aortic stiffening. Circulation Research (in preparation)
2.Yen A, Shim JW, Nipa F, Bachschmid MM, Pirot S, Mannoury-la-Cour C, Milan MJ, Bolotina V. AAV-driven expression of functional PLA2g6(L) protects against progressive loss of DA neurons and motor dysfunction in a new mouse model of PD (in preparation).
3.Zhou Q, Nipa F, Yen A, Shim JW, Fleming S, Pirot S, Milan M, Ikezu T, Wolozin B, Bolotina V. Characterization of the PLA2g6ex2KO mouse model of progressive age-dependent Parkinson's disease (in preparation).
4.Shim JW, Ahmed S., Mau E., Watson J., Territo P., Blazer-Yost B. Neurological consequences of a TMEM67 mutation in the Wpk rat model of Meckel-Gruber Syndrome. 2018 (Re-submitted; Under Revision at Journal of Neuroscience).
Attendance in meeting: 1) American Heart Assoc. Annual Conference, New Orleans, LA (Nov 13-15, 2016); 2) Y-IBS symposium in nano- and bio-engineering, Harvard University, Cambridge, MA (Dec. 21, 2016); 3) American Heart Assoc. Annual Conference, Anaheim, CA (Nov 13-15, 2017)
Educational enrichment: 1) SCIENTIFIC PUBLICATION: On Accountability and Peer Review, Advanced Responsible Conduct of Research (RCR) workshop on Tuesday June 20th from 1PM-3PM 2017, Boston University Charles River Campus, 2) Data Integrity: On Being a Scientist Advanced RCR workshop on Wednesday June 21st from 1PM-3PM 2017, Boston University Charles River Campus 3) RESEARCH: On Team Membership Mentoring and Shared Authorship Advanced RCR workshop on Tuesday June 27th from 1PM-3PM 2017, Boston University Charles River Campus 4) OBJECTIVITY IN SCIENCE: Regulations on Conflicts of Interest and Research Misconduct Advanced RCR workshop on Wednesday June 28th from 1PM-3PM  2017, Boston University Charles River Campus
Erik N. Taylor, Ph.D.
(July 2016 – present; James A. Hamilton, PhD; mentor)
The globally rising obesity epidemic is associated with a wide spectrum of diseases including atherosclerosis and non-alcoholic fatty liver (NAFL) disease. One in four Americans, including an increasing number of young adults, develops non-alcoholic fatty liver (NAFL). The goal of Dr. Taylor's research is to determine the relationship between vascular and liver disease via blood biomarkers, MRI, and histological assessment. We've investigated the effects of confined vascular balloon injury on progression of NAFL in a rabbit model of hypercholesterolemia. Aortic atherosclerotic plaque size and composition as well as liver fat were measured with in vivo magnetic resonance imaging (MRI) over three months in rabbits fed normal chow or a 1% cholesterol-enriched atherogenic diet. MRI was also used ex vivo at high field (11.7T) to demonstrate increased vascular plaque area and the increasing presence of cholesteryl esters in animals with injury and 1% CHOL diet. These results elucidate the role localized regions of highly inflamed aortic atherosclerotic plaques play in advancing fatty liver disease to non-alcoholic steatohepatitis (NASH) with fibrosis.
Publication: MRI of atherosclerosis and fatty liver disease in cholesterol fed rabbits, Journal of Molecular Imaging and Biology. Erik Taylor, et al., (in progress).
Educational Enrichment: Programming with Python and Bayesian Statistics, Harvard Extension School, Cambridge, MA.
Conference: Poster presentation at the World Molecular Imaging Congress 2017, Philadelphia, PA.
Joshua Walker, Ph.D.
Uremic Solutes in a Vascular Model of Thrombosis
(December 2016 – present; Vipul Chitalia, MD, PhD)
Dr. Walker studies the effects of uremic toxicity among chronic kidney disease (CKD) patients as a possible cause of cardiovascular disease, in particular focusing on the role of indoxyl sulfate and kynurenine.  Indoxyl sulfate (IS) and kynurenine are uremic solute that are retained in the blood of CKD patients and potentially plays roles in the development of a pro-thrombic state among CKD patients.  The Chitalia lab has previously shown that IS enhances tissue factor (TF) expression through the aryl hydrocarbon pathway, which results in increased thrombosis.
Focusing on Kynurenine as a uremic solute in CKD patients as a prothrombotic mediator, we have begun to utilize vascular models of thrombosis, in vitro, using vascular smooth muscle cells (VSMCs).  Thus far, Dr. Walker has examined the effects of CKD and uremia on the expression of indoleamine-2-3-dioxygenase (IDO), the rate limiting enzyme that catabolizes tryptophan to kynurenine, which increases tissue factor expression through the aryl hydrocarbon pathway, leading to thrombosis.  Preliminary results suggest that kynurenine itself can increase IDO protein expression in a fast-forward loop, which could potentially result in an increased pro-thrombic state among CKD patients.  Future planned experiments in IDO knockout mice will confirm these findings in an animal model.  Additionally, Dr. Walker has begun experiments examining the effects of uremic solutes on regulation of lysl oxidase (LOX), a protein that the Ravid lab has previously been shown to regulate platelet reactivity and thrombosis.  Preliminary data by Dr. Walker shows that uremic solutes can upregulate LOX expression in VSMCs.  These results suggest a link between uremic solutes among CKD patients and increased thrombosis via LOX expression.
Publications
Shashar, M. E. Belghasem, S. Matsuura, J. A. Walker, S. Richards, F. Alousi, K. Rijal, V. B. Kolachalama, M. Balcells, M. Odagi, K. Nagasawa, J. M. Henderson, A. Gautam, R. Rushmore, J. Francis, D. Kirchhofer, K. Kolandaivelu, D. H. Sherr, E. R. Edelman, K. Ravid, V. C. Chitalia. Targeting STUB1-Tissue Factor Axis Normalizes Hyperthrombotic Uremic Phenotype without Increasing Bleeding Risk. Science Translational Medicine, 2017, 9.
V.B. Kolachalama, M. Shashar, F. Alousi, S. Shivanna, K. Rijal, M. E., Belghasem, J. Walker, S.Matsuura, G. H. Chang, C. M. Gibson, L. M. Dember, J. M. Francis, K. Ravid, V. C. Chitalia. Uremic Solute-Aryl Hydrocarbon Receptor-Tissue Factor Axis Associates with Thrombosis after Vascular Injury in Humans.  Journal of the American Society of Nephrology, 2018(accepted January).
Jiyao Zhang, Ph.D.
Novel supplements on vascular and endothelial functions in diabetic patients
(June 2016- present; Naomi Hamburg, MD/MS; mentor)
Patients with type 2 diabetes (DM) have great risk of developing cardiovascular diseases despite of restricted control on traditional risk factors including blood glucose, blood pressure and lipid profiles. One of the prevailing theories underline this phenomenon implies that oxidative stress contributes to mitochondrial dysfunction in endothelium, the first defense of vascular health and consequently leads to related heart diseases. Results from Naomi's lab showed that human endothelial cells collected from DM have higher level of mitochondrial oxidative stress (assessed by MitoSox probes) and lower Nitric Oxide (NO) bioavailability compared to healthy control. Though thousands of preclinical and clinical studies investigated antioxidants on cardiovascular disease protection/restoration, results were not consistent. Different from targeting whole cell stress level, Dr. Zhang currently look for mitochondria-targeted antioxidants and hypothesized that the targeted antioxidants eradicate mitochondrial reactive oxidative species (ROS), reduced mitochondrial damage and ultimately improve cellular and vascular function in DM. Dr. Zhang found that in a short period of incubation, DM endothelial cells had decreased amount of mitochondrial ROS compared to vehicle control. In the future, she will continue to test effects of those novel supplements on endothelial functions, such as NO bioavailability, insulin sensitivity and cell membrane potentials as well as vascular functions measured by flow mediated dilation and femoral-carotid pulse wave velocity.
Publication:
Zhang JY, Qin X, Liang A, Kim E, Lawrence P, Park WJ, Kothapalli KSD, Brenna JT.Fads3 modulates docosahexaenoic acid in liver and brain. Prostaglandins Leukot Essent Fatty Acids. 2017, 123: 25-32.
Zhang JY, Qin X, Park HG, Kim E, Liu G, Kothapalli KSD, Brenna JT. Alternative Splicing Generates Novel Fads3 Transcript in Mice. Mol. Bio.Reports. 2016, 43(8):761-766.
Zhang JY, Kothapalli KS, Brenna JT. Desaturase and elongase-limiting endogenous long-chain polyunsaturated fatty acid biosynthesis. Curr Opin Clin Nutr. 2016, 19(2):103-10.
Kothapalli KS, Ye K, Gadgil MS, Carlson SE, O'Brien KO, Zhang JY, Park HG, Ojukwu K, Zou J, Hyon SS, Joshi KS, Gu Z, Keinan A, Brenna JT. Positive Selection on a Regulatory Insertion-Deletion Polymorphism in FADS2 Influences Apparent Endogenous Synthesis of Arachidonic Acid. Mol Biol Evol. 2016, 33(7):1726-39.
Qin X, Park HG, Zhang JY, Lawrence P, Liu G, Subramanian N, Kothapalli KS, Brenna JT. Brown but not white adipose cells synthesize omega-3 docosahexaenoic acid in culture. Prostaglandins Leukot Essent Fatty Acids. 2016; 104:19-24.
Hooshmand S, Kumar A, Zhang JY, Johnson SA, Chai SC, Arjmandi BH. Evidence for anti-inflammatory and antioxidative properties of dried plum polyphenols in macrophage RAW 264.7 cells. Food & Function. 2015, 6(5):1719-25.
Zhang JY, Cuenca PD, Arjmandi BH, Hooshmand S. Anti-Inflammatory Properties of Blueberry Polyphenols in Inflammatory-Induced MC3T3-E1 Pre-Osteoblasts. J Hum Nutr Food Sci. 2013.
Attendance in meeting:
"American Heart Association Scientific Session". Anaheim, CA November 2017
"Evans Department of Medicine Research Days". Boston Univeristy School of Medicine. Boston, MA October 2017
"Arteriosclerosis, Thrombosis and Vascular Biology". Minneapolis, MN May 2017
"Postdoctoral Annual Retreat". Boston University, Boston, MA March 2017
"Evans Department of Medicine Research Days". Boston Univeristy School of Medicine. Boston, MA October 2016
"Experimental Biology". Boston, MA March 2015
"10th Annual Symposium". Center for Vertebrate Genomics, Ithaca, NY July 2014
"The 11th Biennial ISSFAL Congress". Stockholm, Sweden June 2014
"Experimental Biology". Washington D.C. April 2011
Educational enrichment:
BIOT E-105 Bioinformatics
Harvard Extension School. Spring 2017
MET CS544 Foundations of Analytics
Boston University Metropolitan College. Fall 2016