Walk/Ride Day: Go Car-Free The Last Friday Of The Month!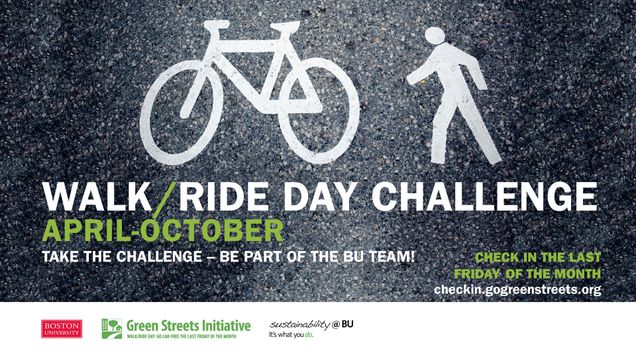 Click To Check In For Walk/Ride Day!
Want to know the easiest way to reduce your carbon output by as much as 26lbs?* Bike to work. Just once.
You could also walk, carpool, or take the T as Boston University Medical Campus is participating in Green Streets Initiative's third annual Walk/Ride Day Corporate Challenge. It's a chance to reduce your carbon footprint and show the rest of the city how green BUMC can be! The competition runs through October and encourages employees to choose sustainable commuting options on the last Friday of each month. When you get to work on Walk/Ride Day simply check-in on the Green Streets Initiative website stating where you work and how you got there.
You'll also get rewarded for participating! Upon check-in you will be given a QR code that can be used for discounts at participating retail locations in the area.  A leader board of the employers with the highest number of check-ins is posted each month. And just for checking-in you will be entered in a monthly raffle to win prizes that have included restaurant gift cards, movie tickets and even a trip to Martha's Vineyard!
Even if you've driven to work on a Walk/Ride Day, we encourage you to check-in and check OUT the website to begin a conversation with friends, colleagues, and community members about how they are commuting. So mark your calendars for the last Friday of each month for the monthly Walk/Ride Day check in!