MBTA Service
The Massachusetts Bay Transportation Authority (MBTA) provides bus service to the Medical Center (BMC & BUMC) area. The Medical Center (BMC & BUMC) is accessible to the Red, Green, Orange, and Blue Lines. There are direct bus connections from the following subway stations: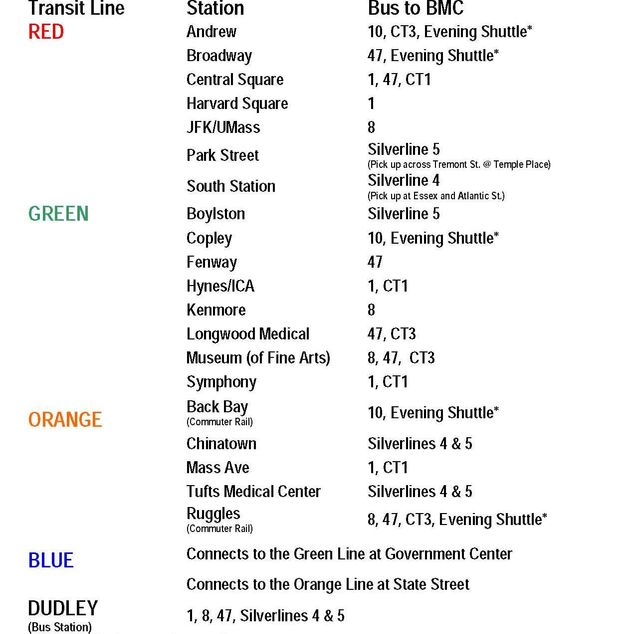 Click here for the information on where buses go, and where one can catch them at BMC/BUMC.
Click here for the MBTA Bus Stop Campus Map.
Buses leave regularly from bus shelters on East Newton St., East Concord St. and Massachusetts Ave. For more information, visit the transportation kiosks or call 617-638-7473. You may also visit the MBTA's Web page at http://mbta.com/
Transportation kiosks providing free transportation information including MBTA bus and train schedules, maps, and shuttle bus schedules. These kiosks are located in the School of Medicine (adjacent to Student Affairs Office), in the lobby of the School of Dental Medicine, in the School of Public Health in the alcove in T2C. Kiosks are also located throughout the lobbies of the medical center.
For more transportation information or personalized assistance with your commute, call TranSComm at 617-638-7473 or 638-7477.
For BMC/BUMC employees or students, please click here for appropriate forms on purchasing monthly MBTA passes.