Biking to BMC/BUMC
Biking to BMC/BUMC is very easy, as many of the neighboring streets have bike lanes & there is plenty of bike parking in the neighborhood.
Around the BMC/BUMC area, there are a handful of bike racks and two secured bike cages for all members of the medical community to use.
The cages are sheltered from the weather and can be accessed by your ID badge. The annual fee for bike cage access is $20.
**Please note: Starting September 1st, 2016 we will only be accepting credit/debit cards as form of payment. We apologize for any inconvenience.**
If you are interested in getting access to the bike cages, please click here.
*Reminder: If you forget your bike lock, please come to the TranSComm office – we are happy to let you borrow one!*
The map below shows the exact locations of the bike cages & racks.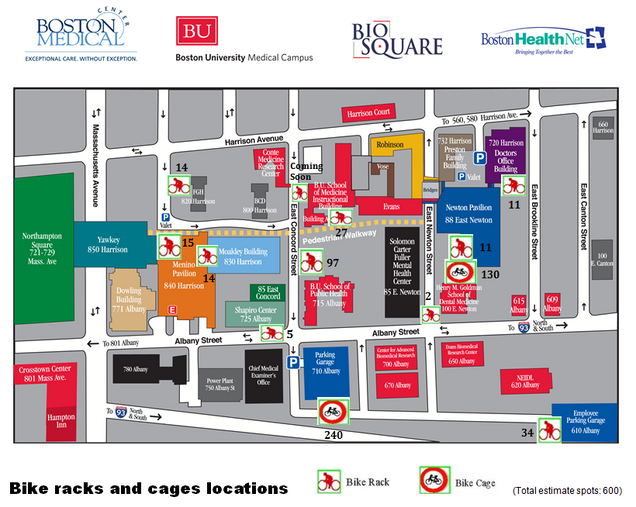 Bike Cages:
East Newton St.  & 710 Albany St Garage
East Newton St. at the Atrium Pavilion near the Dental School, "under" the Medical Center cafeteria.
Behind the 710 Albany St Garage.
Please don't lock your bike to anything other than a bike rack or cage; Public Safety will have bikes that are improperly locked removed.
Some examples of what NOT to do:
Watch the video below to understand how to park your bike at the 710 Albany St Garage Bike Cage:
Bike racks:
610 & 710 Albany Street Garages:
These racks are sheltered from the weather
On-site attendant
BMC Menino Pavilion
Albany St. outside the Emergency Entrance
Boston University Medical Campus
East Concord St. in front of the Medical School
East Concord St. close to the Talbot building
Bike Safety: 
Have a Blue Bikes membership? Click here to see where the stations are on campus.
For more information on Blue Bikes and the BUMC and BMC discount, click here.
Useful Links: