Bikes
Around the BMC/BUMC area, there are many bike racks and two secured bike cages for all members of the medical community to use. The racks, which are accessible 24 hours a day, 7 days a week, are not reserved but are on a "first-come/ first-served" basis. The cages are sheltered from the weather and are card access. The annual fee for the bike cages is $20. The map below shows the exact locations of the bike cages & racks.  A Hubway dock has been installed on our campus at 721 Massachusetts Avenue for your use.  Please see our Hubway on Campus page.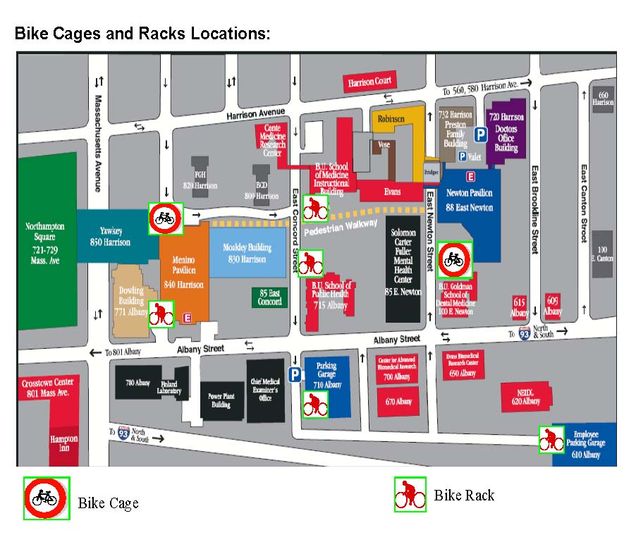 Bike racks:
610 & 710 Albany Street Garages:
These racks are sheltered from the weather
On-site attendant
BMC Menino Pavilion
Albany St. outside the Emergency Entrance
Boston University Medical Campus
East Concord St. in front of the Medical School
East Concord St. close to the Talbot building
Bike Cages:
BMC East Newton St. Campus & Menino Pavilion
East Newton St. at the Atrium Pavilion near the Dental School, "under" the Medical Center cafeteria.
Menino Pavilion is on Harrison Ave. The cage is in front of the Menino Pavilion and the ACC building.
If you are interested in applying for the bike cage, please click here.
Hubway:
For more information, click here.