December 2012 Updates
On Sunday, December 2, 2012, SCOMSA held its fourth meeting of the year in the home of SCOMSA's former faculty adviser, Dean Phyllis Carr. The minutes from the meeting are included in the following link: 2012.12.2 SCOMSA Minutes. Flowers and a crystal vase with individual thank you cards written by SCOMSA members were presented to Dean Carr.
_______________________________________________________________________________________
Student Group Activities:
12/12/2012
| | |
| --- | --- |
| | The Maimonides Society's annual Hannukah party was a great success this year, with over 30 students and several faculty from all schools on the BU Medical Campus attending. Students and faculty made festive Hannukah-themed clay crafts, played fast-paced dreidel games. A delicious lunch, including the traditional Hannukah treat of sufganiot (jelly donughts) was thoroughly enjoyed. Candles and menorahs were given as party favors. A lovely time was had by all in attendance. To keep posted about upcoming Maimonides Society events, just email maimosociety@gmail.com and ask to be added to our email list! |
Medical Students for Choice
12/06/2012
| | |
| --- | --- |
| | We had a wonderful, insightful panel discussion on Thursday night, Dec. 6th on the role of men in reproductive choice. Dr. Noah Rindos and Dr. David Kattan, both Ob/Gyn, discussed their experiences as men working in women's health care, the changing demographics of obstetrics, and the importance of men's role in the reproductive rights movement. Dr. Kattan, who is currently completing a two-year fellowship in family planning, encouraged all students to do whatever specialty calls most strongly to them, whether or not that might be "a women's field." Dr. Rindos led us through an interesting exercise highlighting the importance of abortion availability throughout the United States just by looking at the numbers. Sixteen first and second year students were able to attend, ask questions, and share their own concerns about gender dynamics in women's health care and the r! eproductive rights movement in general. Medical Students for Choice was happy to host this event and hopes to be able to do a similar event in future years. |
Orthopedic Surgery Interest Group
12/06/2012
| | |
| --- | --- |
| | Dr. Thomas Einhorn, Chief of Orthopaedics at BMC, came to speak to first and second year medical students about the specialty of orthopaedics. Topics included grades required, application process for residency, a day in the life of a resident, the future of orthopaedics, new advancements in surgical instruments, and new discoveries in basic science research that will help propel the field forward. The meeting was from 7-8:15am, breakfast was served, and 32 students attended. The event was a great success! |
Family Medicine Interest Group
12/06/2012
| | |
| --- | --- |
| | On December 6th, the Family Medicine Interest Group and the Global Health Equity Program hosted an informal lunch meeting for first year students on how to plan for a fun and productive summer. A large contingent of second year students were on hand to share their experiences, and collectively they participated in a variety of programs including MSSRP (research), the Family Medicine Externship, the Other Side of the Bed VA Program, and various global health opportunities. The session included information about searching for and applying to the many opportunities available to first year medical students. The 50-plus first year students in attendance left with a better idea of what options were available to them and where to focus their planning based on their interests. |
American Medical Women's Association (AMWA)
12/05/2012
BU's American Medical Women's Association chapter held an event entitled "Women in Medicine: How Far We've Come, and Where to Go From Here" on December 5th 2012 in Hiebert Lounge. There were over 70 RSVPs for the event, with 10% male attendance.

This dinner event began with a presentation by Betty Yang on the history of women in medicine, featuring important figures and milestones. The end of the presentation also touched on the current state of affairs, particularly about the persisting pay inequities between men and women, and some strategies at the individual, institutional, and federal level to try to right the issue.

Dean Phyllis Carr followed with a presentation on a more in-depth look at the inequities between female and male physicians today, with results from her research and other studies on the issue. She discussed tips and strategies to navigate pay discrimination in our careers. After her presentation, she fielded questions about what we as students can do now in preparation for these issues in the future.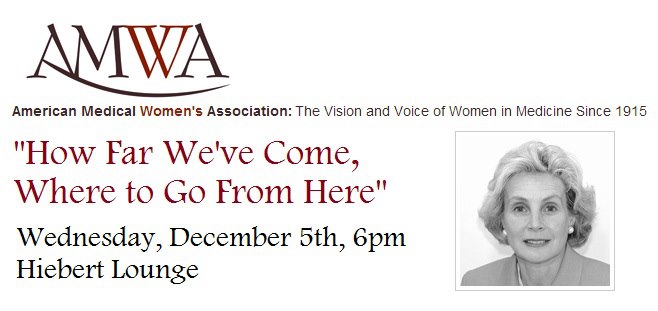 12/04/2012
The second event of the 2012-2013 BUSM Speaker Series was quite a hit! Dr. Robert Beazley gave his talk titled "Making Order Out of Chaos: Dr. John Billings" to a packed room. Everyone seemed to enjoy the talk about Dr. Billings, who responsible for saving hundreds or even thousands of lives during the Civil War as well for organizing two of the world's most prominent libraries. He was a man who did great things but always remained behind the scenes, avoiding the spotlight while aptly performing tasks that he saw worthwhile, not those that would bring him great acclaim.

The next event in the Speaker Series will take place in February 2013, so stay tuned!
In addition, keep an eye out for our student-published history of medicine journal Aceso, which will be released mid-December 2012.
12/04/2012
| | |
| --- | --- |
| | The first Radiology Interest Group meeting of the year was a great success! Approximately 50 students attended the event, which featured a discussion of Radiology as a career and fellowships such as Interventional Radiology. Finally, we discussed an Interventional Radiology interactive case. Thanks to scomsa, we were able to provide burritos for all the attendees! |
Spectrum of Physician Advocacy
12/04/2012
| | |
| --- | --- |
| | Our annual dinner panel was a huge success this year – over 50 students from all four years attended! Dean Witzburg moderated a panel of 4 physicians, each of whom shared their experiences with advocacy work. Themes included the necessity of addressing social determinants of health and greater societal inequities/injustices through advocacy, the unique role of the physician as an advocate, and striking a synergistic balance between caring for individual patients and advocating for change on institutional, community, state, national, and global levels. |
MedGLO and AGS
12/03/2012
MedGLO and AGS welcomed a panel to discuss the topic of LGBT* Aging: Addressing Disparities and Health Care needs of Older Adults (*Lesbian, Gay, Bisexual, and Transgender). The panelists included:
Mark Simone-Skidmore, MD, a geriatrician in the Division of Aging at Brigham and Women's Hospital (BWH) and an Instructor of Medicine at Harvard Medical School.
Bob Linscott, an educator and community leader committed to issues of equality and social justice, and currently the Assistant Director of the LGBT Aging Project, a non-profit organization based in Boston that is dedicated to education, outreach and advocacy for LGBT seniors and caregivers.
Matt Russell, MD, an Assistant Professor of Medicine in the Section of Geriatrics at Boston University School of Medicine.
We also were able to screen excerpts from the powerful and critically acclaimed documentary "Gen Silent."
12/03/2012
MedGLO hosted a panel discussion about LGBT Elderly Health Care. Specific disparities and barriers were discussed including financial, institutional and cultural ones.

Panelists:
Dr. Mark Simone-Skidmore
Dr. Matthew Russel
Bob Linscott
Dermatology Interest Group (DIG)
12/03/2012
| | |
| --- | --- |
| | Dr. Amy Chen, a new faculty member at BU's Dermatology Department presented information about skin cancer and photo protection in a fun and interactive format. She presented information by encouraging students to participate in a Jeopardy-like game. Facts presented were surprising as well as educational and appropriate for first and second year students. Approximately 50 first years attended, and a dozen second years attended. We hope to repeat this event in two years because it was so well-received by students! |
APAMSA
11/19/2012
| | |
| --- | --- |
| | APAMSA sponsored an event titled "Asian American Health Care Issues" on November 19, 2012. Dean Hughes and approximately 35 students attended the event. The speaker, Dr. Teresa Cheng gave a lecture about working with the Asian-American community in Boston, highlighting Asian health care issues, cultural beliefs and health practices. Dr. Cheng included cases that illustrated relevant issues encountered in patient visits where cultural barriers may negatively impact the doctor-patient relationship. She encouraged student discussion on how to facilitate communication between doctor and patient. In addition, Dr. Cheng provided a brief visual tour of the different Boston Asian communities. This gave students who are not from the area a chance to familiarize themselves with this demographic and enhance their cultural competency, as well as provide an opportunity to ask Dr! . Cheng what it is like to work with this patient population firsthand. |
Ophthalmology Interest Group (OIG)
11/16/2012
| | |
| --- | --- |
| | The Ophthalmology Interest Group held a lunch talk entitled "Introduction to Ophthalmology as a Career" on 11/16/2012. Dr. Edward Feinberg, Chairman Emeritus of the Ophthalmology department at BUSM was our speaker. He discussed the major reasons why individuals pursue ophtho as a career (most citing the opportunity to combine surgical practice with long term clinical care). He also introduced us all to the multitude of different career opportunities available within the field, including international health. Finally, he spoke on how first years can utilize the time between first and second year to learn more about ophthalmology as a future career path. Subway lunch was served, and we had a large turnout (~40 students). |
Clinical Neuroscience Society (CNS)
11/16/2012
| | |
| --- | --- |
| | The Clinical Neuroscience Society proudly hosted a lunch talk by Dr. Andrew Budson of BU's Alzheimer's Disease Center entitled "New Frontiers in Alzheimer's Disease". Dr. Budson is a leading expert on the topics of memory and Alzheimer's Disease. His current research uses the techniques of experimental psychology and cognitive neuroscience to understand memory and memory distortions in patients with Alzheimer's disease and other neurological disorders. The talk will included novel treatment for AD, including the use of music to enhance memory. The talk took place Nov 16 and had 45 attendees. |
Family Medicine Interest Group
11/08/2012
On November 8, the Family Medicine Interest Group hosted an informal dinner with the aim to give first and second year students who want to learn more about family medicine access to third and fourth year students who are pursuing this specialty. We had a turnout of over 25 first and second year students, and we split up into three groups to encourage more participation. We then had four 4th year students rotate amongst the groups to talk at length about family medicine, what led to their decision to pursue the speciality, and answer any questions the underclassmen had. During the last half of the event, the 4th years addressed the group as a whole and gave an overview of the Family Medicine Scholars Program. They also presented a number of ways for students to become involved in family medicine and spoke about their own specific projects and experiences.

The goal of the event was to open channels of communication between classes for all students who were interested in hearing more about family medicine. We were very excited to involve students that were unsure of what family medicine was and were hoping to learn more about it by having 4th year students present their paths through medical school and answer questions. Students had a wonderful time interacting with other classmates and the event was a success! We look forward to hosting more informal, educational, dinners in the future.
Global Health Equity Program
11/06/2012
| | |
| --- | --- |
| | The Global Heath Equity Program recently co-sponsored an event with the International Health Department in the School of Public Health, entitled "Crisis Mapping," on November 6, 2012. Dr. Jennifer Chan spoke to a packed room of more than 60 public health, medical, dental and forensic anthropology students and faculty about using Geographic Information Systems and crowd-sourcing to aid in humanitarian response. |
_______________________________________________________________________________________
Student Research Presented at National Conferences:
Alec Kherlopian
12/11/2012
I attended the 24th Annual National Forum hosted by the Institute of Healthcare Improvement in Orlando, FL. The community participating in the forum ranged from national to international students,

physicians, hospital administrators, and other health care professionals. The agenda of the national forum included Keynote speakers, specialized workshops, networking opportunities with healthcare innovators, and poster presentations on quality improvement in health care. The environment of the national forum facilitated discussion on improving quality in health care, especially during the IHI Open School Chapter Congress session, which I attended. The latter session included an audience that consisted of students and faculty of health-professional schools; it was led by Dan Heath, a Senior Fellow at Duke University's CASE center and author of two best-seller books. With th! e lead of Dan Heath, the students and faculty collaborated with one another to develop a communication framework that would encourage the growth of health care improvement ideas, even in politically contentious environments.

During the day of poster presentations, I presented a poster on the ability of a post-procedure checklist to improve quality in the interventional radiology department of Boston Medical Center. The presentation was successful in initiating discussion with hospital administrators and nurses on the value of checklists in the hospital setting.
Carolyn Smith-Lin
11/09/2012
| | |
| --- | --- |
| | I was awarded the opportunity to present my poster at the Research Symposium as a part of the AMA-MMS Interim Meeting on November 9th, 2012. My summer research aimed to determine the efficacy of an interdisciplinary inpatient rehabilitation program to improve the functional status of patients with Parkinson's Disease. I built a multivariable model to predict which Parkinson's disease patients would most benefit from inpatient rehabilitation. The symposium was the afternoon of November 9th. I presented my poster to two judges and my peers at the Medical Student section of the AMA Research Symposium. My poster was assessed as a part of the medical student poster competition and I received feedback from the judges on my work. Through the symposium, I met other student presenters from across the country. |
| | |
| --- | --- |
| | I participated with other students from Boston University in representing the state of Massachusetts at the American Medical Association 2012 Interim Meeting in Honolulu. The meeting entertaining with important debate on relevant topics to medical students in this day in age. I additionally presented research at the symposium on proinflammatory response regulation by Macrophage Migration Inhibitory Factor oligomeric state and caveolin interaction. The Interim meeting provided ample opportunity to interact with current and future leaders in the medical field and was an all-around phenomenal event. |
______________________________________________________________________________________
Student Attendance at National Conferences:
American Medical Association
11/08/12
Over the weekend of Nov 10th, 2012, medical students from all across the United States converged to join the American Medical Association for the interim meeting in Hawaii. The conference included research presentations, educational programs, community service, and public policy advocacy training. Furthermore, medical students banded together to help define American Medical Association national policy which is an extremely influential factor in changing American health policy at the state and federal levels.

~ Daniel Sternberg

—

The AMA-MSS Interim Meeting was held in Honolulu, Hawaii from November 8 through November 10, 2012.

I attended the conference as a member of the Massachusetts Medical Society Student Section, and one of the representatives for BUSM. Over the course of the meeting, I participated in caucus sessions for Massachusetts and Region 7 (comprised of medical schools from the Northeast), and gave testimony on student resolutions at both the Reference Committee meeting on November 9 and the General Assembly meeting on November 10.

In addition to participating in the advocacy section of the conference, I attended the Research Symposium in support of the BUSM students presenting their posters.

Overall, it was a fantastic trip, with many networking opportunities and chances to polish professionalism and public speaking skills. Representation from BU far outnumbered some of the other medical schools!

~ Betty Yang

—

AMA-Medical Student Section Interim Meeting

November 8-10, 2012
Hawaii Convention Center
Honolulu, HI

This meeting is a time for medical students from around the country to network and participate in
shaping our future health care environment. I attended the meeting as part of the Massachusetts and BUSM delegation. During the meeting I was elected as one of the Alternate Regional Delegates for Region 7.

~Nahiris Bahamon

—

The AMA-MSS Interim meeting began on November 8, 2012 in Honolulu, Hawaii and included over 500 medical students from across the nation. As a member of the logistics committee, my responsibility was to help organize the assembly meetings and make sure the technical aspects ran smoothly. We also attended the regional and assembly meetings, where we were able to discuss all of the resolutions and provide testimony on the behalf of our school, state and region. Many members ran for state and regional positions, and we were able to elect our future leaders of the AMA-MSS.

~Sweta Bodepudi
American Academy of Pediatrics
10/23/2012
This year, over two hundred medical students from schools across the country attended the American Academy of Pediatrics (AAP) National Conference & Exhibition, thirty of whom received generous support for travel and accommodations with a scholarship from the AAP. New Orleans provided us with a fantastic opportunity to immerse ourselves in the vibrant culture of the "Big Easy" and to enjoy its unique traditions of southern heritage. More importantly, the 2012 American Academy of Pediatrics (AAP) National Conference & Exhibition (NCE) allowed us to gather with hundreds of medical students and thousands of pediatricians and child health professionals in order to renew our commitment to children through continued education, advocacy, and service.While at the conference, expert faculty and presenters guided us through best practices in patient care and what to anticipate on the horizon of pediatric research. Seasoned advocates taught us about what we can do at the local and national levels to serve as "the voice" for children. We met with representatives from innovative companies that provide the technology, products, and services that impact how pediatric medicine is practiced today. Preventing child health inequities is one of the AAP's core values, and the NCE featured a track on child health equity designed to inform attendees about what can be done to improve access to quality healthcare in our communities through advocacy.

The first day of the NCE featured a Section on Medical Students, Residents, and Fellowship Trainees (SOMSRFT) Medical Student Plenary Session. Student representatives from the SOMSRT Medical Student Subcommittee opened the event with an overview on the SOMSRT's mission, activities, and opportunities for students. As I have recently been appointed as the Editor of the American Academy of Pediatrics Medical Student News publication for a two year term, I had the opportunity to give a presentation about the publication. This is a national publication featuring content written by medical students with a readership of over 1,000 medical students and academic faculty members at medical schools across the country. During my presentation at the AAP NCE, I informed students about the process involved in publishing works and made recommendations on how students can get more involved in publishing their work in both the AAP Medical Student News publication and other publications.  The keynote speaker was Dr. Jeffrey McKinney, the Department of Pediatrics Residency Program Director at UT Southwestern Medical Center. Dr. McKinney offered the audience insightful advice on ways we can expand our knowledge and skills in order to become excellent contributing members to residency programs in the future. He discussed the best methods to becoming a successful residency applicant, with an emphasis on the importance of being well-rounded, free-thinking, and willing to take on challenges for the benefit of patients.

Following the keynote address was a panel discussion designed to offer students a broad perspective on the residency application process. We were fortunate to hear from a number of experienced panelists who offered candid insights and thought-provoking advice. The panelists included Dr. Teri Turner- Director of the Academic General Pediatrics Fellowship Program at Baylor College of Medicine, Dr. Lynn Gardner- Associate Program Director of the Pediatrics Residency Program at Emory University School of Medicine, Dr. Rachel Dawkins- Associate Program Director of the Pediatrics Residency Program at Louisiana State University New Orleans, and Dr. Lisa Costello, PGY-2, Internal Medicine/Pediatrics at West Virginia University. The panel discussion was an invaluable opportunity for medical students to ask important questions about the process of applying to residency programs and to gain unique perspectives from different experts. The panel proved to be a phenomenal way to learn ab! out some of the similarities and differences between programs in regards to the residency selection process.

Not only was this session informative and enriching, it was also a lot of fun! Students met and mingled with others from medical schools across the country. As a creative way for us all to "make our mark" among children in New Orleans, attendees designed hundreds of colorful bookmarks that were then donated to children at a local library.

The culminating event of the SOMSRFT Medical Student programming was the first annual "Subspecialty Speed-Dating" session. Students had the opportunity to meet with pediatric subspecialists in fields including Neonatology, Pulmonology, Critical Care, Surgery, Nephrology, Sports Medicine, Infectious Diseases, Hospital Medicine, and Hematology-Oncology. Medical students sat with pediatric subspecialists for a "speedy" information session on their field, with each meeting lasting about 8 minutes- just enough time to learn a bit about unique aspects of the field and to ask some questions. Students left with a better understanding of the breadth of career opportunities available under the umbrella of pediatrics.

The SOMSRFT Medical Student session was a tremendous opportunity for students to gather, connect with other students from around the country, and to gain some useful advice from seasoned pediatric physicians. The physicians who visited the session were excited about students' education and enrichment, and eager to share their own experiences in their careers in pediatrics.

Children truly are our future, and the optimization of children's physical, mental and social health is paramount. As future pediatricians, the sooner in our careers that we reach out and take action, the more we will learn and the more we will be able to impact child health in the future. Isaac Newton once wrote, "If I have seen further it is by standing on the shoulders of giants." To train in medicine is, undoubtedly, to build upon the research and intellectual pursuits of those who came before us. Attending the annual AAP National Conference & Exhibition was an opportunity for medical students to sit down and talk with many of the intellectual 'giants' of pediatric medicine, and to learn from them so that we, in turn, may continue to see further.

~ Kristin Schwarz