Sarcoidosis
Translational-Clinical Research
---
Mission Statement:
The Sarcoidosis Research Group is dedicated to the care of patients with Sarcoidosis using state of the art clinical care, use of sophisticated consultants and techniques, and performing translational research in search of better diagnostic tools and therapy for Sarcoidosis.
Background: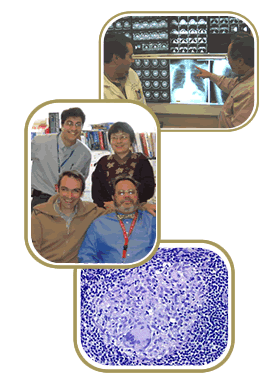 Sarcoidosis is a mysterious disease that has resisted over a hundred years of intensive research into its cause and pathogenesis. Though it resembles tuberculosis and similar granulomatous infections, there has been no consistent finding of causal microbial or antigenic pathogens. Diagnosis often requires invasive procedures, and may be difficult when lung disease is not present. Therapy with corticosteroids is helpful for improving symptoms of the disease, but there is some evidence that treatment may worsen the longterm prognosis, and all known therapies have severe side effects. Sarcoidosis is viewed as a "rare" disease by many practitioners despite the fact that some ethnic groups (i.e., African American women) have a lifetime risk of as much as two to four per cent. Our Sarcoid clinical center is devoted to the care of patients with Sarcoidosis, and to advancing and disseminating knowledge of this disease.
We have been interested in nasal disease and atopy in Sarcoidosis. Sarcoid and Atopy represent "polar" opposites in the spectrum of immunologic disease. Sarcoidosis has been shown to be a polar Th1 illness, while Atopy is mediated by Th2 immune mechanisms. We have noted a great deal of nasal disease as well as airways disease in Sarcoidosis, especially in patients with chronic disease. We hypothesize that patients with atopic disease will add their Th2 bias to their Th1 Sarcoid inflammation, and that this will result in a propensity to chronic inflammation and fibrosis. Further, we hypothesize that the nose is a site for noninvasive diagnostic information that can reveal diagnostic and prognostic information about the state of disease in patients with Sarcoidosis. This is a topic of active investigation in our clinical center.
Other clinical topics of interest are Cardiac Sarcoidosis and Calcium Metabolism in Sarcoidosis. Cardiac Sarcoidosis is an important cause of morbidity and mortality in patients with Sarcoidosis. It is notoriously difficult to diagnose before complications ensue. We are interested in the use of MRI in the diagnosis of cardiac Sarcoidosis. Vitamin D and calcium metabolism is abnormal in many patients with Sarcoidosis, and many of these patients are placed on corticosteroids for treatment. This places these patients at risk for bone loss and osteoporosis. The optimal management strategy for these patients is not yet known. We are interested in developing rational guidelines for management of bone loss in Sarcoidosis patients taking corticosteroids.
These clinical studies are an offshoot of our bench laboratory science which has focused on cytokine biology. In particular, we have been interested in the novel cytokine, osteopontin (Opn). Our interest in Opn began upon hearing a report that OPN was the most prevalent message upregulated in macrophages upon exposure to mycobacterium. It is an odd duck amongst cytokines, in that it is prominently expressed in bone and is involved in disparate processes such as bone remodeling, wound healing, inflammation, and tumor metastasis. We have been interested in the immunologic and inflammatory aspects of Opn, and our laboratory has been involved in research linking Opn to T cell function, granuloma formation and interstitial pulmonary fibrosis.
An additional and intense interest of the sarcoidosis research group is the training of post-doctoral fellows in translational-clinical as well as basic science research related to sarcoidosis. Over the years we have had the pleasure of training many MD fellows; a gratifying number of these have subsequently had successful careers in academic medicine. We hope to continue this in future years.
Current Research Areas Under Study:
Atopy and nasal disease in Sarcoidosis
Cytokine expression in the nasal mucosa in sarcoidosis
Use of infliximab for the treatment of sarcoidosis
Sarcoidosis Phenotype in African American women
Use of MRI to diagnose cardiac Sarcoidosis
Pulmonary hypertension in Sarcoidosis (with Drs. Hap Farber and Kimberley Fisher in the Pulmonary Hypertension Center).
Principal Investigators:
Jeffrey S. Berman, MD, Professor of Medicine and Director of the Sarcoidosis Clinic at Boston University School of Medicine
Harrison Farber, MD, Professor of Medicine and Director of the Pulmonary Hypertension Center, specializing in treatment of Sarcoidosis patients with pulmonary hypertension
Students:
Barnard Yu, BA, MD student and Research Assistant
Namita Porwal, BA, MPH student in Bioinformatics and Research Assistant
Selected Publications:
Fisher KA, Serlin DM, Wilson KC, Walter RE, Berman JS and Farber HW. Sarcoidosis Associated Pulmonary Hypertension: Outcome with Long-Term Epoprostenol Treatment. 2005 (Submitted, Under Review)
Berman JS, Serlin D, Li X, Whitley G, Hayes J, Rishikof DC et al. Altered bleomycin-induced lung fibrosis in osteopontin-deficient mice. Am J Physiol Lung Cell Mol Physiol 2004; 286(6):L1311-L1318. [http://ajplung.physiology.org/cgi/reprint/286/6/L1311]
O'Regan AW, Berman JS. The gene for acute sarcoidosis? Am J Respir Crit Care Med 2003; 168(10):1142-1143. [http://ajrccm.atsjournals.org/cgi/reprint/168/10/1142]
Denhardt DT, Noda M, O'Regan AW, Pavlin D, Berman JS. Osteopontin as a means to cope with environmental insults: regulation of inflammation, tissue remodeling, and cell survival. J Clin Invest 2001; 107(9):1055-1061.
O'Regan AW, Hayden JM, Body S, Liaw L, Mulligan N, Goetschkes M, Berman JS. Abnormal pulmonary granuloma formation in osteopontin-deficient mice. Am J Respir Crit Care Med 2001; 164(12):2243-2247. [http://ajrccm.atsjournals.org/cgi/reprint/164/12/2243]
O'Regan AW, Chupp GL, Lowry JA, Goetschkes M, Mulligan N, Berman JS. Osteopontin is associated with T cells in sarcoid granulomas and has T cell adhesive and cytokine-like properties in vitro. Journal of Immunology 1999; 162(2):1024-1031. [http://www.jimmunol.org/cgi/reprint/162/2/1024]
Nau GJ, Guilfoile P, Chupp GL, Berman JS, Kim SJ, Kornfeld H et al. A chemoattractant cytokine associated with granulomas in tuberculosis and silicosis. Proceedings of the National Academy of Sciences of the United States of America 1997; 94(12):6414-6419.
Links: