Sarcoidosis
---
Mission Statement:
The Sarcoidosis Center at Boston Medical Center (Boston University School of Medicine) provides comprehensive diagnostic and therapeutic services for patients with sarcoidosis and is the clinical repository for ongoing basic science, translational, and clinical studies on sarcoidosis. Our Mission is to improve the lives of persons with sarcoidosis by providing state-of-the-art patient care coupled with innovative research aimed at understanding the pathogenesis and natural history of sarcoidosis.
Background:
The staff of the Sarcoidosis Center at Boston Medical Center is comprised of a multi-disciplinary group of physicians with expertise in sarcoidosis and a dedicated clinic staff experienced in sarcoidosis.
 The center is directed by Dr. Jeffrey S. Berman, Professor of Medicine at Boston University School of Medicine and an acknowledged expert in the diagnosis, treatment, and investigation of sarcoidosis.
 Dr. Praveen Govender is the Associate Director of the Sarcoidosis Center with training in Pulmonary Medicine and Allergy and Immunology, and he has worked extensively with Dr. Berman in the care of patients with sarcoidosis since 2008. Drs. Berman and Govender are active members of the World Association of Sarcoidosis and Other Granulomatous Disorders (WASOG).
 Patients with sarcoidosis are referred to the Sarcoidosis Center from both within Boston Medical Center as well as from throughout New England and the United States and from numerous foreign countries. Some patients come only for an initial evaluation or second opinion, while others may be followed for years. Approximately 150-200 new referrals per year are seen at the Sarcoidosis Center.
 The Sarcoidosis Center provides patient care based on state-of-the-art clinical practice and translational/clinical research. The Sarcoidosis Center is part of the Boston University Pulmonary Center, which has extensive Research and Clinical programs in Molecular and Cell Biology, Immunology, Biochemistry, and Epidemiology. All clinical care is provided at Boston Medical Center, where a full range of Medical, Surgical and Radiologic subspecialists are available. Research is supported by grants from the NIH and private donations from patients, families, or organizations committed to advancement of sarcoidosis care. This support allows The Sarcoidosis Center to provide a broad range of services to patients and their families.
Clinical Activities:
Diagnosis and Initial Assessment of patients with Sarcoidosis
Secondary and Tertiary Referrals for management of complex cases of Sarcoidosis
Ongoing treatment for multi-system Sarcoidosis, including lung, skin, cardiac, and neurologic involvement
Use of immunosuppressive agents when indicated (e.g. methotrexate, anti-TNF agents)
Participation in clinical trials and on-going Investigator-initiated and Industry-sponsored research with the goal of advancing knowledge about the pathogenesis and treatment of Sarcoidosis
Our Cardiac Sarcoidosis Clinic offers a comprehensive, multi-disciplinary approach to the diagnosis and treatment of sarcoidosis involving the heart.  We offer specialists in sarcoidosis, immunology, heart failure, cardiac imaging, and arrhythmias, working together to optimize patient-centered care for Cardiac Sarcoidosis.  Our areas of expertise include FDG PET imaging of the heart, cardiac MRI, and invasive electrophysiology (ablation).  Our cardiac sarcoidosis team includes:
Advay Bhatt, MD, Instructor of Medicine; Electrophysiology.
Edward J. Miller, MD PhD, Assistant Professor of Medicine and Radiology; Director of Nuclear Imaging (Cardiology); Specializing in medical treatment of Cardiac Sarcoidosis, Cardiomyopathy and Nuclear Cardiology (FDG PET/CT)
Frederick Ruberg, MD, Associate Professor of Medicine and Radiology; Specializing in medical treatment of Cardiac Sarcoidosis, Cardiomyopathy and Cardiac MRI
Research Activities:
Our basic science research has focused on the regulation of granulomatous inflammation and development into a pro-fibrotic phenotype. Our studies have involved the multi-functional Th1-type and pro-fibrotic cytokine osteopontin. Utilizing in vivo murine models and in vitro cell culture systems, our lab has established the importance of osteopontin in regulating granuloma development and lung remodeling.
Translational-Clinical Research
The Translational-Clinical research activities centered in the Sarcoidosis Center focus on gaining understanding of the pathogenesis and clinical phenotypes of sarcoidosis in order to develop more disease- and patient-specific treatments.
The Immuno-phenotype of the Nasal Mucosa in Sarcoidosis: Our research study utilizes modern bioinformatic tools and gene expression microarrays to develop predictors of lung disease based on the protein and gene expression from the upper respiratory tract. This study brings together collaborators from the Boston University School of Public Health, Genomics and Bioinformatics Departments, and the General Clinical Research Center.
A collaboration with the Slone Epidemiology Unit at Boston University utilizing a cohort of over 1000 African American women with Sarcoidosis. As part of the Black Women's Health Study, we will evaluate the clinical characteristics and potential genetic determinants in this large and severely affected population with sarcoidosis.
We are currently developing a database with the Boston University Clinical and Translational Science Institute (BU CTSI) to study the clinical characteristics of our patients, including organ involvement, treatment, and response to treatment.
Our cardiac sarcoidosis imaging registry allows us to evaluate different types of cardiac imaging (FDG PET/CT, MRI, and echocardiography) and their impact on the care of patients with cardiac sarcoidosis.
 Close Collaborators:
Harrison Farber, MD, Professor of Medicine and Director of the Pulmonary Hypertension Center, specializing in treatment of Sarcoidosis patients with pulmonary hypertension
Yvette Cozier, D.Sc., Assistant Professor of Epidemiology, Boston University School of Public Health
Christina Lam MD, Assistant Professor of Dermatology, Boston University School of Medicine. Medical Director Dermatology Clinic.
Selected Publications:
Berman JS, Serlin D, Li X, Whitley G, Hayes J, Rishikof DC et al. Altered bleomycin-induced lung fibrosis in osteopontin-deficient mice. Am J Physiol Lung Cell Mol Physiol 2004; 286(6):L1311-L1318.
O'Regan AW, Berman JS. The gene for acute sarcoidosis? Am J Respir Crit Care Med 2003; 168(10):1142-1143.
O'Regan AW, Hayden JM, Body S, Liaw L, Mulligan N, Goetschkes M, Berman JS. Abnormal pulmonary granuloma formation in osteopontin-deficient mice. Am J Respir Crit Care Med 2001; 164(12):2243-2247.
 O'Regan AW, Chupp GL, Lowry JA, Goetschkes M, Mulligan N, Berman JS. Osteopontin is associated with T cells in sarcoid granulomas and has T cell adhesive and cytokine-like properties in vitro. Journal of Immunology 1999; 162(2):1024-1031.
 Nau GJ, Guilfoile P, Chupp GL, Berman JS, Kim SJ, Kornfeld H et al. A chemoattractant cytokine associated with granulomas in tuberculosis and silicosis. Proceedings of the National Academy of Sciences of the United States of America 1997; 94(12):6414-6419.
 Denhardt DT, Noda M, O'Regan AW, Pavlin D, Berman JS. Osteopontin as a means to cope with environmental insults: regulation of inflammation, tissue remodeling, and cell survival. J Clin Invest 2001; 107(9):1055-1061.
 Fisher KA, Serlin DM, Wilson KC, Walter RE, Berman JS, Farber HW.  Sarcoidosis-associated pulmonary hypertension: Outcome with long-term epoprostenol treatment.  Chest; 2006:1481-1488.
 Y Cozier, JS Berman, et al. Sarcoidosis in U.S. black women:  Data from the Black Women's Health Study; 2010; Chest; 138:1-7.
 Donagh C, Bruzzi J, MacNeill B, DaCosta M, Berman JS, O'Regan AW.  Clinical Problem Solving.  Looking at the Whole Picture.  2011; N Engl J Med,362:52.
 O'Regan AW, Berman JS.  In the clinic; sarcoidosis. Ann Int Med. 2012.
Cozier YC, Berman JS, Palmer JR, Boggs DA, Wise LA, Rosenberg L Reproductive and hormonal factors in relation to incidence of sarcoidosisin US Black women:  The Black Women's Health Study. Am J Epidemiol.2012 Oct1; 176(7): 635-41 PMID 22967742
Cozier YC, Ruiz-Narvaez EA, McKinnon CJ, Berman JS, Rosenberg L, Palmar JR. Fine-mapping in African-American women confirms the importance of the 10p12 locus to sarcoidosis. Genes Immun 2012 Oct; 13(7): 573-8. PMID 22972473
 Cozier Y, Ruiz-Narvaez E, McKinnon C, Berman J, Rosenberg L, Palmer J. Replication of generic loci ofr sarcoidsosi I  US Black women; data from the Black Women's Health Study. Hum Genet. 2013 Jul; 123 (7): 803-10. PMID 23543185
 Tukey M, Berman JS, Boggs Et al DA, Mortality among African American women with sarcoidosis: data from the Black Women's Health Study. Sarcoidosis Vasc Diffuse Lung Dis. 2013 Aug 1, 30(2): 128-133. PMID 24071884
 Berman JS, Govender P, Ruberg FL, Mazzini M, Miller EJ.  Scadding Revisited:  A Proposed Staging System for Sarcoidosis Based on Advanced Imaging.  Sarcoidosis Vasc Diffuse Lung Dis. 2014.  Apr 18,31(1):2-5.  PMID 24751447
Ahmadian A, Brogan A, Berman JS, Sverdlov AL, Mercier G, Mazzini M, Govender P, Ruberg RL, Miller EJ.  Quantitative Interpretation of FDG PET/CT with Myocardial Perfusion Imaging Increases the Diagnostic Information in the Evaluation of Cardiac Sarcoidosis.  J Nuc Card.  2014.  May 31.  PMID: 24879453
Links:
For Patients
The Sarcoidosis Center at Boston University Medical Center
National Heart, Lung and Blood Institute (NHLBI):Diseases Conditions Index (DCI) for Sarcoidosis
American Lung Association (ALA) Diseases A – Z: Sarcoidosis
JAMA patient page, "Living with Sarcoidosis"
To schedule a clinic visit, refer a patient, or speak with one of our physicians, please contact us at:
Boston University Sarcoidosis Center
725 Albany Street Suite 9B
Boston, MA 02118
PHONE 617-414-3479
FAX 617-638-7486
Patient/Provider Instructions:
In order to provide the BMC Sarcoid Center with accurate information prior to an initial evaluation, instructions for patients/providers are accessible using this link. BMC Sarcoid Referral Instructions
 Drs. Govender (left) and Berman in the Sarcoid Clinic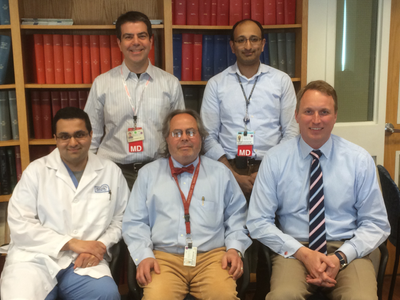 Multi-disciplinary cardiac sarcoidosis group.  Back row:  Drs. Ruberg (left) and Govender.  Front row (from left):  Drs. Bhatt, Berman, and Miller