Lung Cancer
Translational-Clinical Research
---
Smoking causes the two most lethal lung diseases, lung cancer and COPD. Despite their shared link to smoking, lung cancer and COPD do not necessarily occur in the same subjects (although there is some co-morbility), and the pathology, pathogenesis, and manifestations of the diseases are quite different. One of the major mysteries of the smoking link to these two lung diseases is the fact that many, indeed most smokers, do not develop either disease. Our group is concerned with mechanisms by which some individuals protect themselves from the harmful effects of smoking, with developing diagnostic and risk-assessment tools for the early detection of lung cancer, in developing new approaches to understanding the mechanisms by which these diseases arise and, in the case of lung cancer, spread beyond the lung, and with using genomic and molecular tools to define new approaches to treatment of lung cancer and COPD.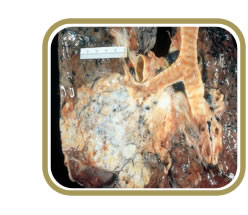 Avi Spira leads a Bioinformatics group that uses new and existing statistical and computational methods to analyze large data sets of gene and protein expression in lung epithelial cells and lung tumors, in order to discover new diagnostic tools, new insights into cancer and COPD pathogenesis, and new approaches to treatment of these diseases. The Bioinformatics group involves graduate students from the University-wide program in Bioinformatics, and collaborations with faculty such as Jim Collins in the College of Engineering at Boston University, and involves collaborations with other institutions.
Hasmeena Kathuria is studying the molecular events involved in the transition from early lung tumors to metastases, the genes involved and their regulation. She is particularly interested in how caveolin, a gene expressed in normal lung cells, participates in lung carcinogenesis. Tools employed include laser-capture microdissection of archival tumor tissue, real-time PCR, and in vitro promoter regulation of caveolin gene expression.
We are also interested in the relation between molecular mechanisms that regulate cellular events during lung development that are also involved in the dysregulation of cell proliferation and differentiation and angiogenesis that characterizes lung cancer. As an example, Jining Lu is studying microRNAs, which have recently been discovered as a new mechanism for controlling levels of expression of genes, that are involved in development but also appear to be involved in the regulation of important oncogenes and tumor suppressor genes in cancer. We are presently exploring the levels of microRNA expression in airway epithelial cells of smokers with and without cancer and are computationally determining which genes these microRNAs might regulate.
Our work on smoking and COPD centers on the causal role cigarette smoking plays in the pathogenesis of COPD and the importance of intra-pulmonary anti-oxidant defenses in protecting against smoking-induced lung inflammation. Projects include studies of airway epithelial gene expression in smokers with and without COPD, lead by Jerry Brody and Avi Spira and correlation with the anti-oxidant protective glutathione shield in the lung. Darrell Kotton, Marty Joyce-Brady and Sal Amar, an expert on cytokine-mediated inflammation from the BU School of Dentistry, collaborate on studies of the role of alveolar lining fluid and intracellular anti-oxidant milieu as regulators of alveolar macrophage inflammatory signaling cascades in response to cigarette smoke. These studies involve a number of null mutant mouse models of altered anti-oxidant defenses and newly described methods for selectively transducing alveolar macrophages with genes that boost anti-oxidant defenses or impair inflammatory cascades. The effects of smoking cessation on airway and systemic inflammation and on gene expression will be examined and the use of anti-oxidants to accelerate resolution of inflammation in mouse models and in human will be studied in collaboration with the smoking clinic at BMC run by Dr. Robert Sokolove. Ron Goldstein and Ping-Ping Kuang are studying mechanisms of alveolar repair following protease injury to the lung, the regulation of lung elastin synthesis by inflammatory mediators, and the effects of cigarette smoke and antioxidant defenses on this process.
It is clear from the above that our experimental approaches are varied and involve the tools of genomics and proteomics, bioinformatics, molecular biology, methods for studying regulation of gene expression, new tools for inserting genes into cells, and employ animal models of disease as well as studies of human subjects (translational research). Some of our work is supported by RO1 and KO8-type grants, or by a Program Project in lung development, some are supported by industry, and a number of investigators are involved in a recently-submitted COPD SCCOR proposal. Many of the members of the Lung Cancer/COPD group also participate in the Epithelial, Lung Development Group, Stem Cell Group, and in the Bioinformatics Group.
Principal Investigators:
Jerome S Brody MD
Avrum Spira, MS (Bioinformatics), MD
Marc Lenburg
Hasmeena Kathuria, MD
Darrell Kotton, MD
Martin Joyce-Brady, MD
Jining Lu, PhD
Gang Lu, PhD
Frank Schembri, MD
Paola Sebastiani
Daniel Brooks
Yuriy Aleksevev
Jemma Wilk
Steve Shen
Post-Doctoral Fellows:
Katrina Steiling, MD
Bozena Malyszko
Christina Anderlind
Jennifer Beane
Students:
Xialoing Zhang
Catalina Perdomo
Ayla Ergun
Joshua Campbell
Sri Sidhar
Julie Zeskind
John Brothers
Adam Gowers
Joseph Gerrein
Technicians/Lab Managers:
Study Coordinator:
Martine Dumas
Kathleen Krohne
Research Assistant
Links: