Critical Care Research Program
Translational-Clinical Research
---
Mission Statement:
The goal of the Critical Care Research Program (CCRP) at the Boston University Pulmonary Center is the investigation of novel approaches to providing superior care to our most critically ill patients.
Background: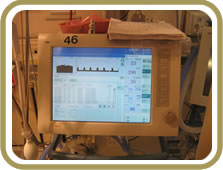 The intensive care unit represents the cutting edge of acute medical care, where the critically ill receive treatment and support of multiple failing organ systems. While these therapies can be life-saving, the often invasive means necessary to deliver critical care increases the risk of complications in these patients. Through a range of translational studies, clinical trials and cohort studies, the Critical Care Research Program (CCRT) investigates the optimal methods of delivering the safest and most efficient critical care. Our team of Pulmonary/Critical Care physicians, respiratory therapists, nurses, and biomedical engineers collaborate to run studies ranging from optimal ventilator weaning strategies to less invasive patient monitoring practices to the mechanisms and attenuation of ventilator-associated lung injury. O ur Program, in conjunction with the BUSM Clinical Research Training Program (CREST), strives to train Pulmonary and Critical Care Fellows formally in epidemiology, biostatistics, and clinical research methods, focusing on this challenging research population. Additionally, we continue to institute and study novel methods of improving resident/housestaff training in critical care medicine.
Selected Ongoing Research Projects:
Ventilator Weaning.
Prolonged ventilator time increases the risk for complications such as ventilator-associated pneumonia, blood clots, and poor outcomes. We are currently conducting a randomized-controlled trial comparing ventilator weaning times of a computer-assisted weaning program compared with standard care weaning in our medical intensive care units.
Decreasing Ventilator-Associated Lung injury in ARDS.
Lung protective ventilatory strategies improve survival in acute respiratory distress syndrome. We are initiating clinical studies of novel ventilator strategies, such as variable ventilation developed by Professor Bela Suki of the BU School of Biomedical Engineering . Variable ventilation has been shown to decrease lung injury in animal models of ARDS. The aim of this work is to assess the effect of variable ventilation in patients with ARDS on lung mechanics, hemodynamics and markers of inflammation and injury associated with mechanical ventilation.
The Utility of the Central Venous Blood Gas in the ICU
Arterial catheters can be associated with significant complications. This project explores the reliability of the less invasive central venous blood gas as a surrogate for the arterial blood gas for routine ventilator and acid-base monitoring. A recent project has involved the development and validation of a VBG-to-ABG correction rule to increase the accuracy of the VBG. Future projects will seek to explore if an individual patients VBG-to-ABG relationship remains constant over time, to further refine the utility of this non-invasive test in daily care.
Ventilator-Associated Pneumonia.
Ventilator Associated Pneumonia (VAP) is a major complication of mechanical ventilation affecting patient outcomes and quality of care measures. Many ICU patients eventually require long-term mechanical ventilator weaning and rehabilitation at specialized Long Term Acute Care Hospitals (LTACH). While the epidemiology and microbiology of acute care hospital VAP has been well-described, little is known about VAP that occurs outside LTACH setting. We are currently researching the basic VAP epidemiology in the LTACH setting.
Noninvasive Ventilation.
Strategies utilizing early noninvasive ventilation improve outcomes in acute exacerbations of COPD and CHF. We are part of a multi-center trial of physician and respiratory therapist education meant to improve noninvasive ventilation utilization.
Blood Transfusions in the Intensive Care Unit.
A conservative and restrictive red blood cell transfusion approach results in superior outcomes in anemia of critical illness. We are studying the effect of multiple resident education strategies in improving blood transfusion practice in the Medical ICU.
Principle Investigators:
Christine Reardon, MD
George O'Connor, MD
Marty Joyce-Brady , MD
Ross Summer, MD
Michael Ieong, MD
Frederic Little, MD
Arthur Theodore, MD
Post-Doctoral Fellows:
Allan Walkey, MD
Philip Wexler, MD