Lung Cancer
Basic Science Research
---
Smoking causes the two most lethal lung diseases, lung cancer and COPD. One of the major mysteries of the smoking link to these two lung diseases is the fact that many, indeed most smokers, do not develop either disease. Our group is concerned with mechanisms by which some individuals protect themselves from the harmful effects of smoking, with developing diagnostic and risk-assessment tools for the early detection of lung cancer, in developing new approaches to understanding the mechanisms by which these diseases arise and, in the case of lung cancer, spread beyond the lung, and with using genomic and molecular tools to define new approaches to treatment of lung cancer and COPD.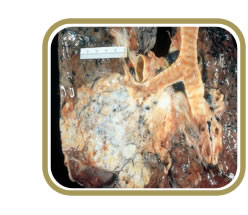 Avi Spira leads a Bioinformatics group that uses new and existing statistical and computational methods to analyze large data sets of gene expression in lung epithelial cells and lung tumors, in order to discover new diagnostic tools, new insights into cancer and COPD pathogenesis, and new approaches to treatment of these diseases. The Bioinformatics group involves graduate students from the University-wide program in Bioinformatics, and collaborations with faculty such as Jim Collins in the College of Engineering at Boston University, and involves collaborations with other institutions.
Katrina Steiling's research focuses on applying high-throughput genomic tools and emerging computational methods to develop improved diagnostics, prognostics, and risk stratification tools for phenotypically complex lung diseases such as COPD and lung cancer. Dr. Steiling's primary research involves gene expression profiling of the airway epithelium from individuals with COPD in order to understand the molecular mechanisms of this disease and its relationship to lung cancer. She has also worked to apply airway gene expression profiling to the diagnosis of lung cancer, to understand the relationship between smoking-induced changes in gene expression in the bronchial airway and the upper airway, and to elucidate the relationship between smoking-induced changes in airway gene and protein expression.
Hasmeena Kathuria is studying the molecular events involved in the transition from early lung tumors to metastases, the genes involved and their function and regulation. She is particularly interested in how the ETS family of transcription factors and target genes such as Twist1 participate in EMT and lung carcinogenesis. We are also interested in the relation between molecular mechanisms that regulate cellular events during lung development that are also involved in the dysregulation of cell proliferation and differentiation and angiogenesis that characterizes lung cancer. As an example, along with Drs. Yuxia Cao, Jining Lu, and Maria I Ramirez, we are studying lncRNAs and micrRNAs, which have recently been discovered as a new mechanism for controlling levels of expression of genes, that are involved in development but also appear to be involved in the regulation of important oncogenes and tumor suppressor genes in cancer. Frank Schembri and Avi Spira are presently exploring the levels of microRNA expression in airway epithelial cells of smokers with and without cancer and are computationally determining which genes these microRNAs might regulate.
Our work on smoking and COPD centers on the causal role cigarette smoking plays in the pathogenesis of COPD and the importance of intra-pulmonary anti-oxidant defenses in protecting against smoking-induced lung inflammation. In collaboration with Drs. Stephen Lam, Jim Hogg, Peter Pare and Don Sin at the University of British Columbia, we are currently exploring whole-genome mRNA and microRNA changes in the airways and lungs of smokers with COPD in order to to better understand the molecular diversity of COPD both for developing subtype-targeted therapies and biomarkers that would allow for more biologically relevant diagnosis. Additionally, using a unique cohort of lung tissues with existing whole genome-expression and genotyping data, we will identify genetic variants that influence these airway gene expression changes and may ultimately serve as markers of disease susceptibility and progression.
It is clear from the above that our experimental approaches are varied and involve the tools of genomics and proteomics, bioinformatics, molecular biology, methods for studying regulation of gene expression, new tools for inserting genes into cells, and employ animal models of disease as well as studies of human subjects (translational research). Some of our work is supported by RO1 and KO8-type grants, or by a Program Project in lung development, some are supported by industry, and a number of investigators are involved in a NHLBI-sponsored R01 to investigate molecular phenotypes of lung disease. Many of the members of the Lung Cancer/COPD group also participate in the Epithelial, Lung Development Group, Stem Cell Group, and in the Bioinformatics Group.
Principal Investigators:
Jerome S Brody, MD
Avrum Spira, MD, MSc
Katrina Steiling, MD, MSc
Marc Lenburg, PhD
Jennifer Beane, PhD
Christina Anderlind, MD
Hasmeena Kathuria, MD
Maria I. Ramirez, PhD
Yuxia Cao, MD
Darrell Kotton, MD
Martin Joyce-Brady, MD
Frank Schembri, MD
Jining Lu, PhD
Gang Liu, PhD
Paola Sebastiani, PhD
Daniel Brooks, MPH, DSc
Yuriy Aleksevev, PhD
Post-Doctoral Fellows:
Yannbor Lin, MD
Charles Dumont, MD
Students:
Catalina Perdomo (PhD student, Genetics and Genomics)
Adam Gower (PhD student, Bioinformatics)
Julie Zeskind (PhD student, Bioinformatics)
John Brothers (PhD student, Bioinformatics)
Joshua Campbell (PhD student, Bioinformatics)
Joseph Gerrein (PhD student, Bioinformatics)
Becky Kusko (PhD student, Genetics and Genomics)
Kahkeshan Hijazi (PhD student, Bioinformatics)
Teresa Wang (PhD student, Bioinformatics)
Carly Garrison (PhD student, Genetics and Genomics)
Study Coordinators:
Research Technicians:
Research Assistants:
Links: