William Cruikshank, Ph.D.
Faculty and Fellows
---
Professor of Medicine, Director of Immunology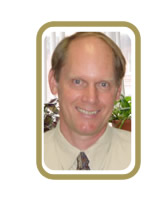 College Education: Washington and Jefferson College, B.S. 1977
Graduate School/PhD Program: Boston University, Ph.D. in Biochemistry 1988,
Thesis topic: Signaling and Functional Characterization of the CD4-Specific Ligand LCF (Lymphocyte Chemoattractant Factor).
Special Interests:
Research:
Our research focuses on the biological activity and potential therapeutic applications of interleukin-16, IL-16. IL-16 is produced by a number of cell types, including T and B lymphocytes, epithelial cells, fibroblasts and neuronal cells, and has been detected at sites of inflammation in association with asthma, Type I Diabetes, Crohn's Disease, multiple sclerosis and rheumatoid arthritis. There are two major components to IL-16, a secreted component which binds to CD4 and induces T cell motility and regulates cell activation, and a pro-IL-16 component which remains within the cell and translocates into the nucleus to regulate cell growth.
Studies are on-going investigating the mechanism by which secreted IL-16 recruits CD4+ cells to sites of inflammation and regulates their activation state. IL-16 preferentially recruits Th1 type cells and therefore its presence in Th2 type diseases, such as asthma, appears to be anti-inflammatory. In Th1 type diseases, such as diabetes and arthritis, the presence of IL-16 appears to be pro-inflammatory. A number of animal models involving Th1 and Th2 type diseases have been established to determine the potential therapeutics of exogenous administration of IL-16, or neutralizing IL-16 using anti-IL-16 antibody, on initiation and progression of disease. These studies have led to issuance of ten patents relating to IL-16 and potential therapeutic uses.
We are also investigating the ramifications of altered pro-IL-16 expression or function as it relates to dysregulated T cell growth. We have determined that nuclear presence of pro-IL-16 results in T cell quiescence, while lack of expression results in dysregulated T cell growth. Using primary T cells obtained from patients with Sezary Syndrome, a lymphoproliferative disease of the skin, we have determined that most of the T cells lack normal nuclear expression of pro-IL-16. Further examination has revealed that the pro-IL-16 protein is mutated such that translocation into the nucleus is prevented. We are now investigating correlations between lack of pro-IL-16 nuclear expression with disease severity, as well as the potential therapeutics of expressing wild type pro-IL-16 protein in primary Sezary Syndrome T cells.
To learn more about the biology of IL-16 click here.
Selected Publications:
Skundric, D., R. Dai, V. Zakarian, D. Bessert, R. Skoff, W. Cruikshank, and Z. Kurjakovic. 2005. Anti-IL-16 therapy reduces CD4+ T-cell infiltration and improves paralysis and histopathology of relapsing EAE. J. Neurosci. Res. 79:680-693.
Wilson, K., D. Center, and W. Cruikshank. 2004. The effect of interleukin-16 and its precursor on T lymphocyte activation and growth. Growth Factors, 22:97-104.
Pritchard, J., S. Tsui, N. Horst, W. Cruikshank, and T. Smith. 2004. Synovial fibroblasts from patients with rheumatoid arthritis, like fibroblasts from Graves' disease, express high levels of IL-16 when treated with Igs against insulin-like growth factor-1 receptor. J. Immunol. 173:3564-3569.
Little, F. and W. Cruikshank. 2004. Interleukin-16 and peptide derivatives as immunomodulatory therapy in allergic lung disease. Expert Opin. Biol. Ther. 4:837-846.
Center, D., W. Cruikshank, and Y. Zhang. 2004. Nuclear pro-IL-16 regulation of T cell proliferation: p27(KIP1)-dependent G0/G1 arrest mediated by inhibition of Skp2 transcription. J Immunol. 172:1654-60.
Pritchard, J, R. Han, N. Horst, W. Cruikshank, and T. Smith. 2003. Immunoglobulin activation of T cell chemoattractant expression in fibroblasts from patients with Graves' disease is mediated through the insulin-like growth factor I receptor pathway. J. Immunol. 170:6348-6354.
Komata, T., W. Cruikshank, and A. Kelso. 2003. Sustained linked stimulation via CD3 and CD4 is required for the IL-4-independent development of IL-4 synthesizing CD4+ T cells. Immunol. Cell Biol. 81:283-288.
Little, F., E. Lynch, G. Fine, D. Center, and W. Cruikshank. 2003. Tumor necrosis factor-alpha-induced synthesis of interleukin-16 in airway epithelial cells: priming for serotonin stimulation. Am. J. Respir. Cell Mol. Biol. 28:354-362.
Lynch, E., C. Heijens, N. Horst, D. Center, and W. Cruikshank. 2003. Cutting Edge: IL-16/CD4 preferentially induces Th1 cell migration: Requirement of CCR5. J. Immunol. 171: 4965-4968.
De Bie, J., P. Henricks, W. Cruikshank, J. Hoevenaars, F. Nijkamp, and A. Van Oosterhout. 2002. Exogenous IL-16 inhibits antigen-induced airway hyperreactivity, eosinophilia and Th2-type cytokine production in mice. Clin. Exp. Allergy, 32:1651-1658.
Pritchard, J., N. Horst, W. Cruikshank and T. Smith. 2002. Immunoglobulins from patients with Graves' disease induce the expression of T cell chemoattractants in their fibroblasts. J. Immunol. vol 168:942-950.
Little, F., D. Center, and W. Cruikshank. 2002. IL-9 stimulates release of chemotactic factors from human bronchial epithelial cells. Am. J. Respir. Cell Mol. Biol. 25:347-352.
Van Drenth, C., A. Jenkins, L. Ledwich, T. Ryan, M. Vallen-Mashikian, W. Brazer, D. Center and W. Cruikshank. 2000. Desensitization of CXCR4, mediated by IL-16/CD4, is independent of p56lck enzymatic activity. J. Immunol. 165:6356.
Selected Reprints:
Links: