Terese C. Hammond, M.D.
Faculty and Fellows
---
Assistant Professor of Medicine, Pulmonary Critical Care and Sleep Medicine
Director of Outpatient Pulmonary Clinic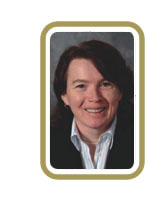 Medical School: University of Missouri, Columbia
Internship: Boston University School of Medicine
Residency: Boston University School of Medicine
Fellowship: Boston University School of Medicine
Board Certifications:
Internal Medicine
Pulmonary Medicine
Critical Care Medicine
Board Eligible in Sleep Medicine
Special Interests:
Research:
Complex Sleep Disorder
Sleep apnea and pulmonary hypertension
Sleep apnea and oxidative stress
Clinical:
Sleep apnea and other non-apnic sleep disorders, CPAP compliance
During my fellowship at Boston University, I pursued several tracks of clinical sleep research with Dr. Dan Gottlieb. I was involved with the multi-center APPLES (Apnea Positive Pressure Long-term Efficacy Study) trial at the Brigham and Women's Hospital site and also explored associations between obstructive sleep apnea and oxidative stress in patients enrolled in the Sleep Heart Health Study. I left Boston University after fellowship in 2007 to practice community-based pulmonary, critical care and sleep medicine at Emerson Hospital in Concord, MA. While I continue to practice sleep medicine on a limited basis at Emerson, I returned to a full time academic position at BU in March 2009. I am currently involved in the expansion and refinement of the BU/Boston Medical Center multi-disciplinary sleep program.
Selected Publications:
Mark L. Unruh, Mark H. Sanders2 Susan R. Redline, Beth M. Piraino, Jason G. Umans, Terese C. Hammond, Imran Sharief, Naresh M. Punjabi, Anne B. Newman. (2007) "Sleep Apnea in Patients on Conventional Thrice-Weekly Hemodialysis: Comparison with Matched Controls from the Sleep Heart Health Study". JASN 2006
Ercal, N., Oztezcan, S., Hammond, T., Matthews, R., Spitz, D. (1996). "HPLC assay for N-acetylcysteine in biological samples following derivatization with N-(1-pyrenyl)maleimide." J Chromatography B, 685: 329-334.
Ercal, N., Treeratphan, P., Lutz, P., Hammond, T., Matthews, R. (1995). "N-acetylcysteine protects Chinese hamster ovary cells from lead-induced oxidative stress." Toxicology, 180: 57-64.
Ercal, N., Treeratphan, P., Hammond, T., Matthews, R., Grannemann, N., Spitz, D. (1996) "In viv indices of oxidative stress in lead-exposed C57BL/6 mice are reduced by treatment with meso-2,3-dimercaptosuccinic." Free Radical Biol and Med, 21:157-161.
Selected Reprints:
Dr. Hammond sees patients at
Boston Medical Center, DOB 4th Floor
(617) 638-7480
Emerson Hospital, 131 ORNAC John Cuming Building Ste 660, Concord, MA 01742
(978) 369-4238.