Jining Lu, Ph.D.
Faculty and Fellows
---
Assistant Professor of Medicine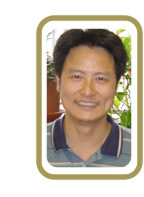 Undergraduate Education: Zhejiang Jinhua Medical School, B.S
Graduate School: Shanghai Second Medical University, M.S. Biochemistry
Graduate School PhD Program: Shanghai Institute of Cell Biology, Chinese Academy of Science.
Post-doctoral Fellowship: National Institute of Health, Laboratory of Cellular and Developmental Biology.
Special Interests:
miRNAs are small regulatory RNAs that modulate gene expression by translational suppression and degradation of their target mRNAs. miRNA plays essential roles in development and diseases such as cancer, cardiac hypertrophy and fibrosis. Specifically, we are interested in the roles of miRNAs in lung development and in pulmonary disorders such as idiopathic pulmonary fibrosis (IPF).
Roles of miRNAs in Shh or Tgfb signaling pathways in early lung development
Both Shh (sonic hedgehog) and Tgfb pathways play critical roles in lung development. However, little is known about the role of miRNAs in these pathways. Our strategy is to profile miRNA expression in early developmental lung explants in which Shh or Tgfb signaling activities are selectively inhibited. Then, we will study the function of miRNAs whose expression levels are influenced by Shh or Tgfb activity using in vitro or in vivo approaches.
The function of Tnrc6 gene family members in mouse lung development
This gene family encodes three members of the trinucleotide repeat containing 6 proteins, including Tnrc6a (GW182), Tnrc6b and Tnrc6c. These proteins are associated with RNAs and Argonaute proteins in a cytoplasmic body called GW-body or P-body. In vitro assays have revealed their important roles in RNAi and miRNA induced gene silencing. Our objectives are to understand their roles in lung development in vivo using genetic approaches.
miR-129 in cell cycle regulation
It has been reported that miR-129 expression is down-regulated in tumor cell lines or primary tumors derived from neural, gastric or colorectal tissue. However, its role in cell proliferation is unknown. We have found over-expression of miR-129 arrests the growth of multiple tumor cell lines that originated from different organs. Currently, we are studying the mechanism of miR-129-mediated cell growth arrest. We are also interested in the role of miR-129 in lung development and in homeostasis of the adult lung in vivo.
miRNA in lung fibrosis
We will profile laser-captured samples from IPF or normal subjects to identify miRNAs significantly altered in specific features of IPF, such as fibrotic foci. We will study their roles in fibrosis using in vitro or in vivo approaches. We are also interested in the function of miRNAs downstream of the Tgfb pathway in lung fibrosis; such as the role of miR-29 in this disease process.
Selected Publications:
Lü J, Qian J, Keppler D, Cardoso WV. Cathespin H is an FGF10 target involved in BMP4 degradation during lung branching morphogenesis. J Biol Chem. 2007 May 11; [Epub ahead of print].
Lü J, Qian J, Chen F, Tang X, Li C, Cardoso WV.
Differential expression of components of the microRNA machinery during mouse organogenesis. Biochem Biophys Res Commun. 2005 Aug 26;334(2):319-23.
Cardoso WV, Lü J. Regulation of early lung morphogenesis: questions, facts and controversies. Development. 2006 May;133(9):1611-24.
Lü J, Izvolsky KI, Qian J, and Cardoso WV . Identification of FGF10 targets in the embryonic lung epithelium during bud morphogenesis. J Biol Chem. 2005 Feb 11;280(6):4834-41.
Bielinska B, Lü J, Sturgill D, Oliver B. Core promoter sequences contribute to ovo-B regulation in the Drosophila melanogaster germline. Genetics. 2005 Jan;169(1):161-72.
Lü J, Qian J, Izvolsky KI, Cardoso WV (2004). Global analysis of genes differentially expressed in branching and non-branching regions of the mouse embryonic lung. Dev. Biol. 273, 418-435.
Johnston R, Wang B, Nuttall R, Doctolero M, Edwards P, Lü J, Vainer M, Yue H, Wang X, Minor J, Chan C, Lash A, Goralski T, Parisi M, Oliver B, Eastman S. FlyGEM, a full transcriptome array platform for the Drosophila community. Genome Biol. 2004;5(3): R19. Epub 2004 Feb 26.
Parisi M, Nuttall R, Edwards P, Minor J, Naiman D, Lü J, Doctolero M, Vainer M, Chan C, Malley J, Eastman S, Oliver B. Microarray analysis of ovary-, testis-, and soma-biased gene expression in Drosophila melanogaster. Genome Biol. 2004;5(6): R40. Epub 2004 Jun 01.
Sun ZG, Kong WH, Zhang YJ, Yan S, Lü J, Gu Z, Lin F, Tso JK. A novel ubiquitin carboxyl terminal hydrolase is involved in toad oocyte maturation. Cell Res. 2002; 12: 199-206.
Lü J, Oliver B. Drosophila OVO regulates ovarian tumor transcription by binding unusually near the transcription start site. Development 128: 1671-1686, 2001.
Guru SC, Prasadd NB, Shin EJ, Hemavathy K, Lü J, Ip YT, Agarwal SK, Marx SJ, Spiegel AM, Collins FS, Oliver B, Chandrasekharappa SC. Characterization of a MEN1 ortholog from Drosophila melanogaster. Gene 23(1-2): 31-38, 2001.
Andrews J, Bouffard GG, Cheadle C, Lü J, Becker KG, Oliver B. Gene discovery using computational and microarray analysis of transcription in Drosophila melanogaster testis. Genome Research 10: 2030-2043, 2000.
Andrews J, Garcia-Estafania D, Delon I, Lü J, Mevel-Ninio M, Payer F, Pauli D, Oliver B. OVO transcription factors function antagonistically in the Drosophila female germline. Development 127: 881-892, 2000.
Kong WH, Zheng G, Lü J, Tso JK. Temperature dependent expression of cdc2 and cyclin B1 in spermatogenic cells during spermatogenesis. Cell Res 10(4): 289-302, 2000.
Lü J, Andrews J, Pauli D, Oliver B. Drosophila OVO zinc finger protein regulates ovo and otu target promoters. Dev Genes Evol 208: 213-222, 1998.
Selected Reprints:
Links: