Hasmeena Kathuria, M.D.
Faculty and Fellows
---
Assistant Professor of Medicine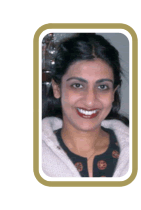 Medical School: Loyola Stritch School of Medicine
Internship: Indiana University
Residency: Indiana University
Chief Residency: Indiana University
Fellowship: Boston University
Board Certifications:
Internal Medicine
Pulmonary Medicine
Critical Care Medicine
Sleep Medicine
Special Interests:
Research:
Clinical:
Dr. Kathuria is an Assistant Professor in the Department of Medicine. She attends in the Thoracic Oncology Center and specializes in the management and work-up of thoracic tumors. She sees pulmonary patients at the East Boston Neighborhood Health Center. In addition, Dr. Kathuria is a member of the BMC Sleep Group with expertise in the diagnosis and treatment of sleep disorders.
Dr. Kathuria's research focuses on understanding the molecular mechanisms of lung cancer metastasis. Using various mouse models of lung cancer with different propensities to metastasize, she studies the role of  epithelial-mesenchymal transition (EMT) in lung cancer, a necessary step that epithelial malignancies acquire to invade and metastasize.
She is a member of three research groups at the Pulmonary Center, the Epithelial Group, the Pulmonomics Group and the Lung Cancer Group
Selected Publications:
Martinez, H, Brody J. Kathuria, H. "Genomics of Lung Cancer" in Handbook of Genomic Medicine. Elsevier Press, in press 2012
H. Kathuria, K.-K. Wong, J. Carretero, J. Li, .A Hinds, M. Ramirez, M. C. Williams. Ets-1 Regulates Twist-1 Expression In Non-Small Cell Lung Cancer (NSCLC) Progression And MetastasisAm J Respir Crit Care Med 183;2011:A4049
Boopathi, E; Gomes, CM; Goldfarb, R; John, M; Srinivasan, VG; Alanzi, J; Malkowicz, SB; Kathuria, H; Zderic, SA; Wein, AJ; Chacko, S
Transcriptional repression of Caveolin-1 (CAV1) gene expression by GATA-6 in bladder smooth muscle hypertrophy in mice and human beings.The American journal of pathology 2011;178(5):2236-51.
K.A. Sloan, H.A. Marquez, Li, J, Y.X. Cao, A. Hinds, C.J, O'Hara, S. Kathuria, M.I. Ramirez, M.C. Williams, and H. Kathuria. Increased PEA3/E1AF and Decreased Net/Elk-3, both Ets Proteins, Characterize Human NSCLC Progression and Regulate Caveolin-1 Transcription in Calu-1 and NCI-H23 NSCLC Cell Lines. Carcinogenesis, Carcinogenesis 2009;30(8):1433-42.
Morgan, RK, Campbell-Reardon, C, Kathuria, H, Fernando, HC, Daly BDT. Pulmonary Function changes following high-dose radiation with concurrent chemotherapy prior to resection of locally advanced non-small-cell lung cancer, Annals of Thoracic Surgery, in press 2009
Kathuria H, Spira A, Brody J. "Genomics of Lung Cancer" in Handbook of Genomic Medicine. Elsevier Press, 2008
Kathuria H, Cao Y, Hinds A, Ramirez MI, Williams MC. ERM is expressed by alveolar epithelial cells in adult mouse lung and regulates caveolin-1 transcription in mouse lung epithelial cell lines. J Cell Biochem. 102(1): 13-27, 2007
Kathuria H, Cao YX, Ramirez MI, Williams, MC. Transcription of the caveolin-1 gene is differentially regulated in lung type I epithelial and endothelial cell lines: A role for ETS proteins in epithelial cell expression. J. Biol. Chem. 279: 30028-30036, 2004
Nasreen N, Mohammed KA, Hardwick J, Van Horn RD, Sanders K, Kathuria H, Loghmani F, Antony VB. Low molecular weight hyaluronon induces malignant mesothelioma (MMC) proliferation and haptotaxis: role of CD44 receptor in MMC proliferation and haptotaxis. Oncol Res. 13(2): 71-78, 2002
Links: