Felicia Chen, M.D.
Faculty and Fellows
---
felichen@bu.edu
Assistant Professor of Medicine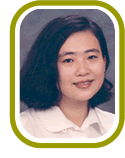 Medical School: Albany Medical College
Internship: Boston University
Residency: Boston University
Fellowship: Boston University
Special Interests:
Lung progenitor biology
Role of retinoic acid in early lung development
Lung injury and repair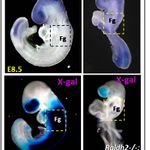 Dr. Chen attends on the Pulmonary Consult service and in the Medical Intensive Care Units at Boston Medical Center and Sturdy Memorial Hospital. She is a member of Dr. Wellington V. Cardoso's lab.
The abnormalities of the developing respiratory system associated with retinoic acid (RA)-deficiency have been known for decades. However, the cellular and molecular events controlled by RA during lung development remain unclear. Dr. Chen's research focuses on the various RA-dependent signaling mechanisms involved in primary lung bud formation. By using a combination of pharmacologic, genetic, and organ culture approaches, she has demonstrated the critical role of RA in controlling at least three major pathways, Tgf-beta, Wnt, and Fgf, to allow proper formation of the early lung. Currently, she's investigating the role of retinoic acid in the differentiation of bronchial and vascular smooth muscles during lung development.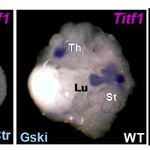 Selected Publications
Chen F, Qian J, Shao F, Niederreither K, Cardoso WV. (2009) A retinoic acid-dependent network in the foregut mesoderm controls formation of the lung primordium. Submitted.
Shi W, Chen F, Cardoso WV. (2009) Mechanisms of lung development: contribution to adult lung disease and relevance to COPD. Submitted.
Tsao PN, Chen F, Izvolsky KI, Walker J, Kukuruzinska MA, Lu J, Cardoso WV. (2008) Gamma-secretase activation of notch signaling regulates the balance of proximal and distal fates in progenitor cells of the developing lung. J Biol Chem. 283: 29532-44.
Chen F, Desai TJ, Qian J, Niederreither K, Lu J, Cardoso WV. (2007) Inhibition of Tgfβ signaling by endogenous retinoic acid is essential for primary lung bud induction. Development. 134:2969-79.
Desai Tj, Chen F, Lu J, Qian J, Niederreither K, Dolle P, Chambon P, Cardoso WV. (2005) Distinct roles for retinoic acid receptors alpha and beta in early lung morphogenesis. Developmental Biology. 291:12-24.
Lu J, Qian J, Chen F, Tang X, Li C, Cardoso WV. (2005) Differential expression of components of the microRNA machinery during mouse organogenesis. Biochem Biophys Res Commun. 334:319-23.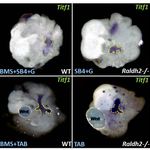 Selected Reprints:
Links: