Critical Care Training
Pulmonary Fellowship Training
---
Medical Intensive Care Unit (MICU)
Pulmonary Critical Care first year fellows rotate through three diverse medical intensive care units. Click here for more details.
Anesthesia/Thoracic Rotation:
Second year fellows continue their critical care training during a month long rotation on the anesthesia service. The intent of this rotation is to develop a proficiency in elective and emergent airway management, use of double lumen endotracheal tubes and tube blockers, preoperative pulmonary assessment, and line placement. The fellows are instructed in preoperative clinical assessment related to anesthesia for elective and emergent surgery. There is formal instruction on induction agents, muscle relaxants, opiates, and inhalational agents. The fellows are instructed on the use of medications for conscious sedation. Fellows also spend time in the Post-Anesthesia Care Unit to gain experience in managing the types of problems that occur immediately following surgery. Fellows also attend anesthesia meetings, lectures, and Grand Rounds during this rotation.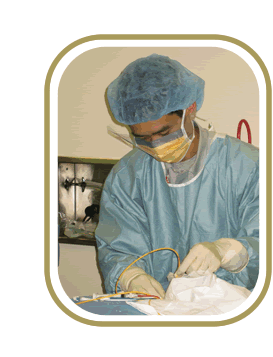 Fellows participate in thoracic surgery cases from both the anesthesia and the surgical side. Fellows have the opportunity to assist in thoracic surgery cases including interventional bronchoscopy cases, endobronchial ultrasound, stent placement, and cryotherapy, and to observe intra-operative pulmonary pathology. During this rotation, fellows are trained in chest tube placement by the thoracic surgical team.
Surgical Intensive Care Rotation:
Third year fellows continue their critical care training by spending 2 months in the surgical intensive care units of Boston Medical Center as critical care fellows. This unique clinical experience takes advantage of the fact that Boston Medical Center is a Level I trauma center, with 28 SICU beds, and 1544 trauma admissions a year. In this capacity, Boston Medical Center is a receiving facility for the Boston Medflight Program, which is the main air evacuation system for this region. The critical care staff is board certified by The American Board of Surgery, Internal Medicine, and/or Anesthesia, and Critical Care. During this rotation, our fellows are directly involved in the care of severely injured patients, gaining the skills necessary to care for trauma victims. In addition to trauma, our fellows are involved in the care of orthopedic, general surgical, neurosurgical, and vascular patients that are admitted to the surgical intensive care unit.