Braintree Rehabilitation Hospital
Parkinson Inpatient Rehabilitation Program at Braintree Rehabilitation Hospital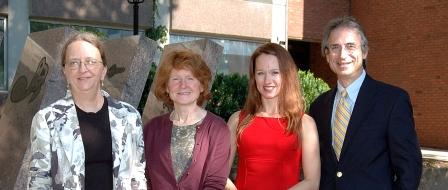 The BU Parkinson's Disease and Movement Disorders Center has developed a specialized inpatient movement disorders program at Braintree Rehabilitation Hospital. This program focuses on patients with atypical and idiopathic PD as well as their unique cognitive, motor, and medication-related issues.  The program started in 2001 by Drs. Marie Saint-Hilaire, MD, Douglas Katz, MD, and Joy Depeiro, MD. In addition, the team includes physical, occupational, speech therapists, social workers, and nurses.  Approximately 100 inpatients are involved each year in the program, admitted from home or acute care settings. Dr. Anna Hohler serves as the current director of the Movement Disorders Program.
Upon admission, the initial goals of the team are to record a patient's movement performance and cognitive function throughout the day and assess the impact on activities of daily living.  This information is used to identify particular problems specific to that individual, and establish a working diagnosis of the movement disorder to guide treatment decisions.  The next goal is to make appropriate medication adjustments to minimize impairments and optimize functional mobility.  During this process patients participate in individual- and group therapy sessions where team members treat and monitor movement and cognitive behavior.
Physical and occupational therapists evaluate patient's functional status daily with a battery of short timed tests.  Impairment-level assessments are made twice weekly by neurologists: blood pressure, examining tremor, bradykinesia, rigidity, and other impairment-level elements of the UPDRS.  Once data are collected and evaluations are complete, patient cases are discussed at weekly movement disorders rounds attended by the patient's therapy team and the movement disorders team.  A brief summary of any medication side effects or fluctuations of motor or cognitive status is presented to the movement disorders neurologists, who then direct appropriate medication adjustments.  The patient's motor and cognitive function continues to be tracked and presented at the next round to determine the effectiveness of any medication changes.
In addition to carrying out daily motor and cognitive assessments, therapists and nursing staff are knowledgeable of the indications and potential side effects of the dopaminergic medication used in the treatment of extrapyramidal movement disorders.  Issues regarding administration of these medications with respect to meals and activities are emphasized.  The nursing staff is focused on management of dosage schedules, often challenging in patients with frequent dosing of multiple medications. 
The rehabilitation team monitors medication effects and side effects.  Education in-services are given to assure correct identification of parkinsonian signs and side effects including tremor, freezing, wearing-off phenomena, dyskinesias, hallucinations, and orthostasis.  Clinical responses are documented and tracked in relation to medication dosing.  These observations are key for medication adjustment decisions.
For information on this program please contact the BU Parkinson's Disease and Movement Disorders Center at (617) 638-7737.