Parkinson's Day Evaluation Program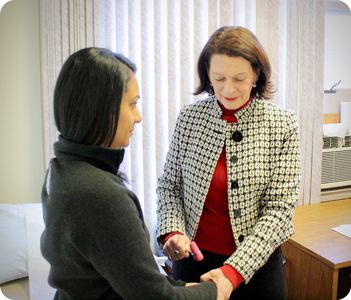 The Parkinson's Day Evaluation Program is a specialized outpatient visit designed to take the traditional clinic visit a step further by extending the observation and assessment phase of treatment. The session integrates the educational and supportive components of care to enhance the total care plan for the patient. Established in 1989, this program has been replicated in other centers throughout the US.
This highly personalized program is designed specifically to allow closer physician and nurse assessment of the patient's functional status and response to medications.  It emphasizes the Parkinson team's philosophy – that learning more about your condition will facilitate a healthy adjustment and assure more effective management of the disease. In addition to physician and nurse observation, the Program activities focus on the many aspects of coping with Parkinson's disease and may include teaching, discussions, exercise demonstrations, counseling and emotional support services.
In order to attend the Day Program you must first receive an evaluation from a Movement Disorder Specialist at Boston University Neurology Associates. For additional information please contact (617) 638-7737.