Stephanie Bissonnette, DO, MPH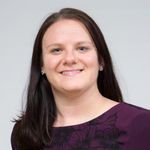 Phone: 617.638.7729
Fax: 617.638.5354
Email: stephanie.bissonnette@bmc.org
Location: Department of Neurology, BUMC
Assistant Professor of Neurology
Educational Background
Dr. Bissonnette received her Doctor of Osteopathic Medicine at the University of New England in Biddeford, ME. She also received a Masters in Public Health from Boston University. She completed her residency at the Ohio State University Wexner Medical Center in Columbus, OH. She completed a Movement Disorder Fellowship at Boston University Medical Center in 2018.
Clinical Care
Dr. Bissonnette is board-certified in Neurology and is fellowship trained in Movement Disorders.  She specializes in the management of Parkinson's Disease and other movement disorders.
Research
Dr. Bissonnette participates in clinical research evaluating novel pharmacological agents in Parkinson's Disease. Her research interests also include studying biomarkers in Parkinson's. She is an investigator member of the Parkinson Study Group (PSG) as well as the Huntington's Study Group (HSG).
Teaching and Mentoring
Dr. Bissonnette participates in education of medical students, residents, and the Movement Disorder Fellow. She is actively involved as a mentor to the Partners in Parkinson's program, which connects first-year medical students with patients and families living with Parkinson's.
Community Outreach
Dr. Bissonnette is active in the Parkinson's and Movement Disorder community and has provided numerous presentations to professional and lay groups.