2nd Annual Edmond J. Safra Visiting Nurse Faculty Program Takes Place in Boston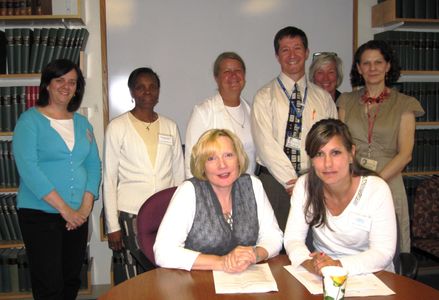 Recognizing the important role nurses play in the care of patients and families living with Parkinson's disease, the Edmond J. Safra Foundation awarded a grant to support the second annual Visiting Nurse Faculty Program. The program was held June 20th to 24th at Boston University Medical Center. The goal of this program was to provide up-to-date information on the care needs of Parkinson patients to faculty. This information and experience can then be shared with students to better prepare them for their role as nurses. This year, nursing faculty from the University of Massachusetts in Dartmouth, Worcester State College, and Saint Anselm College were selected to participate.
Program content included signs and symptoms of PD, diagnosis, medical and surgical management,  the role of nursing and interdisciplinary care, basic science and clinical research, resources, and family care. Opportunity was provided to meet patients and family during actual clinic visits. Faculty spent one full day at Boston University's Neurorehabilitation Center learning about the important role of exercise and other rehabilitative therapies. Each participant will work on a Parkinson's disease independent project.
This Visiting Nursing Faculty (VNF) program was developed and successfully piloted in 2009 by Gwyn Vernon MSN, CRNP and Lisette Bunting-Perry, PhD(c), RN at the University of Pennsylvania. Cathi Thomas, MS, RN, CNRN served as BU's program director. To learn more about the Safra Visiting Nurse Faculty visit www.parkinsonsnursing.com.