Fourth Annual Boston University Parkinson Disease (PD) Forum held April 7, 2010 at Photonics Center
Faculty, students, scientists, clinicians, and staff from across Boston University met for a day long program to share information on the work that is being done in Parkinson's disease. Dr's Ben Wolozin and Marie Saint-Hilaire welcomed their colleagues, promising a day of sharing information from very exciting projects and collaborations ongoing.
Presentations included work being done in both the basic science and clinical areas. Faculty and students also had an opportunity to present recent posters describing their work. A special highlight of the day included a presentation by a physician with Parkinson's disease. Participants were able to hear first hand some of the problems a person with Parkinson's experiences related to both the disease process and treatment.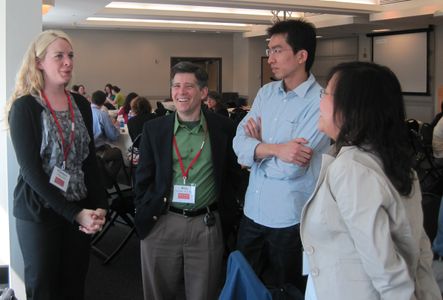 Kirsten Carlson, PhD, a scientist with the Michael J. Fox Foundation (MJF) provided a comprehensive overview of the significant work being done to fulfill the foundations aggressive mission of discovery – leading to better treatments and a cure. She discussed ongoing MJF research projects. She also introduced methods in place for researchers to communicate ideas and share information through a web program "PD Online Research".  Participants had ample opportunity to ask questions and share ideas.
At the end of the day, program planners provided a recap of the day's presentations with an opportunity for informal discussion. Interested members of Boston University's alumni group were invited to attend and participate in this discussion.
The PD forum planning team included Ben Wolozin, Marie Saint-Hilaire, Cathi Thomas, and Ray James. This program was supported by the American Parkinson Disease Association Advanced Center of Excellence. Special thanks to our distinguished presenters.
Please click here for the program agenda.