Michelle Kaku, MD
Assistant Professor of Neurology Director, Neurology Residency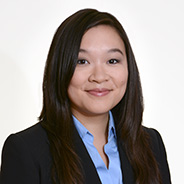 Title

Assistant Professor of Neurology
Director, Neurology Residency

Office

BU School of Medicine, 72 East Concord Street, Boston, MA 02118

Phone

617-638-8456

Education

Medical School: Stony Brook School of Medicine (2011)
Internship: Medicine, Rush University Medical Center (2012)
Residency: Neurology, Icahn School of Medicine at Mount Sinai (2015)
Fellowship: Clinical Neurophysiology, EMG, Icahn School of Medicine at Mount Sinai (2016)
Michelle Kaku, MD is an Assistant Professor of Neurology at the Boston University School of Medicine. She has graduated Magna Cum Laude from Barnard College and received her medical degree from The School of Medicine at Stony Brook University Medical Center where she was awarded the Gold Humanism Award. She was chief resident at the Icahn School of Medicine at Mount Sinai and completed a fellowship in neurophysiology before being appointed to her current position, where she lectures and serves as Program Director to the Neurology Residency.
Board Certifications: Neurology
Special Interests: Disorders of the muscle and nerve, neurological manifestations of amyloidosis, electrodiagnostic medicine, botulinum toxin administration
Awards
In appreciation for her outstanding dedication and commitment to Neurology residents' wellbeing and success Dr Michelle Kaku received a Program Director Excellence Award.
Selected Publications:
Kaku M, Simpson DM. Neuromuscular complications of HIV infection. Handb Clin Neurol. 2018; 152:201-212. 
Nguyen VP, Brauneis D, Kaku M. Sloan JM, Sarosiek S, Quillen K, Shelton AC, Sanchorawala V. Neuralgic amyotrophy following high-dose melphalan and autologous peripheral blood stem cell transplantation for AL amyloidosis. Bone Marrow Transplant 2018; 53(3):371-373.
Kaku M, Simpson DM. HIV, antiretrovirals and peripheral neuropathy: A moving target. Muscle and Nerve 2018; 3(3):347-349.
Kaku M, Shin S, Goldstein M, Pleet J, Fabian M. Neuromyelitis Optica Spectrum Disorder in a patient with Kikuchi-Fujimoto's disease.  Neuroummunology & Neuroinflammation, 2016; 3(3):221.
Kaku M, Simpson DM. Spotlight on botulinum toxin and its potential in the treatment of stroke-related spasticity. Drug Design, Development and Therapy 2016;10:1085-1099.
Kaku M, Vinik A and Simpson DM. Pathways in the diagnosis and management of diabetic polyneuropathy. Current Diabetes Reports 2015; 15(6):609.
Kaku M, and Simpson DM. HIV neuropathy. Current Opinions in HIV and AIDS. 2014; 9(6):521-6.
George MC, Wongmek A, Kaku M, Nmashie A, Robinson-Papp J. A mixed-methods pilot study of Mindfulness Based Stress Reduction for HIV-associated chronic pain. Behavioral Medicine 2015; PMID 26651852, DOI: 10.1080/08964289.2015.1107525.
Honkanen R, Torhab Parhiz A, Kaku M et al. Evaluation of the performance of 5 non-optimized intraocular lens power predicting formulas during residency training. Journal of Academic Ophthalmology 2013; 6: 20-25.
Isler JR, Tarullo AR, Grieve PG, Housman E, Kaku M, Perez A, Stark W, Fifer WP. Towards an electrical biomarker of newborn cognition. Dev Science 2012; 2:260-71.
Fifer WP, Byrd D, Kaku M, Eigsti I, Isler J, Grose-Fifer J, Tarullo A, Balsam P. Newborn infants learn during sleep. Proceedings of the National Academy of Sciences 2010; 107(22): 10320-10323.
Kaku M, Mathew A, Rajan B. Impact of socio-economic factors in delayed reporting and late stage presentation among patients with cervical cancer in a major cancer hospital in South India. Asian Pacific Journal of Cancer Prevention 2008; 9:589-594.