Subspecialty Fellowships
Neurology is becoming more and more specialized as we advance our knowledge of the nervous system. Our program offers four neurological subspecialty fellowships:
1) Cerebrovascular Disease and Stroke Fellowship: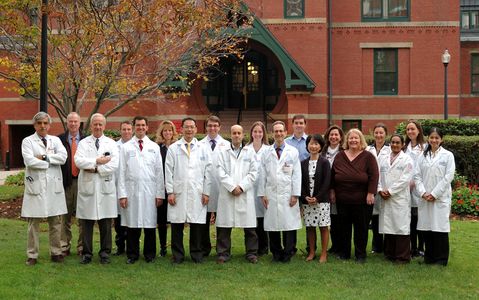 The Stroke Fellowship at Boston University School of Medicine offers a 1-2 year ACGME accredited fellowship. Fellows will be trained on the clinical aspects of stroke diagnosis and management, including the use of ultrasonographic and neuroimaging techniques, along with the principles of medical and surgical management of ischemic and hemorrhagic stroke. Fellows are involved in the daily assessment and follow-up of all patients admitted to Boston Medical Center, who are the responsibility of the Stroke Team, made of stroke attendings and fellows. Involvement in ongoing clinical research trials will be among the fellow's duties. For more information please visit this website Stroke & Cerebrovascular Center.
Contact:
Viken L. Babikian, M.D.
Director, Vascular Neurology Fellowship
Department of Neurology
Boston University School of Medicine
72 East Concord Street, C-3
Boston, MA 02118-2394
(617) 638-7753
babikian@bu.edu
2) Movement Disorder Fellowship: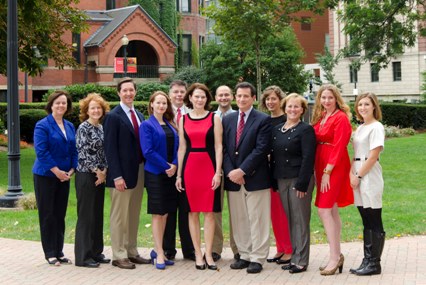 One- or two-year movement disorders subspecialty training positions in the Movement Disorders Center of Department of Neurology at the Boston University School of Medicine/Boston Medical Center (BUSM/BMC) are available beginning July 2003. This Movement Disorder Fellowship is integrated into the Movement Disorder Center and Parkinson Disease Center at BUSM/BMC. This fellowship emphasizes clinical and research training in movement disorders. Opportunities for development of clinical expertise include: training for botulinum toxin injections; selection, evaluation and surgical treatment of movement disorders (including intraoperative clinical neurophysiology); and clinical training based on a large volume of patients with hyperkinetic and hypokinetic movement disorders. Formal clinical or laboratory-based training is available in neuropharmacology, molecular biology, neuropsychology, neuroepidemiology, neuropathology, animal models of neurodegenerative diseases, neurogenetics and clinical trials. Five full-time movement disorders faculty provide clinical mentorship. For more information please visit this website Parkinson's Disease & Movement Disorders Center.
Contact:
Marie-Hélène Saint Hilaire, M.D., FRCP(C)
Director, Movement Disorders Fellowship
Department of Neurology
Boston University School of Medicine
72 East Concord St., C-3
Boston, MA 02118-2394
(617) 638-8640
neuromsh@bu.edu
If you are interested in either of the above fellowship programs, please complete this Non Match Application and send it along with your Curriculum Vitae, personal statement and three (3) letters of recommendation to the program director of the fellowship program you are applying for.
3) Sleep Medicine Fellowship: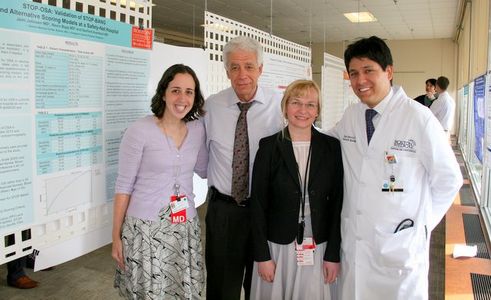 A one-year fellowship in sleep medicine is offered by the Boston University Sleep Disorders Center beginning in July. The training program has recently been accredited by the Accreditation Council for Graduate Medical Education (ACGME).
The Sleep Disorders Center provides comprehensive diagnosis and treatment services for individuals with all types of sleep problems including but not limited to obstructive sleep apnea, snoring, restless legs syndrome, insomnia, narcolepsy, abnormal behaviors during sleep, disruption of sleep/wake cycle and circadian rhythm and parasomnias such as sleepwalking and night terrors. Along with providing our services, our Sleep Disorders Center is committed to educating the public that a good night's sleep is a necessity, not a luxury. Patients are seen in several weekly Sleep Disorders Clinics.
Fellowship training includes clinical evaluation and management of adults and children with sleep disorders in inpatient and outpatient settings. The Program is under the direction of Sanford Auerbach, MD, with contributing faculty from neurology, psychiatry, pulmonary medicine, otolaryngology, and pediatrics.
Candidates should have completed a residency in the U.S. or Canada in an accredited neurology, psychiatry, internal medicine, family medicine, pediatrics or otolaryngology training program and be board-eligible.
Applications for 2017 should be submitted through the Electronic Residency Application Service (ERAS) of the National Resident Matching Program (NRMP). A link to the ERAS system can be found on the NRMP website: www.nrmp.org.
The following documentation is required to be submitted:
Completed ERAS Application Form
USMLE scores
ECFMG Certificate (only international medical graduates)
Three Letters of Recommendation
Curriculum Vitae
Personal Statement
International applicants must have a J-1 Visa or a U.S. citizen Permanent Resident status.
Contact:
Sanford H. Auerbach, M.D
Director, Sleep Medicine Fellowship
Department of Neurology
Boston University School of Medicine
72 East Concord Street, C-3
Boston, MA 02118-2394
(617) 638-7967
sauerbac@bu.edu
4) Alzheimer's Dementia Fellowship:
This 2-3 year fellowship will develop independent clinical research skills, and provide advanced clinical training in behavioral neuroscience and the management of dementing disorders. Funded in part by the NIH-supported BU Alzheimer's Disease Center, the fellow can participate in NIH research projects on genetic epidemiology or risk assessment in AD, large-scale prevention trials of AD, or studies of dementia within the Framingham Heart Study. Courses at the School of Public Health will build skills in research design and biostatistics. An optional third year will provide time for the fellow to obtain a Masters in Epidemiology. For more information please visit their website at www.bu.edu/alzresearch/.