Subspecialty Fellowships
Neurology is becoming more and more specialized as we advance our knowledge of the nervous system. Our program offers five neurological subspecialty fellowships:
1) Cerebrovascular Disease and Stroke Fellowship: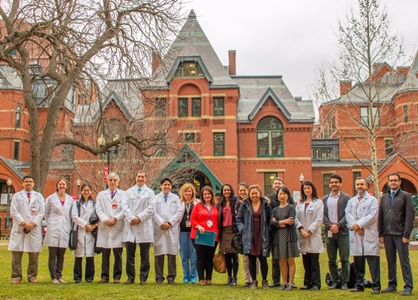 The Stroke Fellowship at Boston University School of Medicine offers a 1-2 year ACGME accredited fellowship. Fellows are trained on the clinical aspects of stroke diagnosis and management, including the use of ultrasonographic and neuroimaging techniques, along with the principles of medical and surgical management of ischemic and hemorrhagic stroke. Fellows are involved in the daily assessment and follow-up of all patients admitted to Boston Medical Center, who are the responsibility of the Stroke Team, made of stroke attendings and fellows. Involvement in ongoing clinical research trials will be among the fellow's duties. For more information please visit this website Stroke & Cerebrovascular Center.
Contact:
David M. Greer, M.D.
Professor and Chair
Department of Neurology
Director, Vascular Neurology Fellowship
Boston University School of Medicine
72 East Concord Street, C-3
Boston, MA 02118-2394
(617) 638-85309
dgreer@bu.edu
Julie G. Shulman, M.D.
Associate Director, Vascular Neurology Fellowship


Department of Neurology


BU School of Medicine


72 East Concord Street, C-3




Boston, MA 02118-2394




(617) 638-8456


Julie.Shulman@bmc.org
Applications for 2020 should be submitted through the Electronic Residency Application Service (ERAS) of the National Resident Matching Program (NRMP). A link to the ERAS system can be found on the NRMP website: www.nrmp.org.
2) Neurocritical Care Fellowship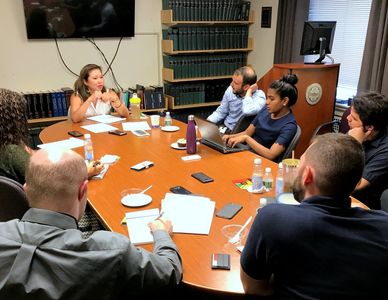 The Neurocritical Care Fellowship at Boston University Medical Center (BUMC) is a two-year training program accredited by the United Council of Neurologic Subspecialities (UCNS).
BUMC is a tertiary care, Level One Trauma Center, located in the heart of the metro area.  The Neurocritical Care (NCC) service treats 500-600 patients per year with diverse diagnoses including subarachnoid hemorrhage, large territory stroke, hemorrhagic stroke, status epilepticus, neuromuscular emergencies, CNS infections, CNS tumors, and post-operative neurosurgical patients.  Fellows have the opportunity to manage these critically ill patients under the guidance of five, board certified, fellowship-trained neurointensivists.
In addition to the valuable clinical experience, BUMC prides itself on rigorous educational curricula and research opportunities. Weekly Neurovascular conferences, Clinical Neuroscience Grand Rounds, and multi-disciplinary journal clubs provide fellows with in-depth understanding of current clinical issues. We provide research support with close mentorship to guide fellows through hypothesis generation, manuscript writing, and presentation at national meetings. Mentors are all experienced, published in peer-reviewed journals, actively engaged in their own projects, highly connected with neurointensivists throughout America, and will aid with networking and cross institutional projects.
Applicants to the BUMC Neurocritical Care Fellowship must be graduates of a residency program in neurology, neurological surgery, internal medicine, anesthesiology, surgery, child neurology, or emergency medicine that is accredited by the ACGME or the Royal College of Physicians and Surgeons of Canada (RCPSC).
If you are interested in applying for the 2019 Neurocritical Care fellowship position, please register with the SF Match Neurocritical Care Central Application Service (CAS).  Further information about the SF Match process can be found here.
Contact:
Courtney Takahashi, MD, MCR
Director, Neurocritical Care Fellowship
Department of Neurology
Boston University School of Medicine
72 East Concord St., C-3
Boston, MA 02118-2394
Courtney.Takahashi@bmc.org
3) Movement Disorder Fellowship: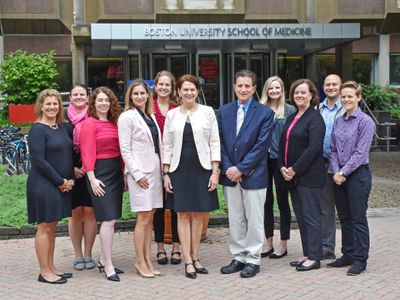 One- or two-year movement disorders subspecialty training positions in the Movement Disorders Center of Department of Neurology at the Boston University School of Medicine/Boston Medical Center (BUSM/BMC) are available beginning July 2003. This Movement Disorder Fellowship is integrated into the Movement Disorder Center and Parkinson Disease Center at BUSM/BMC. This fellowship emphasizes clinical and research training in movement disorders. Opportunities for development of clinical expertise include: training for botulinum toxin injections; selection, evaluation and surgical treatment of movement disorders (including intraoperative clinical neurophysiology); and clinical training based on a large volume of patients with hyperkinetic and hypokinetic movement disorders. Formal clinical or laboratory-based training is available in neuropharmacology, molecular biology, neuropsychology, neuroepidemiology, neuropathology, animal models of neurodegenerative diseases, neurogenetics and clinical trials. Five full-time movement disorders faculty provide clinical mentorship. For more information please visit this website Parkinson's Disease & Movement Disorders Center.
Contact:
Marie-Hélène Saint Hilaire, M.D., FRCP(C)
Director, Movement Disorders Fellowship
Department of Neurology
Boston University School of Medicine
72 East Concord St., C-3
Boston, MA 02118-2394
(617) 638-8640
neuromsh@bu.edu
If you are interested in applying for the 2020 Movement Disorders fellowship position, please complete this Non Match Application and send it along with your Curriculum Vitae, personal statement, USMLE scores, ECFMG certificate (if applicable) and three (3) letters of recommendation to the program director.
4) Sleep Medicine Fellowship: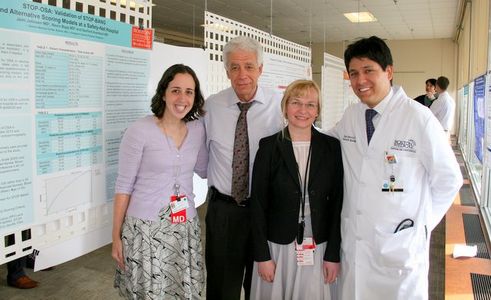 A one-year ACGME accredited fellowship in sleep medicine is offered by the Boston University Sleep Disorders Center beginning in July.
The Sleep Disorders Center provides comprehensive diagnosis and treatment services for individuals with all types of sleep problems including but not limited to obstructive sleep apnea, snoring, restless legs syndrome, insomnia, narcolepsy, abnormal behaviors during sleep, disruption of sleep/wake cycle and circadian rhythm and parasomnias such as sleepwalking and night terrors. Along with providing our services, our Sleep Disorders Center is committed to educating the public that a good night's sleep is a necessity, not a luxury. Patients are seen in several weekly Sleep Disorders Clinics.
Fellowship training includes clinical evaluation and management of adults and children with sleep disorders in inpatient and outpatient settings. The Program is under the direction of Sanford Auerbach, MD, with contributing faculty from neurology, psychiatry, pulmonary medicine, otolaryngology, and pediatrics.
Candidates should have completed a residency in the U.S. or Canada in an accredited neurology, psychiatry, internal medicine, family medicine, pediatrics or otolaryngology training program and be board-eligible.
Applications for 2020 should be submitted through the Electronic Residency Application Service (ERAS) of the National Resident Matching Program (NRMP). A link to the ERAS system can be found on the NRMP website: www.nrmp.org.
The following documentation is required to be submitted:
Completed ERAS Application Form
USMLE scores
ECFMG Certificate (only international medical graduates)
Three Letters of Recommendation
Curriculum Vitae
Personal Statement
International applicants must have a J-1 Visa or a U.S. citizen Permanent Resident status.
Contact:
Sanford H. Auerbach, M.D
Director, Sleep Medicine Fellowship
Department of Neurology
Boston University School of Medicine
72 East Concord Street, C-3
Boston, MA 02118-2394
(617) 638-7967
sauerbac@bu.edu
Click here to view photos from the 2017 BUMC Sleep Medicine Fellowship Alumni Reception.
5)  Behavioral Neurology Fellowship Program
      VA Boston Healthcare System/Boston University School of Medicine
The Behavioral Neurology Fellowship Program at VA Boston is a training program established within the Department of Neurology by Dr. Andrew E. Budson with the purpose of training outstanding behavioral neurologists. The program is UCNS accredited. The program core faculty body includes behavioral neurologists and other specialist neurologists, neuropsychiatrists and other psychiatrists, and neuropsychologists. The fellowship provides a multidisciplinary training environment with access to clinics in memory disorders, neuropsychiatry, traumatic brain injury, movement disorders, ALS, stroke, epilepsy, and neuropsychology, in addition to the inpatient psychiatry consultation-liaison service. The standard fellowship is 2 years, although there is the opportunity for both a shorter, 1-year, clinically focused fellowship and a 3-year research track. Applications are currently being accepted now.
The rotations provide experience in the evaluation, diagnosis and treatment of a wide range of behavioral neurology and neuropsychiatry disorders including geriatric and neurodevelopmental neuropsychiatric disorders, causes of mild cognitive impairment and dementia including chronic traumatic encephalopathy, Alzheimer's disease, frontotemporal dementia, Lewy body dementia, along with rarer disorders (PSP, PPA, CBD, PCA), movement disorders, cerebrovascular disorders, epilepsy, traumatic brain injury, and brain tumors.
You will be able to attend formal didactics including principles of neurobiology, nervous system development and aging, higher cortical functions, anatomy and function of brain systems, learning and memory, sleep, clinical manifestations of brain behavior disorders, the clinical assessment of patients with behavioral neurology and neuropsychiatry conditions, the neuropsychological assessment, diagnostic studies (neurophysiology, neuroimaging, sleep studies), psychopharmacology, and neurotherapeutics (e.g. deep brain stimulation, vagal nerve stimulation, rapid transcranial magnetic stimulation).
You will also learn the fundamentals of neuropsychology testing administration and interpretation including attending biweekly neuropsychology seminars, which will include case conferences and lectures in the major areas of neuropsychology and, if desired, assisting neuropsychologists during evaluations.
You will be able to attend some of our monthly neuropathology brain cutting sessions, monthly chronic traumatic encephalopathy consensus rounds, and weekly Alzheimer's disease center case consensus meetings.
Through your fellowship, the faculty will strongly encourage you to develop your own clinical and research interests as you access nationally and internationally recognized clinicians and researchers within the faculty. Current areas of research available to fellows encompass basic neurobiology, neurobiology of neurodegenerative diseases with a focus on Alzheimer's disease and chronic traumatic encephalopathy, functional neuroimaging, EEG event-related potentials, neurophysiology, epidemiology, genetics, false memories, cognitive strategies and cognitive rehabilitation.
Individual weekly supervision with behavioral neurology and neuropsychiatry faculty will provide you with the opportunity to discuss clinical cases or specific topics more in depth. You will also meet with the program director to cover issues ranging from patient care to career development. At the end of the fellowship, you will be well-positioned for a career focusing on academic medicine as a physician scientist and/or cutting-edge clinical care of those with cognitive and behavioral disorders.
Contacts:
Andrew E. Budson, M.D.
Professor of Neurology, BU School of Medicine
abudson@bu.edu
Katherine  W. Turk, M.D.
Assistant Professor of Neurology, BU School of Medicine
kturk@bu.edu