Shuhan Zhu, M.D.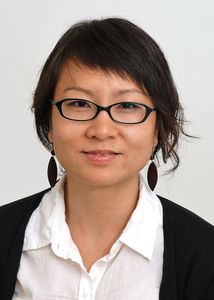 Assistant Professor of Neurology
Boston University School of Medicine
72 East Concord Street, Neurology D-4
Boston, MA 02118
Phone: 617-638-8456
Fax: 617-638-5354
Medical School: Case Western Reserve University, School of Medicine, 2010
Internship: Medicine, Massachusetts General Hospital, 2012
Residency: Neurology, Boston University Medical Center, 2015
Fellowship: Headache, Thomas Jefferson University, 2016
Board Certifications: Neurology, Headache Medicine
Special Interests: Headaches, migraine, trigeminal autonomic cephalalgia
Recent publications:
Zhu S, Nahas S. Imaging Characteristics and Clinical Correlation. Current Pain and Headache Reports 2016;20:57.
Zhu S, Marmura MJ. Non-Invasive Neuromodulation for Headache Disorders. Curr Neurol Neurosci Rep. 2016 Feb;16(2):11. doi: 10.1007/s11910-015-0620-7. Review.
Zhu S, McClure LA, Lau H, Romero JR, White CL, Babikian V, Nguyen T, Benavente OR, Kase CS, Pikula A.  Recurrent vascular events in patients with lacunar stroke, metabolic syndrome and/or diabetes. Neurology 2015;85:935-941.
Zhu, Shuhan, and Stephen Silberstein. "Status Migrainosus." Medlink Neurology, 7 Nov. 2015. Web.
Zhu S, McGeeney B. When indomethacin fails: additional treatment options for "indomethacin responsive headaches". Current Pain and Headache Reports 2014;19:475.
Zhu S, Perloff M. Commentary: TIA for the internist. The American Journal of Medicine 2014;127:901-902.
Zhu S, Pyatkevich Y. Ramsay Hunt Syndrome II. NeuroImages. Neurology 2014;82:1664.