José Rafael Romero, MD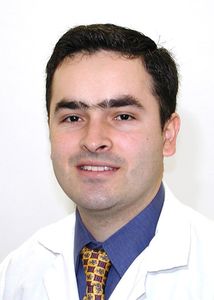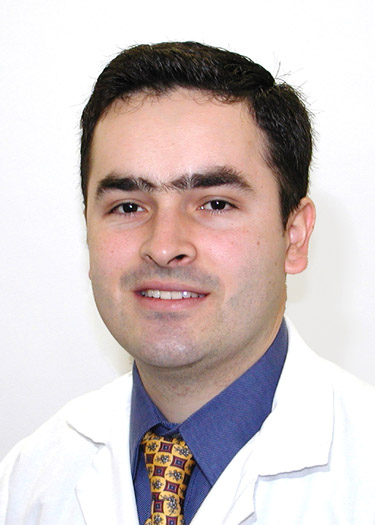 Assistant Professor of Neurology
Boston University School of Medicine
72 East Concord Street, Neurology C-3
Boston, MA 02118
Phone: 617-638-8456
Fax: 617-638-5354
Medical School: Escuela Colombiana de Medicina- Universidad El Bosque, Colombia (1995)
Research Fellowship: Brigham and Women's Hospital (1999)
Research Fellowship: Beth Israel Deaconess Medical Center (2000)
Internship: Cleveland Clinic Foundation, Cleveland (2001)
Residency: Neurology, Boston University Medical Center (2005)
Fellowship: Vascular Neurology, Boston University Medical Center (2006)
Board Certifications: Neurology, Vascular Neurology
Special Interests: Stroke, Neurorehabilitation, Transcranial Magnetic Stimulation, Neurosonology
Recent Publications
Chauhan G, Adams HHH, Satizabal CL, Bis JC, Teumer A, Sargurupremraj M, Hofer E, Trompet S, Hilal S, Smith AV, Jian X, Malik R, Traylor M, Pulit SL, Amouyel P, Mazoyer B, Zhu YC, Kaffashian S, Schilling S, Beecham GW, Montine TJ, Schellenberg GD, Kjartansson O, Guðnason V, Knopman DS, Griswold ME, Windham BG, Gottesman RF, Mosley TH, Schmidt R, Saba Y, Schmidt H, Takeuchi F, Yamaguchi S, Nabika T, Kato N, Rajan KB, Aggarwal NT, De Jager PL, Evans DA, Psaty BM, Rotter JI, Rice K, Lopez OL, Liao J, Chen C, Cheng CY, Wong TY, Ikram MK, van der Lee SJ, Amin N, Chouraki V, DeStefano AL, Aparicio HJ, Romero JR, Maillard P, DeCarli C, Wardlaw JM, Hernández MDCV, Luciano M, Liewald D, Deary IJ, Starr JM, Bastin ME, Muñoz Maniega S, Slagboom PE, Beekman M, Deelen J, Uh HW, Lemmens R, Brodaty H, Wright MJ, Ames D, Boncoraglio GB, Hopewell JC, Beecham AH, Blanton SH, Wright CB, Sacco RL, Wen W, Thalamuthu A, Armstrong NJ, Chong E, Schofield PR, Kwok JB, van der Grond J, Stott DJ, Ford I, Jukema JW, Vernooij MW, Hofman A, Uitterlinden AG, van der Lugt A, Wittfeld K, Grabe HJ, Hosten N, von Sarnowski B, Völker U, Levi C, Jimenez-Conde J, Sharma P, Sudlow CLM, Rosand J, Woo D, Cole JW, Meschia JF, Slowik A, Thijs V, Lindgren A, Melander O, Grewal RP, Rundek T, Rexrode K, Rothwell PM, Arnett DK, Jern C, Johnson JA, Benavente OR, Wasssertheil-Smoller S, Lee JM, Wong Q, Mitchell BD, Rich SS, McArdle PF, Geerlings MI, van der Graaf Y, de Bakker PIW, Asselbergs FW, Srikanth V, Thomson R, McWhirter R, Moran C, Callisaya M, Phan T, Rutten-Jacobs LCA, Bevan S, Tzourio C, Mather KA, Sachdev PS, van Duijn CM, Worrall BB, Dichgans M, Kittner SJ, Markus HS, Ikram MA, Fornage M, Launer LJ, Seshadri S, Longstreth WT, Debette S. Genetic and lifestyle risk factors for MRI-defined brain infarcts in a population-based setting. Neurology. 2019 Jan 16. pii: 10.1212/WNL.0000000000006851. doi: 10.1212/WNL.0000000000006851. [Epub ahead of print]
Shukri MZ, Tan JW, Manosroi W, Pojoga LH, Rivera A, Williams JS, Seely EW, Adler GK, Jaffe IZ, Karas RH, Williams GH, Romero JR. Biological Sex Modulates the Adrenal and Blood Pressure Responses to Angiotensin II. Hypertension. 2018 06; 71(6):1083-1090. 
Zee RYL, Rivera A, Inostroza Y, Ridker PM, Chasman DI, Romero JR. Gene Variation of Endoplasmic Reticulum Aminopeptidases 1 and 2, and Risk of Blood Pressure Progression and Incident Hypertension among 17,255 Initially Healthy Women. Int J Genomics. 2018; 2018:2308585. 
Charidimou A, Shams S, Romero JR, Ding J, Veltkamp R, Horstmann S, Eiriksdottir G, van Buchem MA, Gudnason V, Himali JJ, Gurol ME, Viswanathan A, Imaizumi T, Vernooij MW, Seshadri S, Greenberg SM, Benavente OR, Launer LJ, Shoamanesh A. Clinical significance of cerebral microbleeds on MRI: A comprehensive meta-analysis of risk of intracerebral hemorrhage, ischemic stroke, mortality, and dementia in cohort studies (v1). Int J Stroke. 2018 07; 13(5):454-468.
Smith EE, Romero JR. Mixed emotions: What to do with patients who have lobar and deep hemorrhages on MRI? Neurology. 2018 Jan 09; 90(2):55-56.
Perloff MD, Patel NS, Kase CS, Oza AU, Voetsch B, Romero JR. Cerebellar stroke presenting with isolated dizziness: Brain MRI in 136 patients. Am J Emerg Med. 2017 Jun 22. pii: S0735-6757(17)30484-9. doi: 10.1016/j.ajem.2017.06.034.
Shoamanesh A, Preis SR, Beiser AS, Kase CS, Wolf PA, Vasan RS, Benjamin EJ, Seshadri S, Romero JR. Circulating biomarkers and incident ischemic stroke in the Framingham Offspring Study. Neurology. 2016 Sep 20;87(12):1206-11.
Romero JR, Preis SR, Beiser A, DeCarli C, D'Agostino RB, Wolf PA, Vasan RS, Polak JF, Seshadri S. Carotid Atherosclerosis and Cerebral Microbleeds: The Framingham Heart Study. J Am Heart Assoc. 2016 Mar 18;5(3).
Shoamanesh A, Catanese L, Romero JR, Lau H, Babikian VL, Benavente OR, Kase CS, Pikula A. High Prevalence of Cerebral Microbleeds in Inner City Young Stroke Patients. J Stroke Cerebrovasc Dis. 2016 Apr;25(4):733-8.
Zhu S, McClure LA, Lau H, Romero JR, White CL, Babikian V, Nguyen T, Benavente OR, Kase CS, Pikula A. Recurrent vascular events in lacunar stroke patients with metabolic syndrome and/or diabetes. Neurology. 2015 Aug 21. 
Shoamanesh A, Preis SR, Beiser AS, Vasan RS, Benjamin EJ, Kase CS, Wolf PA, DeCarli C, Romero JR, Seshadri S. Inflammatory biomarkers, cerebral microbleeds, and small vessel disease: Framingham Heart Study. Neurology. 2015 Feb 24; 84(8):825-32.
Shoamanesh A, Masoud H, Furey K, Duerfeldt K, Lau H, Romero JR, Pikula A, Teal P, Nguyen TN, Kase CS, Babikian VL. Larger A1/M1 diameter ratio predicts embolic anterior cerebral artery territorial stroke. Stroke. 2014 Sep;45(9):2798-800. Shoamanesh A, Romero JR, Kase CS. Spontaneous cervical spinal epidural hematoma mimicking acute stroke. Can J Neurol Sci. 2014 Jul; 41(4):533-4.
Romero JR, Mercado M, Beiser AS, Pikula A, Seshadri S, Kelly-Hayes M, Wolf PA, Kase CS. Transient global amnesia and neurological events: the framingham heart study. Front Neurol 2013;4:47.
Romero JR, Wolf PA.  Epidemiology of Stroke: Legacy of the Framingham Heart Study. Glob Heart. 2013;8(1):67-75.
Romero JR, Preis SR, Beiser AS, DeCarli C, Lee DY, Viswanathan A, Benjamin EJ, Fontes J, Au R, Pikula A, Wang J, Kase CS, Wolf PA, Irrizary MC, Seshadri S. Lipoprotein Phospholipase A2 and Cerebral Microbleeds in the Framingham Heart Study. Stroke September 2012
Lioutas V, Romero JR, Kleinman MS, Wang JW, Perloff MD.Clinical Reasoning: a 54-year-old man with unilateral weakness and vascular risk factors.  Neurology 2012;79(4):e28-32.
Fornage M, Debette S, Bis JC, Schmidt H, Ikram MA, Dufouil C, Sigurdsson S, Lumley T, DeStefano AL, Fazekas F, Vrooman HA, Shibata DK, Maillard P, Zijdenbos A, Smith AV, Gudnason H, de Boer R, Cushman M, Mazoyer B, Heiss G, Vernooij MW, Enzinger C, Glazer NL, Beiser A, Knopman DS, Cavalieri M, Niessen WJ, Harris TB, Petrovic K, Lopez OL, Au R, Lambert JC, Hofman A, Gottesman RF, Garcia M, Heckbert SR, Atwood LD, Catellier DJ, Uitterlinden AG, Yang Q, Smith NL, Aspelund T, Romero JR, Rice K, Taylor KD, Nalls MA, Rotter JI, Sharrett R, van Duijn CM, Amouyel P, Wolf PA, Gudnason V, van der Lugt A, Boerwinkle E, Psaty BM, Seshadri S, Tzourio C, Breteler MM, Mosley TH, Schmidt R, Longstreth WT, DeCarli C, Launer LJ. Genome-wide association studies of cerebral white matter lesion burden: the CHARGE consortium.
Ann Neurol 2011;69(6):928-39.
Romero JR, Ramirez DM, Aglio LS, Gugino LD. Brain mapping using transcranial magnetic stimulation. Neurosurg Clin N Am. 2011;22(2):141-52, vii.
Nguyen TN, Babikian VL, Romero JR, Pikula A, Kase CS, Jovin TG, Norbash AM. Intra-arterial treatment methods in acute stroke therapy. Frontiers in Endovascular and Interventional Neurology 2011;2:1-10.
Petrea RE, Koyfman F, Pikula A, Romero JR, Viereck J, Babikian VL, Kase CS, Nguyen TN. Acute Stroke, Catheter Related Venous Thrombosis, and Paradoxical Cerebral Embolism: Report of Two Cases. J Neuroimaging 2011;31.
Debette S, Beiser A, DeCarli C, Au R, Himali JJ, Kelly-Hayes M, Romero JR, Kase CS, Wolf PA, Seshadri S. Association of MRI markers of vascular brain injury with incident stroke, mild cognitive impairment, dementia, and mortality: the Framingham Offspring Study. Stroke 2010;41(4):600-6.
Romero JR, Beiser A, Seshadri S, Benjamin EJ, Polak JF, Vasan RS, Au R, Decarli C, Wolf PA. Carotid Artery Atherosclerosis, MRI Indices of Brain Ischemia, Aging, and Cognitive Impairment. The Framingham Study. Stroke 2009;40.
Romero JR, Frey JL, Schwamm LH, Demaerschalk BM, Chaliki HP, Parikh G, Burke RF, Babikian VL. Cerebral ischemic events associated with 'bubble study' for identification of right to left shunts. Stroke 2009;40(7):2343-8.
Romero JR,  Pikula A, Nguyen TN,  Nien YL,  Norbash A, Babikian VL. Cerebral Collateral Circulation in Carotid Artery Disease.Current Cardiology Reviews 2009;5(4):279-288.
Romero JR, Pikula A. Carotid Artery Disease: Current Concepts on Endothelial Dysfunction and Matrix Remodeling. Current Drug Therapy 2009;4(3):202-213.
Romero JR, Vasan RS, Beiser AS, Polak JF, Benjamin EJ, Wolf PA, Seshadri S. Association of carotid artery atherosclerosis with circulating biomarkers of extracellular matrix remodeling: the Framingham Offspring Study. J Stroke Cerebrovasc Dis 2008;17(6):412-7.
Romero JR, Morris J, Pikula A. Stroke prevention: modifying risk factors. Ther Adv Cardiovasc Dis 2008;2(4):287-303.
Romero JR. Prevention of ischemic stroke: overview of traditional risk factors. Curr Drug Targets. 2007;8(7):794-801.
Romero JR, Sakai O, Rice MB, Babikian VL. Intracranial hemorrhage sparing meningioma in an anticoagulated patient. J Neuroimaging. 2007;17(3):246-50.
Romero JR, Babikian VL, Katz DI, Finklestein SP. Neuroprotection and stroke rehabilitation: modulation and enhancement of recovery. Behav Neurol 2006;17(1):17-24.
Kahn JH, Viereck J, Kase C, Jeerakathil T, Romero R, Mehta SD, Kociol R, Babikian V. The use of intravenous recombinant tissue plasminogen activator in acute ischemic stroke. J Emerg Med 2005;29(3):273-7
Wagner T, Gangitano M, Romero R, Theoret H, Kobayashi M, Anschel D, Ives J, Cuffin N, Schomer D, Pascual-Leone A. Intracranial measurement of current densities induced by transcranial magnetic stimulation in the human brain. Neurosci Lett 2004;354(2):91-4.
Gangitano M, Valero-Cabré A, Tormos JM, Mottaghy FM, Romero JR and Pascual-Leone Á. Modulation of input¯output curves by low and high frequency repetitive transcranial magnetic stimulation of the motor cortex. Clin Neurophysiol 2002; 113:1249-1257.
Romero JR, Anschel D, Sparing R, Gangitano M, Pascual-Leone A. Subthreshold low frequency transcranial magnetic stimulation selectively decreases facilitation in the motor cortex. Clin Neurophysiol 2002;113 (1):101-107.
Aglio LS, Romero R, Desai S, Ramirez M, Gonzalez AA, Gugino LD. The use of transcranial magnetic stimulation for monitoring descending spinal cord motor function. Clin Electroencephalogr 2002;33(1):30-41.