James A.D. Otis, MD, MBA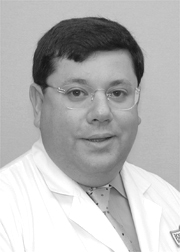 Associate Professor of Neurology
Director, Residency Program
Boston University School of Medicine
72 East Concord Street, Neurology C-306
Boston, MA 02118
Phone: 617-638-8456
Fax: 617-638-5354
Medical School: New York Medical College, New York (1985)
Residency: Boston Medical Center/Boston Veterans Administration Medical Center, Boston, MA (1989)
Fellowships:
Epilepsy/EEG, Boston University Medical Center (1990)
Pain/Neuro-Oncology, Cornell/Memorial-Sloan-Kettering Cancer Center (1991)
Board Certifications: Neurology, Clinical Neurophysiology, and Pain
Special Interests: Pain Management, Headache Neuro-Pharmacology
Awards
Dr. James Otis is the recipient of the Golden Brain Award for 2014. This award is presented annually by the BU medical students on Neurology clerkship and is in recognition of Dr. Otis' excellence in teaching and devotion to students.
Recent Publications
Zuzuárregui JR, Lin J, Otis JA. An unusual cause of chronic headaches: question. J Clin Neurosci. 2014 Nov;21(11):1967, 2032.
Perloff MD, Thaler DE, Otis JA. Anorgasmia with gabapentin may be common in older patients. Am J Geriatr Pharmacother. 2011 Jun;9(3):199-203. doi: 10.1016/j.amjopharm.2011.04.007.
Gan JJ, Mandell AM, Otis JA, Holmuhamedova M, Perloff MD. Suspecting optic neuritis, diagnosing Bartonella cat scratch disease. Arch Neurol. 2011 Jan;68(1):122-6. doi: 10.1001/archneurol.2010.345.
Karakis I, Montouris GD, Otis JA, Douglass LM, Jonas R, Velez-Ruiz N, Wilford K, Espinosa PS. A quick and reliable EEG montage for the detection of seizures in the critical care setting. J Clin Neurophysiol. 2010 Apr;27(2):100-5. doi: 10.1097/WNP.0b013e3181d649e4.