Michelle Kaku, M.D.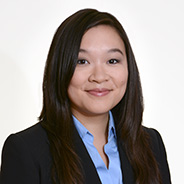 Director, Residency Program
Assistant Professor of Neurology
Boston University School of Medicine
72 East Concord Street, Neurology C-3
Boston, MA 02118
Phone: 617-638-8456
Fax: 617-638-5354
Medical School: Stony Brook School of Medicine (2011)
Internship: Medicine, Rush University Medical Center (2012)
Residency: Neurology, Icahn School of Medicine at Mount Sinai (2015)
Fellowship: Clinical Neurophysiology, EMG, Icahn School of Medicine at Mount Sinai (2016)
Board Certifications: Neurology
Special Interests: Disorders of the muscle and nerve, neurological manifestations of amyloidosis, electrodiagnostic medicine, botulinum toxin administration
Recent publications:
Nguyen VP, Brauneis D, Kaku M. Sloan JM, Sarosiek S, Quillen K, Shelton AC, Sanchorawala V. Neuralgic amyotrophy following high-dose melphalan and autologous peripheral blood stem cell transplantation for AL amyloidosis. Bone Marrow Transplant 2018; 53(3):371-373.
Kaku M, Simpson DM. HIV, antiretrovirals and peripheral neuropathy: A moving target. Muscle and Nerve 2018; 3(3):347-349.
Kaku M, Shin S, Goldstein M, Pleet J, Fabian M. Neuromyelitis Optica Spectrum Disorder in a patient with Kikuchi-Fujimoto's disease.  Neuroummunology & Neuroinflammation, 2016; 3(3):221.
Kaku M, Simpson DM. Spotlight on botulinum toxin and its potential in the treatment of stroke-related spasticity. Drug Design, Development and Therapy 2016;10:1085-1099.
Kaku M, Vinik A and Simpson DM. Pathways in the diagnosis and management of diabetic polyneuropathy. Current Diabetes Reports 2015; 15(6):609.
Kaku M, and Simpson DM. HIV neuropathy. Current Opinions in HIV and AIDS. 2014; 9(6):521-6.
George MC, Wongmek A, Kaku M, Nmashie A, Robinson-Papp J. A mixed-methods pilot study of Mindfulness Based Stress Reduction for HIV-associated chronic pain. Behavioral Medicine 2015; PMID 26651852, DOI: 10.1080/08964289.2015.1107525.
Honkanen R, Torhab Parhiz A, Kaku M et al. Evaluation of the performance of 5 non-optimized intraocular lens power predicting formulas during residency training. Journal of Academic Ophthalmology 2013; 6: 20-25.
Isler JR, Tarullo AR, Grieve PG, Housman E, Kaku M, Perez A, Stark W, Fifer WP. Towards an electrical biomarker of newborn cognition. Dev Science 2012; 2:260-71.
Fifer WP, Byrd D, Kaku M, Eigsti I, Isler J, Grose-Fifer J, Tarullo A, Balsam P. Newborn infants learn during sleep. Proceedings of the National Academy of Sciences 2010; 107(22): 10320-10323.
Kaku M, Mathew A, Rajan B. Impact of socio-economic factors in delayed reporting and late stage presentation among patients with cervical cancer in a major cancer hospital in South India. Asian Pacific Journal of Cancer Prevention 2008; 9:589-594.