Brian E. McGeeney, MD, MPH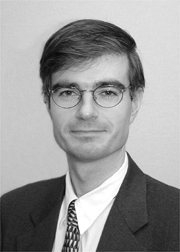 Assistant Professor of Neurology
Boston University School of Medicine
72 East Concord Street, Neurology C-314
Boston, MA 02118
Phone: (617)638-7742
Fax: (617)638-5354
Medical School:University College, Dublin, Ireland (1992)
Residency: Boston Medical Center/Boston Veterans Administration Medical Center, Boston, MA (1999)
Fellowship: Pain Management, Boston University School of Medicine (2000)
Board Certifications: Neurology, Headache, Pain
Special Interests: Headache, Migraine and Pain Management
Recent Publications
McGeeney BE. Acupuncture Is All Placebo and Here Is Why. Headache. 2015 Feb 6. doi: 10.1111/head.12524.
McGeeney BE, Friedman DI. Pseudotumor cerebri pathophysiology. Headache. 2014 Mar;54(3):445-58. doi: 10.1111/head.12291.
McGeeney BE. Cannabinoids and hallucinogens for headache. Headache. 2013 Mar;53(3):447-58. doi: 10.1111/head.12025.
Schulman E, McGeeney BE. Current concepts in refractory migraine. Curr Treat Options Neurol. 2013 Feb;15(1):40-55. doi: 10.1007/s11940-012-0206-5. PubMed PMID: 23149624.
McGeeney BE. Hallucinogens and cannabinoids for headache. Headache. 2012 Oct;52 Suppl 2:94-7. doi: 10.1111/j.1526-4610.2012.02245.x. Review.
Westwood AJ, Perloff MD, McGeeney BE, Seshadri S. Constructional apraxia reversed with methylprednisolone. J Neuropsychiatry Clin Neurosci. 2012 Spring;24(2):E51-2. doi: 10.1176/appi.neuropsych.11060136.
Williams SE, Pahud BA, Vellozzi C, Donofrio PD, Dekker CL, Halsey N, Klein NP, Baxter RP, Marchant CD, Larussa PS, Barnett ED, Tokars JI, McGeeney BE, Sparks RC, Aukes LL, Jakob K, Coronel S, Sejvar JJ, Slade BA, Edwards KM. Causality assessment of serious neurologic adverse events following 2009 H1N1 vaccination. Vaccine. 2011 Oct 26;29(46):8302-8. doi: 10.1016/j.vaccine.2011.08.093.
McGeeney BE. Pharmacological management of neuropathic pain in older adults: an update on peripherally and centrally acting agents. J Pain Symptom Manage. 2009 Aug;38(2 Suppl):S15-27. doi: 10.1016/j.jpainsymman.2009.05.003. Review. PubMed PMID: 19671468.
Lavigne C, McGeeney BE. Postural headache. Headache. 2009 Jun;49(6):938-40. doi: 10.1111/j.1526-4610.2009.01442.x. PubMed PMID: 19545254.
McGeeney BE. Adjuvant agents in cancer pain. Clin J Pain. 2008 May;24 Suppl 10:S14-20. doi: 10.1097/AJP.0b013e31816b5976. Review.
McGeeney BE. Valsalva-induced cluster headache. J Headache Pain. 2006 Dec;7(6):416-8.
McGeeney BE. Headache and anosmia. Headache. 2006 Jul-Aug;46(7):1199.
McGeeney BE, Barest G, Grillone G. Thunderclap headache from complicated sinusitis. Headache. 2006 Mar;46(3):517-20.
McGeeney BE. Cluster headache pharmacotherapy. Am J Ther. 2005 Jul-Aug;12(4):351-8. Review.
McGeeney BE. Topiramate in the treatment of cluster headache. Curr Pain Headache Rep. 2003 Apr;7(2):135-8. Review.