Jan Kucera, MD, PhD
Professor of Neurology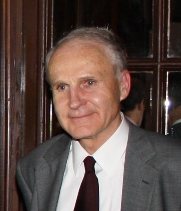 Chief, Neurology Consultation Service at VAMC
Head, Laboratory of Developmental Neuroscience
Boston University School of Medicine
72 East Concord Street, C-3
Boston, MA 02118-2394
Phone: 617-638-8456
VA Medical Center
Neurology Research (151)
150 South Huntington Avenue
Boston, MA 02130
Phone: 617-232-9500 X5596
Fax: (617) 278-4540; (978) 263-2074
Medical School: Charles University, Prague, 1966
Graduate School: Czechoslovak Academy of Sciences, Prague, 1968
Residencies:
1971-1972 Intern in Medicine, Montreal General Hospital, Canada
1972-1975 Resident, Department of Neurology, Barnes Hospital, St. Louis MO
1976-1978 Clinical Associate, Medical Neurology Branch, NINCDS, NIH, Bethesda, MD
Memberships/Activities at National/International Level:
Fellow of the Royal College of Physicians, Canada
Foreign member of the British Physiological Society
Member of the American Academy of Neurology
Certification:Adult Neurology/Psychiatry 1977
Primary Specialty: Neurology
Subspecialty: Neuromuscular disorders
Research Interests: Development, regeneration and repair of neurons
Clinical Interests: Nerve and muscle diseases
SUMMARY OF RESEARCH ACTIVITIES:
I head the Laboratory of Developmental Neuroscience. Our principal interest is in factors that mediate development of the proprioceptive system. We have examined the role of neurotrophin-3 (NT-3) in the differentiation and survival of group Ia sensory neurons, which mediate muscle proprioception. We have observed that no Ia neurons form in genetically altered mice lacking NT-3. These mice are unable to walk, and have functional deficits similar to those seen in humans with large-caliber fiber peripheral neuropathies. We have also addressed the role of transcription factors Erg3 and ER81 in development of the muscle stretch reflex. Monosynaptic muscle afferent-motoneuron connections either do not form or are unstable in the spinal cord of mice lacking Erg3 or ER81. Clarifying the role of neurotrophic and transcription factors in the survival and differentiation of neurons is important for the development of treatment strategies for neurodegenerative disorders in which deficiency of growth factors may play a role.
REPRESENTATIVE PUBLICATIONS:
1.Wright D, Zhou L, Kucera J, Snider WD. Introduction of a neurotrophin-3 transgene into muscle selectively rescues proprioceptive neurons in mice lacking endogenous neurotrophin-3. Neuron 19: 503-517, 1997
2.Fan G, Jaenisch R, Kucera J. A role for p75 receptor in NT3 functioning during development of the proprioceptive system. Neuroscience 90: 259-268, 1999
3.Dluzen DE, Story G, Xu K, Kucera J, Walro JM. Alterations in nigrostriatal dopaminergic function within BDNF mutant mice. Exp Neurol 160: 500-507, 1999
4.Story G, Dicarlo S, Rodenbaugh D, Dluzen D, Kucera J, Maron M, Walro JM. Inactivation of one copy of the mouse neurotrophin-3 gene results in cardiac sympathetic deficits. Physiological Genomics 2: 129-136, 2000
5.Fan G, Copray S, Huang E, Jones K, Yan Q, Walro J, Jaenisch R, Kucera J. Formation of a full complement of cranial proprioceptors requires multiple neurotrophins. Developmental Dynamics 218: 359-370, 2000
6.Patel TD, Jackman A, Rice FL, Kucera J, Snider WD: Development of sensory neurons in the absence of NGF/TrkA signaling in vivo. Neuron 25: 345-357, 2000
7.Tourtellotte WG, Keller-Peck C, Milbrandt J, Kucera J: The transcription factor Egr3 modulates sensory axon – myotubes interactions during spindle morphogenesis. Developmental Biology 232: 388-399, 2001
8.Coppola V, Kucera J, Palko MP, Martinez-De Velasco J, Lyons WE, Fritzsch B, Tessarollo L. Dissection of NT3 functions in vivo by gene replacement strategy. Development 200, 000-000, 2001
9. Welsh E, Kucera J, Perloff MD. Iatrogenic hyperammonemia after anorexia. Arch Intern Med. 2010 Mar 8;170(5):486-8. doi: 10.1001/archinternmed.2009.549.