Hugo Javier Aparicio, MD, MPH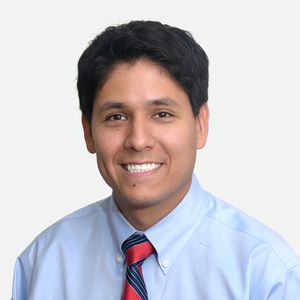 Assistant Professor of Neurology
Boston University School of Medicine
Investigator, The Framingham Heart Study
72 East Concord Street, Robinson Building, B-601
Boston, MA 02118

Phone: 617-638-8069
Fax: 617-638-8086
Medical School: Perelman School of Medicine at the University of Pennsylvania (2009)
Internship: Internal Medicine, Pennsylvania Hospital (2010)
Residency: Neurology, Hospital of the University of Pennsylvania (2013)
Fellowship: Vascular Neurology, Boston University Medical Center (2014)
Board Certifications: Neurology, Vascular Neurology
Special Interests: Neuroepidemiology, obesity and lifestyle risk factors for stroke, minority health disparities, genetics of stroke
Awards
Dr. Hugo Aparicio has been named the 2017 Spivack Emerging Leader. His research interests include the identification of lifestyle risk factors, biomarkers, neuroimaging markers and genetic influences associated with cerebrovascular diseases. He is particularly interested in the contributions of vascular risk factors to brain aging, cognitive dysfunction and the development of Alzheimer's disease.
Recent publications:
Aparicio HJ, Himali JJ, Beiser AS, Davis-Plourde KL, Vasan RS, Kase CS, Wolf PA, Seshadri S. Overweight, Obesity, and Survival After Stroke in the Framingham Heart Study. J Am Heart Assoc. 2017 Jun 24;6(6). pii: e004721. doi: 10.1161/JAHA.116.004721.
Pase MP, Himali JJ, Beiser AS, Aparicio HJ, Satizabal CL, Vasan RS, Seshadri S, Jacques PF. Sugar- and Artificially Sweetened Beverages and the Risks of Incident Stroke and Dementia: A Prospective Cohort Study. Stroke. 2017 May;48(5):1139-1146. doi: 10.1161/STROKEAHA.116.016027.
Pase MP, Himali JJ, Jacques PF, DeCarli C, Satizabal CL, Aparicio H, Vasan RS, Beiser AS, Seshadri S. Sugary beverage intake and preclinical Alzheimer's disease in the community. Alzheimers Dement. 2017 Mar 6. pii: S1552-5260(17)30050-X. doi: 10.1016/j.jalz.2017.01.024. [Epub ahead of print]
Dufouil C, Beiser A, McLure LA, Wolf PA, Tzourio C, Howard VJ, Westwood AJ, Himali JJ, Sullivan L, Aparicio HJ, Kelly-Hayes M, Ritchie K, Kase CS, Pikula A, Romero JR, D'Agostino RB, Samieri C, Vasan RS, Chêne G, Howard G, Seshadri S. Revised Framingham Stroke Risk Profile to Reflect Temporal Trends. Circulation. 2017 Mar 21;135(12):1145-1159. doi: 10.1161/CIRCULATIONAHA.115.021275. Epub 2017 Feb 3.
Lubitz SA, Yin X, McManus DD, Weng LC, Aparicio HJ, Walkey AJ, Rafael Romero J, Kase CS, Ellinor PT, Wolf PA, Seshadri S, Benjamin EJ. Stroke as the Initial Manifestation of Atrial Fibrillation: The Framingham Heart Study. Stroke. 2017 Feb;48(2):490-492. doi: 10.1161/STROKEAHA.116.015071. Epub 2017 Jan 12.
Lioutas VA, Beiser A, Himali J, Aparicio H, Romero JR, DeCarli C, Seshadri S. Lacunar Infarcts and Intracerebral Hemorrhage Differences: A Nested Case-Control Analysis in the FHS (Framingham Heart Study). Stroke. 2017 Feb;48(2):486-489. doi: 10.1161/STROKEAHA.116.014839. Epub 2016 Dec 22.
Pase MP, Beiser A, Enserro D, Xanthakis V, Aparicio H, Satizabal CL, Himali JJ, Kase CS, Vasan RS, DeCarli C, Seshadri S. Association of Ideal Cardiovascular Health With Vascular Brain Injury and Incident Dementia. Stroke. 2016 May;47(5):1201-6. doi: 10.1161/STROKEAHA.115.012608. Epub 2016 Apr 12.
Neurology Working Group of the Cohorts for Heart and Aging Research in Genomic Epidemiology (CHARGE) Consortium, the Stroke Genetics Network (SiGN), and the International Stroke Genetics Consortium (ISGC). Identification of additional risk loci for stroke and small vessel disease: a meta-analysis of genome-wide association studies. Lancet Neurol. 2016 Jun;15(7):695-707. doi: 10.1016/S1474-4422(16)00102-2. Epub 2016 Apr 7.
Pase MP, Beiser A, Aparicio H, DeCarli C, Vasan RS, Murabito J, Seshadri S. Interarm differences in systolic blood pressure and the risk of dementia and subclinical brain injury. Alzheimers Dement. 2016 Apr;12(4):438-45. doi: 10.1016/j.jalz.2015.09.006. Epub 2015 Nov 2.
Aparicio HJ, Carr BG, Kasner SE, Kallan MJ, Albright KC, Kleindorfer DO, Mullen MT. Racial Disparities in Intravenous Recombinant Tissue Plasminogen Activator Use Persist at Primary Stroke Centers. J Am Heart Assoc. 2015 Oct 14;4(10):e001877. doi: 10.1161/JAHA.115.001877.
Aparicio HJ, Seshadri S. Heart of the Matter. Stroke. 2015 Jul;46(7):1755-6. doi: 10.1161/STROKEAHA.115.009348. Epub 2015 May 28.
Bern C, Verastegui M, Gilman RH, Lafuente C, Galdos-Cardenas G, Calderon M, Pacori J, Del Carmen Abastoflor M, Aparicio H, Brady MF, Ferrufino L, Angulo N, Marcus S, Sterling C, Maguire JH. Congenital Trypanosoma cruzi transmission in Santa Cruz, Bolivia. Clin Infect Dis. 2009 Dec 1;49(11):1667-74. doi: 10.1086/648070.