Hugo Javier Aparicio, MD, MPH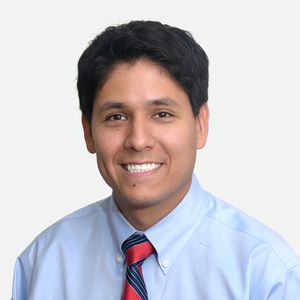 Assistant Professor of Neurology
Boston University School of Medicine
Investigator, The Framingham Heart Study
72 East Concord Street, Robinson Building, B-601
Boston, MA 02118

Phone: 617-638-8069
Fax: 617-638-8086
Medical School: Perelman School of Medicine at the University of Pennsylvania (2009)
Internship: Internal Medicine, Pennsylvania Hospital (2010)
Residency: Neurology, Hospital of the University of Pennsylvania (2013)
Fellowship: Vascular Neurology, Boston University Medical Center (2014)
Board Certifications: Neurology, Vascular Neurology
Special Interests: Neuroepidemiology, obesity and lifestyle risk factors for stroke, minority health disparities, genetics of stroke
Awards
Dr. Hugo Aparicio has been named the 2017 Spivack Emerging Leader. His research interests include the identification of lifestyle risk factors, biomarkers, neuroimaging markers and genetic influences associated with cerebrovascular diseases. He is particularly interested in the contributions of vascular risk factors to brain aging, cognitive dysfunction and the development of Alzheimer's disease.
Recent publications:
Pase MP, Beiser A, Enserro D, Xanthakis V, Aparicio H, Satizabal CL, Himali JJ, Kase CS, Vasan RS, DeCarli C, Seshadri S. Association of Ideal Cardiovascular Health With Vascular Brain Injury and Incident Dementia. Stroke. 2016 May;47(5):1201-6. doi: 10.1161/STROKEAHA.115.012608.
Pase MP, Beiser A, Aparicio H, DeCarli C, Vasan RS, Murabito J, Seshadri S. Interarm differences in systolic blood pressure and the risk of dementia and subclinical brain injury. Alzheimers Dement. 2015 Nov 2. pii: S1552-5260(15)02909-X. doi: 10.1016/j.jalz.2015.09.006.
Aparicio HJ, Carr BG, Kasner SE, Kallan MJ, Albright KC, Kleindorfer DO, Mullen MT. Racial Disparities in Intravenous Recombinant Tissue Plasminogen Activator Use Persist at Primary Stroke Centers. J Am Heart Assoc. 2015 Oct 14;4(10):e001877. doi: 10.1161/JAHA.115.001877. PubMed PMID: 26467999.
Aparicio HJ, Seshadri S. Heart of the Matter. Stroke. 2015 Jul;46(7):1755-6. doi: 10.1161/STROKEAHA.115.009348. Epub 2015 May 28.
Loomis C, Aparicio H, Price R, Neurology. In: Hitchhiker's Guide to Internal Medicine, Ed. A. Qasim. Oxford University Press 2010
Bern C, Verastegui M, Gilman RH, Lafuente C, Galdos-Cardenas G, Calderon M, Pacori J, Del Carmen Abastoflor M, Aparicio H, Brady MF, Ferrufino L, Angulo N, Marcus S, Sterling C, Maguire JH. Congenital Trypanosoma cruzi transmission in Santa Cruz, Bolivia. Clin Infect Dis. 2009 Dec 1;49(11):1667-74.
Fitzwater S, Calderon M, Lafuente C, Galdos-Cardenas G, Ferrufino L, Verastegui M, Gilman RH, Bern C for Chagas Disease Working Group in Peru and Bolivia (Aparicio H, Santa Cruz, Bolivia). Polymerase chain reaction for chronic Trypanosoma cruzi infection yields higher sensitivity in blood clot than buffy coat or whole blood specimens. American Journal of Tropical Medicine and Hygiene 79(5):768-70, 2008