Anna DePold Hohler, M.D.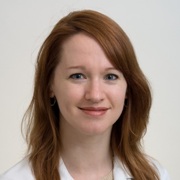 Associate Professor of Neurology
Assistant Dean, Office of Academic Affairs
Boston University School of Medicine
72 East Concord Street, Neurology C-3
Boston, MA 02118

Phone: 617-638-8456
Fax: 617-638-5354

Medical School: Boston University School of Medicine, Boston, MA (1998)
Residency: Madigan Army Medical Center, WA (2002)
Fellowship: Movement Disorders, Boston University Medical Center, Boston, MA (2007)
Board Certifications: Neurology
Special Interests: Movement Disorders, Autonomic Diseases, Botulinum Toxin Administration
Awards
Dr. Anna DePold Hohler is the recipient of the prestigious Stanley L. Robbins Award for 2012. This is the School of Medicine's highest teaching award, presented annually for extraordinary contributions to medical education at Boston University. The award was established in recognition of the excellence in teaching and devotion to students exemplified by Dr. Stanley L. Robbins, former Chair and Professor of Pathology at BUSM.
Selected Publications
Huang H, Hohler AD. The Dermatological Manifestations of Postural Tachycardia Syndrome: A Review with Illustrated Cases. Am J Clin Dermatol. 2015 Oct;16(5):425-30. doi: 10.1007/s40257-015-0144-6.
Sharma M, Santini V, Auguste M, Hohler AD, Etienne M, Jones E, Alessi A. Mon Chéri Haiti: Neurology lessons learned. Neurology. 2015 Jul 14;85(2):169-71. doi: 10.1212/WNL.0000000000001735.
Zuzuárregui JR, Hohler AD. Comprehensive Opportunities for Research and Teaching Experience (CORTEX): A mentorship program. Neurology. 2015 Jun 9;84(23):2372-6.
Deb A, Morgenshtern K, Culbertson CJ, Wang LB, Hohler AD. A survey-based analysis of symptoms in patients with postural orthostatic tachycardia syndrome. Proc (Bayl Univ Med Cent). 2015 Apr;28(2):157-9.
Wu CK, Hohler AD. Management of orthostatic hypotension in patients with Parkinson's disease. Pract Neurol. 2014 Dec 8. pii: practneurol-2014-001000. doi: 10.1136/practneurol-2014-001000. [Epub ahead of print] Review.
Wong LC, Freeburg JD, Montouris GD, Hohler AD. Two patients with Hashimoto's encephalopathy and uncontrolled diabetes successfully treated with levetiracetam. J Neurol Sci. 2015 Jan 15;348(1-2):251-2. doi: 10.1016/j.jns.2014.11.007. Epub 2014 Nov 13.
Lee JD, Hohler AD.  Communication Challenges in Complex Medical Environments.  CONTINUUM: June 2014 – Volume 20 – p 686-689 doi: 10.1212/01.CON.0000450975.29817.c6
Spengler DC, Montouris GD, Hohler AD.  Levetiracetam as a Possible Contributor to Acute Kidney Injury.  Clin Ther. 2014 Jun 27. pii: S0149-2918(14)00358-0. doi: 10.1016/j.clinthera.2014.06.002. PMID:24986483
Wallman D, Weinberg J, Hohler AD. Ehlers-Danlos Syndrome and Postural Tachycardia Syndrome: A relationship study. J Neurol Sci. 2014 Mar 11. pii: S0022-510X(14)00145-2. doi: 10.1016/j.jns.2014.03.002.
Levin AA, Hess D, Hohler AD.  Treatment of Idiopathic Intracranial Hypertension with Gastric Bypass Surgery.  Int J Neurosci. 2014 Feb 28. PMID: 24579748.
Qin B1, Tabbara AK, Delalle I, Holsapple J, Hohler A. An enigmatic brainstem posterior fossa ganglioglioma in an adult. Int J Neurosci. 2014 Jan 29. PMID: 24405263.
Potts DC, Hohler AD.  Neurologists and technology: The changing "Facebook" of practice.  NeurolClinPract April 2013 vol. 3 no. 2 149-154.  doi: 10.1212/CPJ.0b013e31828d9ee4
Datta N, Hohler A.  A New SETX Mutation Producing AOA2 in Two Siblings.Int J Neurosci. 2013 Apr 9.
Wijeratne T, DePold Hohler A.  Residency training: Advocacy training in neurology: lessons from the Palatucci Advocacy Leadership Forum. Neurology. 2013 Jan 1;80(1):e1-3. doi: 10.1212/WNL.0b013e31827b19e1. No abstract available.
Roque AM, Weinberg J, Hohler AD.  Evaluating exposure to abuse and violence in neurological patients. Neurologist. 2013 Jan;19(1):7-10. doi: 10.1097/NRL.0b013e31827c6c26
Zhang R, Spengler DC, Saint-Hilaire MH, Hohler AD.  Association of adverse effects with monoamine oxidase type B inhibitor and catechol-o-methyl transferase inhibitor combination therapy in Parkinson's disease patients.Vol.1, No.1, 5-10 (2012) Advances in Parkinson's Disease doi:10.4236/apd.2012.11002
Vaou O, Hohler AD.  A Case of Mistaken Identity: Juvenile Myoclonic Epilepsy Manifesting as a Tic Disorder.  Vaou and Hohler, J Neurol Neurophysiol 2012, 3:1http://dx.doi.org/10.4172/2155-9562.1000125.
Hohler AD, Amariei DE, Katz DI, DePiero TJ, Allen VB, Boyle S,  Phenix  HA,  DeAngelis  TA,  Geibel CD, Smith KM, Saint-Hilaire MH, Ellis T.   Treating Orthostatic Hypotension in Patients with Parkinson's Disease and Atypical Parkinsonism Improves Function.  Journal of Parkinson's Disease. Wednesday, August 22, 2012. 10.3233/JPD-2012-012101
Schulman E, Hohler AD.  American Academy of Neurology position statement on abuse and violence.   Neurology. 2012 Feb 7;78(6):433-5. Epub 2012 Jan 25.
Hohler AD, Zuzuarregui R,  Katz DI, DePiero TJ, Hehl CL, Leonard A, Alen A, Dentino J, Gardner M, Phenix H, Saint- Hilaire MH, Ellis T.  Differences in motor and cognitive function in patients with parkinsonism with and without orthostatic hypotension.  Int J Neurosci. 2012 May;122(5):233-6. Epub 2011 Dec 22.
Singh V, Hohler AD.  Probable hereditary multiple system atrophy- autonomic (MSA-A) in a family in the United States.  J Clin Neurosci. 2012 Mar;19(3):479-80. Epub 2012 Jan 16.
Hohler AD, Tsao JM, Katz DI, DiPiero TJ, Hehl CL, Leonard A, Allen V, Gardner M, Phenix H, MH, Ellis T.  Effectiveness of an Inpatient Movement Disorders Program for Patients with Atypical Parkinsonism.  Parkinsons Dis. 2012;2012:871974. Epub 2011 Nov 10.
DePold Hohler A, Lee JD, Schulman E, Schafer J, Flippen C. Improving the safety of the neurologic patient: medication management, health literacy, and abuse and neglect. Neurology. 2010 Aug 24;75(8):742-6.
Toshkezi G, Dejesus J, Jabre J,  Hohler A, Davies K. Long thoracic neuropathy due to an apical pulmonary tumor. Journal of Neurosurgery.  April 2009 110(4) 754.
Ellis T, Katz DI, White DK, Depiero TJ, Hohler AD, Saint-Hilaire MH.  Effectiveness of an inpatient multidisciplinary rehabilitation program for patients with Parkinson's disease. Phys Ther. 2008 Jul;88(7):812-9. Epub 2008 Apr 24.
Hohler AD, Rush S. The role of the neurologist in cases of abuse and neglect. The Neurologist. 13(2)73-78, March 2007.
Hohler AD, Flynn FG.  Onset of Creutzfeldt-Jacob disease mimicking an acute cerebrovascular event.  Neurology 2006 67:538-539.10(2003) 47-50.
DePold Hohler A, Ransom BR, Chun MR, Troster AI, Samii A.  The youngest reported case of corticobasal degeneration.  Parkinsonism and Related Disorders 10(2003) 47-50.