Gioacchino G. Curiale, MD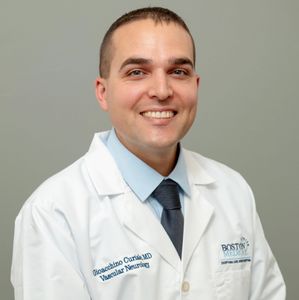 Chief and Medical Director of Stroke Services
Boston University Medical Center
72 East Concord Street, Neurology C-3
Boston, MA 02118
Phone: 617-638-8456
Fax: 617-638-5354
Medical School: University of Massachusetts Medical School, Worcester, MA
Internship: Yale-New Haven Hospital, New Haven, CT
Residency: Yale-New Haven Hospital, New Haven, CT
Fellowships: Vascular Neurology at Beth Israel Deaconess Medical Center, Boston, MA,
Board Certifications: Neurology, Vascular Neurology
Special Interests: Stroke
Recent Publications:
Greer DM, Curiale GG. End-of-life and brain death in acute coma and disorders of consciousness. Semin Neurol. 2013 Apr; 33(2):157-66.
Curiale GG, Schindler JL. Clinical reasoning: An 83-year-old woman with acute right-sided weakness and chest pressure. Neurology. 2013 Jan 01; 80(1):e8-11.
Hernandez AL, Blondin NA, Curiale G, Greer DM. Plantar flexion with noxious dorsal foot stimulation in brain death. Neurocrit Care. 2012 Oct; 17(2):268-70.