Emmet A. Sartor, M.D.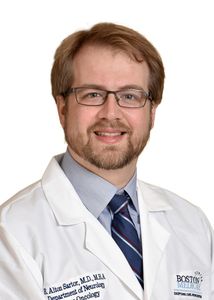 Assistant Professor of Neurology
Boston University School of Medicine
72 East Concord Street
Boston, MA 02118

Phone: 617-638-8456
Fax: 617-638-8465
Medical School: Tulane School of Medicine, New Orleans, LA (2012)
Internship: Tulane Hospital Internal Medicine, New Orleans, LA (2013)
Residency: Columbia University Department of Neurology Adult Neurology Program, New York, NY (2016)
Fellowship: Neuro-Oncology Massachusetts General Hospital/Dana Farber, Boston, MA (2018)
Board Certifications: Neurology
Special Interests: Neurology, Neuro-Oncology, Machine learning for Image for MRI brain tumor evaluation.
Recent publications:
Sartor EA, Wen PY. Adjuvant treatments for ependymomas. J Neurosurg Sci. 2018 Feb;62(1):71-77. doi: 10.23736/S0390-5616.17.04211-4.
Sartor EA, Albright K, Boehme AK, Morales MM, Shaban A, Grotta JC, Savitz SI, Martin-Schild S. The NIHSS Score and its Components can Predict Cortical Stroke. J Neurol Disord Stroke. 2013 Sep 13;2(1):1026.
Chang TR, Albright KC, Boehme AK, Dorsey A, Sartor EA, Kruse-Jarres R, Leissinger C, Martin-Schild S. Factor VIII in the setting of acute ischemic stroke among patients with suspected hypercoagulable state. Clin Appl Thromb Hemost. 2014 Mar;20(2):124-8. doi: 10.1177/1076029613488936.