Charlene Jennifer Ong, MD, MPHS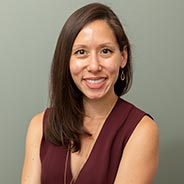 Assistant Professor of Neurology
Boston University School of Medicine
Visiting Scientist, Massachusetts Institute of Technology
72 East Concord Street, Neurology C-3
Boston, MA 02118
Phone: 617-638-8456
Fax: 617-638-5354
Medical School: Columbia University College of Physicians and Surgeons (2012)
Internship: Washington University School of Medicine (2013)
Residency: Washington University School of Medicine (2016)
Fellowship: Neurocritical Care, Massachusetts General Hospital (2018)
Board Certifications: Neurology (Neurocritical Care Board Eligible)
Special Interests: Cerebral Edema, Machine Learning Methods to Optimize ICU Outcomes
Awards:
Dr. Charlene Ong is the recipient of the Career Development Professorship Award.  Dr. Ong's research seeks to create personalized risk assessments of patients with ischemic stroke through development of a comprehensive diagnostic imaging tool that processes physiologic, clinical, and radiographic data.
Recent publications:
Ong C, Gilmore E, Claassen J, Foreman B, Mayer SA. Impact of Prolonged Periodic Epileptiform Discharges on Coma Prognosis. Neurocritical Care 2012;17(1):39-44.
Ong CJ. Tipping point: The head CT and its impact on neurology training. Annals of Neurology 2015;77(4):556-9.

Ong CJ, Keyrouz S, Diringer MN. The role of osmotic therapy in hemispheric stroke. Neurocritical Care, Neurocritical Care 2015;23(2):285-91.
Ong CJ, Yarbrough CK, Beyer AB et al. Endovascular thrombectomy for anterior circulation stroke. Systematic Review and Meta-analysis. Stroke 2015;46(11):3177-83.
Ong CJ, Yarbrough CK, Derdeyn CP. Response to letter regarding article, "Endovascular thrombectomy for anterior circulation stroke: systematic review and meta-analysis." Stroke;46(12):e259.
Ong CJ, Dhand A, Diringer MN. Early withdrawal decision making in patients with coma after cardiac arrest: a qualitative study of intensive care clinicians. Neurocritical Care 2016;25(2):258-65.
Ong CJ, Gluckstein JA, Laurido-Soto O, Yan Y, Dhar R, Lee JM. Enhanced detection of edema in malignant anterior circulation stroke (EDEMA) score: A risk prediction tool. Stroke 2017;48(7):1969-72.
Case Reports and Series:
Ong C, Nallamshetty HS, Nazarian LN, Rekant MS, Mandel S. Sonography Diagnosis of Posterior Interosseous Nerve Entrapment Syndrome. Radiology Case Reports 2007;2:1-4.
Ong C, Patel K, Musiek E, Van Stavern G. Isolated Upbeating Nystagmus as Early Atypical Manifestation of Thiamine Deficiency. Neurology 2015;84(4):e17-e19.
Ong CJ, Al-Lozi M, Cimino PJ, Bucelli R. Peripheral nervous system hyperexcitability in the VV2 subtype of sporadic Creutzfeldt-Jakob Disease: two cases and a review of the literature. Clinical Practice Neurology 2015;5(4):326-332.