A. Ana Beesen, M.D.
Assistant Profess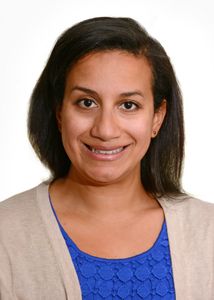 or of Neurology
Boston University School of Medicine
72 East Concord Street, Neurology D-4
Boston, MA 02118
Phone: 617-638-8456
Fax: 617-638-5354
Medical School: Mount Sinai School of Medicine (2009)
Internship: Medicine, Montefiore Medical Center, Albert Einstein College of Medicine (2010)
Residency: Neurology, UCLA Department of Neurology (2013)
Fellowship: Neurocritical Care, Cedars-Sinai Medical Center (2015)
Board Certification: Neurology, Neurocritical Care
Special interests: Stroke, traumatic brain injury, coma, critical care, bioethics

Recent Publications:
Manning AT, Eaton A, Azu M, Sampson M, Patil S, Godfrey D, Beesen AA, Liberman L, Gemignani ML.Breast cancer screening at the Breast Examination Center of Harlem. Ann Surg Oncol. 2015 Jun;22(6):2026-33.
Taylor DM, Moser R, Régulier E, Breuillaud L, Dixon M, Beesen AA, Elliston L, Silva Santos Mde F,  Kim J, Jones L, Goldstein DR, Ferrante RJ, Luthi-Carter R. MAP kinase phosphatase 1 (MKP-1/DUSP1) is neuroprotective in Huntington's disease via additive effects of JNK and p38 inhibition. J Neurosci. 2013 Feb 6;33(6):2313-25.
Rudinsky N, Kaneko YA, Beesen AA, Gokce O, Régulier E, Déglon N, Luthi-CarterR. Diminished hippocalcin expression in Huntington's disease brain does not account for increased striatal neuron vulnerability as assessed inprimaryneurons. J Neurochem. 2009 Oct;111(2):460-72.
Ferrante RJ, Kubilus JK, Lee J, Ryu H, Beesen A, Zucker B, Smith K, Kowall NW, Ratan RR, Luthi-Carter R, Hersch SM. Histone deacetylase inhibition by sodium butyrate chemotherapy ameliorates the neurodegenerative phenotype in Huntington's disease mice. J Neurosci. 2003 Oct 15;23(28):9418-27.