Genetics Program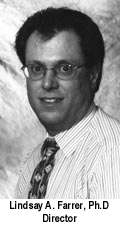 In the last two decades, advances in molecular genetics have enabled the identification of the basis of many inherited conditions. It is also becoming increasingly apparent that most, if not all, common and complex diseases have a genetic component. A challenge for the next generation of medical scientists will be to develop new paradigms for elucidating the constellation of genetic and environmental factors which contribute to disease susceptibility. Knowledge of these factors will have obvious relevance to and impact on strategies for prediction, therapeutic intervention and prevention of human diseases. The Genetics Program, established in 1998, is a multi-disciplinary and cross-sectional unit whose missions are to foment and provide leadership in human and medical genetics research, and extend and develop new genetics curricula for graduate and medical students and MD fellows seeking academic research careers.
The Program is directed by Lindsay A. Farrer, PhD, a genetic epidemiologist and an internationally recognized expert in gene mapping and linkage analysis. He is a former Alfred P. Sloan Fellow, is a Founding Fellow of the American College of Medical Genetics and serves on its Test and Technology Transfer Committee. Dr. Farrer's research focuses on the elucidation of genetic mechanisms leading to the development and variable expression of neurological and late-life diseases. In collaboration with other reseachers, Dr. Farrer has localized genes causing a variety of rare and common disorders including Alzheimer's disease, Wilson's disease, sensorineural deafness, cataract and osteoarthritis. Under his leadership, the MIRAGE Project, a multicenter study of Alzheimer's disease funded since 1991 by the National Institute on Aging, has made several important contributions to our understanding of the interactions between genetic and environmental factors for Alzheimer's disease.
Genetics Program faculty have active and ongoing clinical and basic research projects in collaboration with other sections and departments in the medical center. For example, together with members of the Hypertension Section, Anita DeStefano, PhD, has localized genes for orthostatic hypotension and essential hypertension. Sam Thiagalingam, PhD, is working with members of the Pulmonary section and Cancer Center in studies of lung and colon cancer. Robert Green, MD, MPH, is the Principal Investigator of a NIH-funded multicenter study which will determine who actually chooses to obtain susceptibility genotyping for Alzheimer's disease and what the consequences of that information will be. The Program is also actively involved in genetics projects in inflammatory bowel disease, mental illness, osteoarthritis, longevity, and the Framingham Study. Genetic epidemiology is a particular strength of the Program. The Genetic Epidemiology Center is directing projects involving multiple academic centers and private industry to identify genes for several complex diseases including metabolic syndrome and drug addiction. A molecular genetics core facility was established within the Program to promote collaborative research, particularly studies involving DNA sequencing and large-scale genotyping.
The Genetics Program offers a variety of opportunities for training leading to a PhD in a genetics specialty including genetic epidemiology and molecular genetics. Fellowship training for up to three years duration is also available for individuals wishing to pursue careers in genetics research. These programs are funded in part by training and research grants from the NIH.