Nutrition and Weight Management Research Center
Caroline M. Apovian, MD, FACP, FACN
Professor of Medicine and Pediatrics
Education:
M.D., University of Medicine & Dentistry of New Jersey
General field of research:
Obesity; Diabetes; Nutrition
Affiliations other than medicine:
Evans Center for Interdisciplinary Biomedical Research
Section of Endocrinology, Diabetes, and Nutrition
Contact information:
Office
88 E. Newton Street, Robinson 4400
Phone: (617) 638-8556
Fax: (617) 638-8599
Research group information
Sherman Bigornia, MA – Research Coordinator – sherman.bigornia@bmc.org
Ashley Bourland – Research Coordinator – ashley.bourland@bmc.org
Nawfal Istfan, MD, PhD – Nutrition Investigator – nawfal.istfan@bmc.org
Lalita Khaodhiar, MD – Nutrition Investigator – lalita.khaodhiar@bmc.org
James McCarthy – Administrative Coordinator – james.mccarthy@bmc.org
Amy Nahigyan – Research Coordinator – amy.nahigyan@bmc.org
Ava Port, MD – Obesity Fellow – ava.port@bmc.org
Mitali Shah, MS, RD, LDN– Research Dietitian – mitali.shah@bmc.org
Keywords:
Obesity; Inflammation; Adipokines; Endothelial function; Diabetes
Summary of research interest:
Dr. Apovian's ongoing research includes several areas of weight loss, weight maintenance, and the molecular effects of weight change. In conjunction with the Department of Cardiology, she is looking at weight loss and its effects on endothelial cell function, adipose cell metabolism and inflammation. She has become an expert in the technique for subcutaneous adipose tissue biopsies and has been performing these biopsies on research subjects for over 5 years.
Dr. Apovian is also researching the bariatric surgery population in the Nutrition and Weight Management Center. In collaboration with Beth Israel Deaconess Medical Center, she is studying quality of life before and after weight loss surgery. She is also looking at the effects of bariatric surgery on adipose tissue and the effects of a novel meal replacement program on body composition.
Dr. Apovian's research also includes novel pharmacotherapeutic antiobesity agents, such as leptin. She is currently completing a study designed to quantify the relative inflammatory burden and cytokine expression of adipose cells in human fat stores in obese participants after weight loss treatment with low-fat vs. low-carbohydrate diets.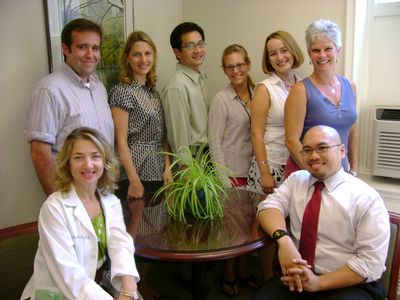 Recent publications:
Anderson WA, Greene GW, Forse RA, Apovian CM, Istfan NW. 2007 Jun. Weight loss and health outcomes in African Americans and whites after gastric bypass surgery. Obesity (Silver Spring); 15(6):1455-63.
Arkin JM, Alsdorf R, Bigornia S, Palmisano J, Beal R, Istfan N, Hess D, Apovian CM, Gokce N. 2008 Jan 1. Relation of cumulative weight burden to vascular endothelial dysfunction in obesity. Am J Cardiol; 101(1):98-101.
Apovian CM, Bigornia S, Mott M, Meyers MR, Ulloor J, Gagua M, McDonnell M, Hess D, Joseph L, Gokce N. 2008 Sep.  Adipose macrophage infiltration is associated with insulin resistance and vascular endothelial dysfunction in obese subjects. Arterioscler Thromb Vasc Biol; 28(9):1654-9.
Moore T. J., Alsabeeh N., Apovian C. M., Murphy M. C., Coffman G. A., Cullum-Dugan D., Jenkins M., Cabral H. 2008. Weight, blood pressure, and dietary benefits after 12 months of a Web-based Nutrition Education Program (DASH for health): longitudinal observational study. J Med Internet Res; 10 (4):e52.
Lenders CM, Wright JA, Apovian CM, Hess DT, Shukla RR, Adams WG, Lee K. 2009 Jan.  Weight loss surgery eligibility according to various BMI criteria among adolescents. Obesity (Silver Spring); 17(1):150-5.
Apovian C, Bigornia S, Cullum-Dugan D, Schoonmaker C, Radziejowska J, Phipps J, Gokce N, Istfan N, Meyers A, Lenders C. 2009. Milk-based nutritional supplements in conjunction with lifestyle intervention in overweight adolescents. ICAN: Infant, Child, & Adolescent Nutrition; 1:37-44.
Knapp PE, Clemente KM, Phipps JC, Speckman JL, Sternthal E, Freund KM, Ash AS, Apovian CM. 2009. Self-monitoring of blood glucose with finger tip vs. alternate site sampling: effect on glycemic control in insulin-using patients with type 2 diabetes. Diabetes Technology and Therapeutics; 11: 219-225.
Technologies available for sharing upon request:
Subcutaneous adipose tissue biopsies (H-25223 ALTERATIONS IN FAT CELL-DERIVED ADIPOCYTOKINE EXPRESSION BEFORE AND AFTER WEIGHT LOSS)