Karen Freund, MD, MPH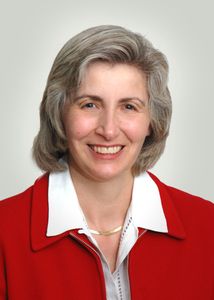 Adjunct Professor of Medicine and Epidemiology
Education:
Undergraduate:  Harvard University, AB, Psychology and Social Relations
Medical School: Stanford University School of Medicine
Residency: Cambridge Hospital (Internal Medicine); Boston Medical Center (Preventive Medicine)
Fellowship: Boston University (General Internal Medicine)
General field of work:
Women's Health; Health Disparities; Cancer Control and Prevention
Affiliations other than medicine:
Faculty Development and Diversity Committee
Boston University School of Public Health
Women's Health Interdisciplinary Research Center (WHIRC)
Other research websites:
NCI Patient Navigation Research Project
Building Interdisciplinary Research Careers in Women's Health (BIRCWH)
Avon Patient Navigation – National Research Project
Avon Patient Navigation – Local Research Project
Center to Reduce Cancer Health Disparities
Keywords:
Breast Cancer; Cervical Cancer; Patient Navigation; Vulnerable Populations
Summary of research interest:
My research in the past 10 years has focused on addressing the social determinants of health which influence the receipt of health care services, which in turn lead to disparities in mortality. The Women's Health Unit research has addressed a broad number of issues in the screening, diagnosis and treatment phases of health care. This has included looking at the role of patient beliefs and behaviors, physician attitudes and decision making, and the role of systems barriers, especially navigating the increasing complex health care system. Breast cancer was been a major focus, but the research has also addressed cervical and colon cancer, cardiovascular disease, diabetes, exercise, depression, eating disorders and domestic violence.
My current research is focused on systems interventions to reduce health disparities. Our team is one of 9 funded sites on the NCI Center to Reduce Cancer Health Disparities Patient Navigation Research Program (U01 CA116892). This is the largest controlled trial of the benefits of care coordination and patient navigation for women and men with cancer or abnormal cancer screening tests. This is a community based participatory research study, affiliated with six Boston Community Health Centers.
Recent new funding through the ARRA as well as other funding mechanism addresses:
The impact of Massachusetts Health Insurance Reform on health disparities (RC1 MD004582-0110)
The role of patient navigation for cancer clinical trial recruitment.
The role of patient navigation for recruitment of HIV/AIDS patients in cancer clinical trials.
The role of a community health educator in cancer care and research
Understanding the tasks and social network of a patient navigator. (Avon Foundation support)
My other research interest is in the academic career development of women and underrepresented minority women and men. I am PI of the Longitudinal follow-up to the National Faculty Survey (R01 GM-09-012), to look at predictors of academic success among junior faculty. I am also PI of the Boston University BIRCWH (Building Interdisciplinary Research Careers in Women's Health) to mentor the next generation of clinical investigators in women's health research.
Recent publications:
Battaglia TA, Santana MC, Bak S, Gokhale M, Lash TL, Ash AS, Kalish R, Tringale S, Taylor JO, Freund KM. Predictors of timely follow-up after abnormal cancer screening among women seeking care at urban community health centers. Cancer. 2010 Feb;116(4):913-21.
Dupuis EA, White HF, Newman D, Sobieraj JE, Gokhale M, Freund KM. Tracking abnormal cervical cancer screening: evaluation of an EMR-based intervention. J Gen Intern Med. 2010 Jun;25(6):575-80. PMID: 20204536.
Garcia FA, Freund KM, Berlin M, Digre KB, Dudley DJ, Fife RS, Gabeau G, Geller SE Magnus JH, Trott JA, White HF. Progress and priorities in the health of women and girls: a decade of advances and challenges. J Womens Health (Larchmt). 2010 Apr;19(4):671-80. PMID: 20201706.
Kronman AC, Freund KM, Hanchate A, Emanuel EJ, Ash AS. Nursing Home Residence Confounds Gender Differences in Medicare Utilization: an Example of Simpson's Paradox. Women's Health Issues. 2010;105-113.
Parker VA, Clark JA, Leyson J, Calhoun E, Carroll JK, Freund KM, Battaglia TA. Patient Navigation: Development of a Protocol for Describing What Navigators Do. Health Research and Educational Trust. 2010 Apr;45(2):514-31. doi: 10.1111/j.1475-6773.2009.01079.x.
Cheng, T, Freund KM, Lane SE, Ganschow P, Battaglia TA. Screening for Breast Cancer, American College of Physicians PIER. http://pier.acponline.org/physicians/screening/s369/s369.html
McCall-Hosenfeld JS, Freund KM, Liebschutz JM. Factors associated with sexual assault and time to presentation. Prev Med. 2009;48:593-5.
Pregler, J, Freund KM, Phipps M.G, et al. The heart truth professional education campaign on women and heart disease: needs assessment evaluation results. Journal of Women's Health. J Women's Health. 2009;18: 1541-1547.
Knapp PE, Clemente KM, Phipps JC, Speckman JL. Sternthal E, Freund KM, Ash AS, Apovian CM. Monitoring of Blood Glucose with Finger Tip vs. Alternative Site Sampling: Effect on Glycemic Control in Insulin-Using Patients with Type 2 Diabetes. Diabetes Technology and Therapeutics, 2009;11:219-25.
Freund KM, Battaglia TA, Calhoun E, Dudley DJ, Fiscella K, Paskett E, Raich PC, Roetzheim RG, and the Patient Navigation Research Program Group. The NCI Patient Navigation Research Program: Methods, Protocol and Measures. Cancer 2008;113:3391-3399.
McCall-Hosenfeld JS, Jaramillo SA, Legault C, Freund KM, Cochrane BB, Manson JE, Wenger NK, Eaton CB, Rodriguez BL, McNeeley SG, Bonds D. Correlates of Sexual Satisfaction Among Sexually Active Postmenopausal Women in the Women's Health Initiative-Observational Study. J Gen Intern Med. 2008;23 :2000-9.
Aggarwal A, Freund KM, Sato A, Adams-Campbell LL, Lopez AM, Lessin LS, Ockene J, Wallace RB, Williams CD, Bonds DE. Are depressive symptoms associated with cancer screening and cancer stage at diagnosis among postmenopausal women? The Women's Health Initiative observational cohort. J Womens Health (Larchmt). 2008 ;17:1353-61
Kronman AC, Ash AS, Freund KM, Hanchate A, Emanuel EJ. Can primary care visits reduce hospital utilization among Medicare beneficiaries at the end of life? J Gen Intern Med. 2008; 23: 1330-5.
PubMed Link to Dr. Freund's Publications