Nutrition and Weight Management Research Center
Nutrition and Weight Management Research Center
Caroline M. Apovian, MD, FACP, FACN
Professor of Medicine and Pediatrics
Education:
M.D., University of Medicine & Dentistry of New Jersey
General field of research:
Obesity; Diabetes; Nutrition
Affiliations other than medicine:
Evans Center for Interdisciplinary Biomedical Research
Section of Endocrinology, Diabetes, and Nutrition
Contact information:
Office
88 E. Newton Street, Robinson 4400
Phone: (617) 638-8556
Fax: (617) 638-8599
Research group information:
Sherman Bigornia, PhD – Postdoctoral Associate – sherman.bigornia@bmc.org
Ashley Bourland – Clinical Research Manager – ashley.bourland@bmc.org
Brooke Hasson, PhD – Research Scientist – brooke.hasson@bmc.org
Nawfal Istfan, MD, PhD – Nutrition Investigator – nawfal.istfan@bmc.org
Waheed Khan – Research Coordinator – waheed.khan@bmc.org
Dong Wook Kim, MD – Nutrition Investigator – dongwook.kim@bmc.org
James McCarthy – Administrative Coordinator – james.mccarthy@bmc.org
Kenya Palmer, MSN, NP – Nurse Practitioner – kenya.palmer@bmc.org
Alexandra Pitkin, RD, LDN – Research Dietitian – alexandra.pitkin@bmc.org
Amanda Powell, MD – Nutrition Investigator – amanda.powell@bmc.org
Mitali Shah, MS, RD, LDN – Research Dietitian – mitali.shah@bmc.org
Lorrie Young, MS, RD, CNSD, LDN – Research Dietitian – lorrie.young@bmc.org
Keywords:
Obesity; Inflammation; Adipokines; Endothelial function; Diabetes
Summary of research interest:
Dr. Apovian's focus is on clinical research in obesity and diabetes. Her group investigates weight loss and its effects on endothelial cell function, adipose cell metabolism and inflammation, research in the bariatric surgery population and novel pharmacotherapeutic antiobesity agents. She has become an expert in the technique for subcutaneous adipose tissue aspirations, and has been performing these aspirations on research subjects at Boston University for over 5 years. Other research projects include dietary and physical activity interventions in underserved post-partum women and the investigation into the effects of increased dietary protein on lean body mass, maximal voluntary muscle strength and power in older men with mobility limitations.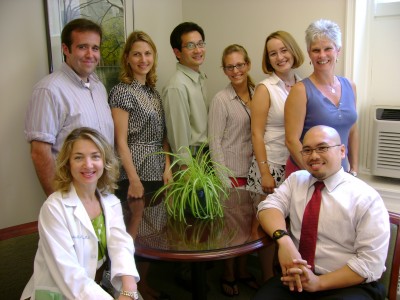 Publications:
http://www.ncbi.nlm.nih.gov/pubmed/?term=Apovian+C[author]
Technologies available for sharing upon request:
Subcutaneous adipose tissue biopsies (H-25223 ALTERATIONS IN FAT CELL-DERIVED ADIPOCYTOKINE EXPRESSION BEFORE AND AFTER WEIGHT LOSS)