W. Evan Johnson
Associate Professor of Medicine and Biostatistics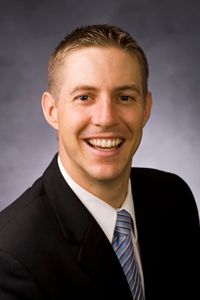 Education:
Ph.D., Biostatistics, Harvard University, Cambridge, Massachusetts; June 2007
M.A., Biostatistics, Harvard University, Cambridge, Massachusetts, June 2006
M.S., Statistics, Brigham Young University, Provo, Utah; August 2003
B.S., Summa Cum Laude, Mathematics, Physics Minor, Southern Utah University, Cedar City, Utah; May 2002
General Field of Work:
Computational Biology; Biostatistics
Affiliations other than medicine:
Member, Boston University Graduate Program in Bioinformatics
Adjunct Assistant Professor, Department of Oncological Sciences, Huntsman Cancer Institute, University of Utah
Contact information:
Office and Lab: 72 E. Concord St., E-609, Boston MA 02118
Office Phone: 617-638-2541
Email: "my initials" @bu.edu
Keywords:
Computational biology, Bayesian biostatistics, genomic medicine, tumor heterogeneity, metagenomics, infectious disease diagnostics, single cell sequencing, batch effects
Summary of academic interest:
The focus of our research is to develop computational and statistical tools to investigate core components that contribute to disease prognosis and etiology, and for the accurate determination of optimal diagnostic, prognostic, and therapeutic regimens for individual patients. We are actively developing methods and software tools for data preprocessing, integration, and downstream analysis, and applying these tools in a variety of clinical and biomedical applications. Our work includes a balance between statistical methods development, algorithm optimization, and clinical application. Statistical innovation in our group focuses on the development of clinically motivated tools that integrate linear modeling, Bayesian methods, factor analysis and structural equations models, Hidden Markov models, mixture models, dynamic programming, and high-performance parallel computing. This work has resulted in widely used tools and algorithms for profiling transcription factors (MAT, MA2C), preprocessing and integrating of genomic data (ComBat, BatchQC, SCAN-UPC), aligning sequencing reads (GNUMAP), developing multi-gene biomarker signatures (ASSIGN), and metagenomic profiling (PathoScope). We have successfully applied our tools in several biomedical and clinical scenarios, ranging from mechanistic studies and to precision genomics.
Recent Publications:
Google Scholar: https://scholar.google.com/citations?user=PI6bhY4AAAAJ&hl=en
MyNCBI: http://www.ncbi.nlm.nih.gov/myncbi/browse/collection/41689720/
Piccolo SR, Hoffman LM, Conner T, Shrestha G, Cohen AL, Marks JR, Neumayer LA, Agarwal CA, Beckerle MC, Andrulis IL, Spira AE, Moos PJ, Buys SS, Johnson WE, Bild AH. Integrative analyses reveal signaling pathways underlying familial breast cancer susceptibility. Mol Syst Biol. 2016 Mar 10;12(3):860. PubMed PMID: 26969729.
Castro-Nallar E, Shen Y, Freishtat RJ, Pérez-Losada M, Manimaran S, Liu G, Johnson WE, Crandall KA. Integrating microbial and host transcriptomics to characterize asthma-associated microbial communities. BMC Med Genomics. 2015 Aug 16;8:50. PubMed PMID: 26277095; PubMed Central PMCID: PMC4537781.
Shen Y, Rahman M, Piccolo SR, Gusenleitner D, El-Chaar NN, Cheng L, Monti S, Bild AH, Johnson WE. ASSIGN: context-specific genomic profiling of multiple heterogeneous biological pathways. Bioinformatics. 2015 Jun 1;31(11):1745-53. PubMed PMID: 25617415; PubMed Central PMCID: PMC4443674.
Byrd AL, Perez-Rogers JF, Manimaran S, Castro-Nallar E, Toma I, McCaffrey T, Siegel M, Benson G, Crandall KA, Johnson WE. Clinical PathoScope: rapid alignment and filtration for accurate pathogen identification in clinical samples using unassembled sequencing data. BMC Bioinformatics. 2014 Aug 4;15:262. PubMed PMID: 25091138; PubMed Central PMCID: PMC4131054.
Piccolo SR, Withers MR, Francis OE, Bild AH, Johnson WE. Multiplatform single-sample estimates of transcriptional activation. Proc Natl Acad Sci U S A. 2013 Oct 29;110(44):17778-83. PubMed PMID: 24128763; PubMed Central PMCID: PMC3816418.
Francis OE, Bendall M, Manimaran S, Hong C, Clement NL, Castro-Nallar E, Snell Q, Schaalje GB, Clement MJ, Crandall KA, Johnson WE. Pathoscope: species identification and strain attribution with unassembled sequencing data. Genome Res. 2013 Oct;23(10):1721-9. PubMed PMID: 23843222; PubMed Central PMCID: PMC3787268.
Cohen AL, Soldi R, Zhang H, Gustafson AM, Wilcox R, Welm BE, Chang JT, Johnson E, Spira A, Jeffrey SS, Bild AH. A pharmacogenomic method for individualized prediction of drug sensitivity. Mol Syst Biol. 2011 Jul 19;7:513. PubMed PMID: 21772261; PubMed Central PMCID: PMC3159972.
Leek JT, Scharpf RB, Bravo HC, Simcha D, Langmead B, Johnson WE, Geman D, Baggerly K, Irizarry RA. Tackling the widespread and critical impact of batch effects in high-throughput data. Nat Rev Genet. 2010 Oct;11(10):733-9. PubMed PMID: 20838408; NIHMSID: NIHMS282727; PubMed Central PMCID: PMC3880143.
Johnson WE, Li C, Rabinovic A. Adjusting batch effects in microarray expression data using empirical Bayes methods. Biostatistics. 2007 Jan;8(1):118-27. PubMed PMID: 16632515.
Johnson WE, Li W, Meyer CA, Gottardo R, Carroll JS, Brown M, Liu XS. Model-based analysis of tiling-arrays for ChIP-chip. Proc Natl Acad Sci U S A. 2006 Aug 15;103(33):12457-62. PubMed PMID: 16895995; PubMed Central PMCID: PMC1567901.
Other Links:
http://www.bumc.bu.edu/compbiomed/people/faculty/w-evan-johnson/