Irene Gavras MD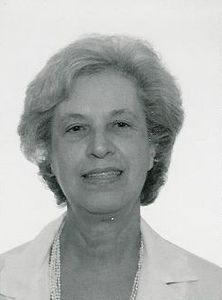 Professor of Medicine
Education:
M.D. – Athens University School of Medicine
General field of research:
Hypertension, Cardiovascular diseases
Affiliations other than medicine:
Section of Hypertension and Atherosclerosis, Department of Medicine
Cardiovascular Institute
Contact information:
Office
700 Albany street, W-508
Phone: (617) 638-4026
Fax: (617) 638-4027
Keywords:
Pathophysiology and Treatments of Hypertension; Experimental; Clinical
Summary of research interest:
Role of various components of the renin-angiotensin system in hypertension and ischaemic heart disease.
Cardioprotective effects of angiotensin converting enzyme inhibition. Cardiovascular and metabolic properties of bradykinin analogues.
Recent publications:
Rosenthal T, Gavras I. 2006. Fixed-drug combinations as first-line treatment for hypertension. Prog Cardiovasc Dis 48:416-425. PMID: 16714161
Cardoso de Carvalho F, Bregagnollo E, Santos Silva V, Brunie A, da Silva Franco RJ, Martin LC, Gavras I, Gavras H. 2006. Frequency of coronary artery disease in patients with renal artery stenosis without clinical manifestations of coronary insufficiency. Am J Hypertens 19:1125-1128. PMID:17070422.
Sun B, Kintsurashvili E, Ona D, Ignjacev-Lazich I, Gavras I, Gavras H. 2007. Inhibition of the alpha(1D)-adrenergic receptor gene by RNA interference (RNAi) in rat vascular smooth muscle cells and its effects on other adrenergic receptors. Vascul Pharmacol 46:367-372. PMID: 17307398
Duka A, Kintsurashvili E, Duka I, Ona D, Hopkins TA, Bader M, Gavras I, Gavras H. 2008. Angiotensin-converting enzyme inhibition after experimental myocardial infarct: role of the kinin B1 and B2 receptors. Hypertension 51:1352-1357. PMID: 18347228
Gavras H, Gavras I. 2008. Vasopressin Inhibitors. In: Hypertension Primer, Fourth Edition. Editors: Joseph L. Izzo, Jr.,Domenic A. Sica and Henry R. Black. Published by Lippincott Williams & Wilkins, Philadephia, PA, pp 474-476.
Silva VS, Martin LC, Franco RJ, Carvalho FC, Bregagnollo EA, Castro JH, Gavras I, Gavras H. 2008. Pleiotropic Effects of Statins May Improve Outcomes in Atherosclerotic Renovascular Disease. Am J Hypertens 21:1163-1168.
Kintsurashvili E, Shenouda S, Ona D, Ona L, Ahmad S, Ravid K, Gavras I, Gavras H. 2009. Hypertension in transgenic mice with brain-selective overexpression of the alpha2B-adrenoceptor. Am J Hypertens 22:41-45. PMID: 18989257
Rosenthal T, Gavras I. 2009. Angiotensin inhibition and malignancies: a review. J Hum Hypertens. PMID: 19339998
Marketou M, Kintsurashvili E,  Papanicolaou KN, Lucero HA, Gavras I,  Gavras H Cardioprotective effects of a selective b2 receptor agonist of bradykinin post acute myocardial infarct.  Am J Hypertens 23:562-568, 2010. PMID: 20186129
Manolis AJ, Marketou ME, Gavras I, Gavras H: Cardioprotective properties of bradykinin: role of the B(2) receptor. Hypertens Res 33:772-777, 2010. PMID: 20093629