Tamar Aprahamian, PhD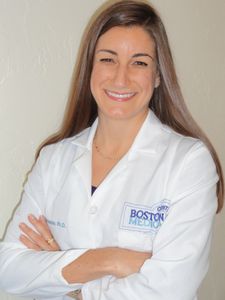 Assistant Professor
Education:
B.S. - Boston College
Ph.D. - Tufts University
General field of research:
Autoimmunity; Cardiovascular Disease
Contact information:
Office
W-507
Phone: (617)-414 3368
Keywords:
SLE; Autoimmunity; Atherosclerosis; Mouse models
Summary of research interest:
My research focuses on the interactions between systemic lupus erythematosus (SLE) and accelerated atherosclerosis. Several lines of evidence suggest that impaired apoptotic cell clearance and dysregulated inflammation play a role in the development and progression of both disease processes. Peroxisome proliferator-activated receptor gamma (PPARg) agonists exert a variety of immunomodulatory effects including the production of adiponectin, an anti-inflammatory cytokine produced by adipocytes which has also recently been shown to mediate the clearance of apoptotic material. We have recently shown that this induction of adiponectin results in beneficial effects on disease. We are currently using several mouse genetic models to further understand the effects of different PPARg agonists. In addition, we are examining the signaling mechanisms by which these drugs exert their beneficial effects.
Selected publications:
Aprahamian TR, Sam F. Adiponectin in cardiovascular inflammation and obesity. Int J Inflam. 2011;2011:376909.
Parker J, Menn-Josephy H, Laskow B, Takemura Y, Aprahamian T. Modulation of lupus phenotype by adiponectin deficiency in autoimmune mouse models.  J Clin Immunol. 2011 Apr;31(2):167-73.
Richez, C., Yasuda, K., Bonegio, RG., Watkins, AA., Aprahamian, T., Busto, P., Richard,s RJ., Liu, CL., Cheung, R., Utz, PJ., Marshak-Rothstein, A., Rifkin, IR. IFN regulatory factor 5 is required for disease development in the FcgammaRIIB-/-Yaa and FcgammaRIIB-/- mouse models of systemic lupus erythematosus. Journal of Immunology. 2010 Jan 15;184(2):796-806.
Aprahamian, T., Bonegio, RG., Richez, C., Yasuda, K., Chiang, L-K, Sato, K., Walsh, K., Rifkin, I. (2009) The Peroxisome Proliferator-Activated Receptor Gamma Agonist Rosiglitazone Ameliorates Murine Lupus By Induction Of Adiponectin. Journal of Immunology. Jan 1; 182(1):340-6.
Aprahamian, T., Takemura, Y., Goukassian, D., Walsh, K. (2008) Aging is associated with decline in clearance of apoptotic cells. Clinical and Experimental Immunology. Jun;152(3):448-55.
Takemura, Y., Ouchi, N., Shibata, R., Aprahamian, T., Kirber, M.T., Summer, R.S., Kihara, S., Walsh, K. (2007) Adiponectin modulates inflammatory reactions via calreticulin receptor-dependent clearance of early apoptotic bodies. J. Clin. Invest. Feb 1;117(2):375-386.
Aprahamian, T., Bonegio, R., Rizzo, J., Perlman, H., Lefer, D.J., Rifkin, I., Walsh, K. (2006). Simvastatin treatment ameliorates autoimmune disease associated with accelerated atherosclerosis in a murine lupus model. J Immunol. Sep 1;177(5):3028-34.
Aprahamian, T., Rifkin, I., Bonegio, R., Hugel, B., Freyssinet, J.M., Sato, K., Castellot, J.J. Jr, Walsh, K. (2004) Impaired clearance of apoptotic cells promotes synergy between atherogenesis and autoimmune disease. J Exp Med 199:1121-1131.