Joshua D. Safer, MD
Associate Professor of Medicine and Molecular Medicine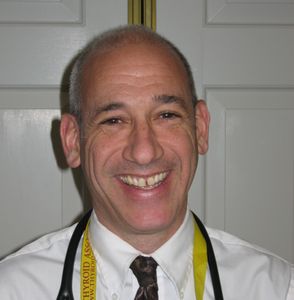 General field of research:
Manipulation of thyroid hormone metabolism in order to treat cutaneous pathologies
Affiliations other than medicine:
Evans Center for Interdisciplinary Biomedical Research
Section of Endocrinology, Diabetes, and Nutrition
Contact information:
Office
Room M-1016, Fuller Bldg
Phone: 617 414-5634
Lab
85 E. Newton Street
Fax: 617 638-8882
Other research websites:
www.bumc.bu.edu/endo/research/thyroid/
Keywords:
thyroid hormone skin thyroid hormone deiodinase triiodothyronine iopanoic acid
Summary of research interest:
Although skin is the largest organ in the body, the role of thyroid hormone metabolism in epidermal proliferation has not been investigated with rigor.  In the thyroid research unit we endeavor to establish mechanistic pathways integral to thyroid hormone action on adult skin.  The research attempts to provide possible therapeutic targets for enhancing or suppressing the proliferative response of skin in such diverse conditions as psoriasis, burn injury, and wound healing.  The laboratory has been developing a research program to demonstrate that local manipulation of thyroid hormone economy would prove a novel and cost-effective strategy for the treatment of cutaneous pathology.
Recent publications:
Safer JD, Fraser LM, Ray S, Holick MF.  2001  Topically applied triiodothyronine stimulates epidermal proliferation, dermal thickening, and hair growth in mice and rats.  Thyroid 11(8):717-724.
Safer JD, Crawford TM, Fraser LM, Hoa M, Ray S, Chen TC, Persons K, Holick MF.  2003  Thyroid hormone action on skin:  diverging effects of topical versus intraperitoneal administration.  Thyroid 13(2):159-165.
Santini F, Ceccarini G, Montanelli L, Rosellini V, Mammoli C, Macchia P, Gatti G, Pucci E, Marsili A, Chopra IJ, Chiovato L, Vitto P, Safer JD, Braverman LE, Martino E, Pinchera A.  2003  Role for inner ring deiodination preventing transcutaneous passage of thyroxine.  Journal of Clinical Endocrinology and Metabolism 88(6):2825-2830.
Safer JD, Crawford TM, Holick MF.  2004  A role for thyroid hormone in wound healing through keratin gene expression.  Endocrinology  145(5):2357-2361.
Safer JD, Crawford TM, Holick MF.  2005  Topical thyroid hormone accelerates wound healing in mice.  Endocrinology  146(10):4425-4430.
Safer JD, Holick MF.  2008  Potential therapeutic uses of thyroid hormone,  Thyroid Disorders with Cutaneous Manifestations, Heymann WR, ed.,  Springer-Verlag, London, UK  181-186.
Safer JD, Persons K, Holick MF.  2009  A thyroid hormone deiodinase inhibitor can decrease cutaneous cell proliferation in vitro.  Thyroid  19(2):181-185.
Technologies available for sharing upon request:
Wound healing evaluation