Katya Ravid
Professor of Medicine and Biochemistry
Founding Director, Evans Center for Interdisciplinary Biomedical Research
Director, BU Interdisciplinary Biomedical Research Office
Education:
DSc/PhD, Technion-Israel Institute of Technology
Post-Doc, Massachusetts Institute of Technology
General field of research:
Blood Stem Cells and Hematological Malignancies; Cardiovascular Disease
Affiliations other than medicine:
Evans Center for Interdisciplinary Biomedical Research (Medical Campus)
BU Interdisciplinary Biomedical Research Office (Charles River Campus)
Whitaker Cardiovascular Institute
Pharmacology and Experimental Therapeutics
Department of Biochemistry
BU Sargent College
Contact information:
Office
700 Albany Street, W-601
Boston, MA 02118
Phone: (617) 638-5053
Lab
700 Albany Street, W-500
Boston, MA 02118
Phone: (617) 638-5095
Other research websites:
http://www.bumc.bu.edu/evanscenteribr/
http://www.bu.edu/research/ibro
http://www.bumc.bu.edu/cardiograd
http://profiles.bu.edu/display/153632
Research group information:
Please visit: http://www.bumc.bu.edu/ravidlab
Keywords:
Megakaryocytes, Platelets, Stem Cells, Blood Cells, Thrombosis, Vascular Biology, Cell Cycle, Gene Expression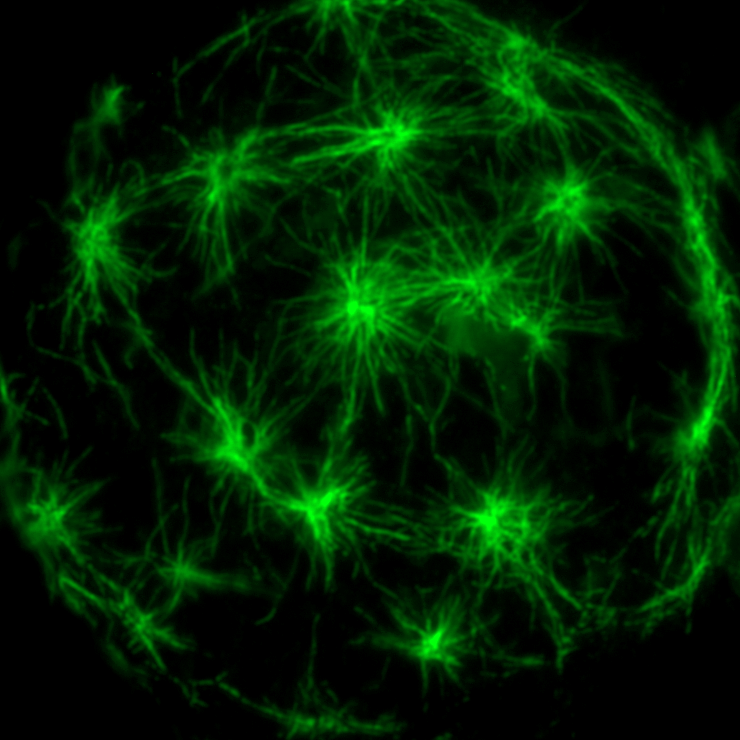 Staining of tubulin in a polyploid megakaryocyte (DJ. McCrann in Dr. Ravid's lab)
Summary of research interest:
The cells of all blood lineages arise from pluripotent hematopoietic stem cells that reside in the marrow. The bone marrow also contains stem cells of other lineages, including fat, vascular etc. Our research is focused on interrelated projects that bear on mechanisms associated with the development of blood and vascular pathologies: (1) molecular mechanisms involved in the development of bone marrow megakaryocytes into platelets, a process that includes cellular polyploidization prior to platelet fragmentation. Our laboratory identified mechanisms of polyploidy in both megakaryocyte and vascular smooth muscle cells, and found that the degree of polyploidy serves as an excellent biomarker for aging; (2) molecular mechanisms involved in bone marrow megakaryocyte control of the extracellular matrix and myeloproliferative neoplasms; (3) the role of vascular and bone marrow cell adenosine receptors in stem cells biology and vascular function. Transgenic and knockout models are used to assist in exploring mechanisms in vivo. Our laboratory was the first to identify.
Selected publications:
For an updated list, please visit: http://www.bumc.bu.edu/ravidlab