Vishwajeet Puri
Assistant Professor
Education:
M.S. (Chemistry):  Panjab University, India
Ph.D. (Biochemistry & Biophysics): IMTECH, India
Post-doctoral fellowship: Mayo Clinic and Foundation, Rochester, MN
General field of research:
Fat Metabolism; Adipose Tissue Biology; Obesity; Type II 
Diabetes
Affiliations other than medicine:
Evans Center for Interdisciplinary Biomedical Research
Section on Endocrinology, Diabetes and Nutrition, Dept of Medicine, BUSM
Contact information:
Office:
650 Albany St., Rm X-816
Phone: (617)-638 8192
Fax: (617)-638 7035
Keywords:
Obesity; CIDE proteins; Adipocyte; Triglycerides; Lipids; Metabolism
Summary of research interest:
Impairment of fat metabolism is one of the primary causes of type II diabetes, obesity and other metabolic diseases. Our future research will address a key question in human metabolic diseases: what are the molecular mechanism(s) regulating free fatty acid metabolism that further influence insulin sensitivity in humans.
We identified a novel set of adipocyte-specific proteins, Cidea and FSP27 (also denoted as Cidec in mouse and CIDEC in humans), having a potential role in fat metabolism. We have found that these proteins are associated with lipid droplets and negatively regulate lipolysis and promote triglyceride accumulation. The expression of Cidea and FSP27 in white adipose tissue positively correlates with insulin sensitivity in obese humans. Our studies have revealed that these proteins define a novel regulated pathway of lipid deposition in mouse and human adipose tissue, the data support a model whereby failure of this pathway results in ectopic lipid accumulation, insulin resistance and its associated co-morbidities in humans.
The focus of our research is to: (i) study lipid metabolism in adipose tissue, (ii) study the role of CIDE proteins in fat metabolism, and (iii) perform translational research to relate our basic biochemistry and cell biology studies with mouse and human physiology.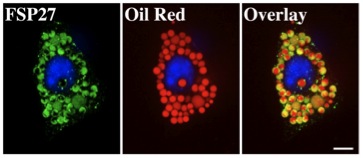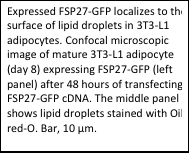 Recent publications:
Cabezas*, O.R., Puri*, V., Murano, I., Argent, J., Saudek, V., Semple, R.K., Hyden, C.S.S., Bottomley, W., Vigoroux, C., Magre, J., Dash, S., Raymond-Barker, P., Murgatroyd, P.R., V. Chatterjee, K., Suliman, S., Barroso, I., Cinti, S., Czech, M.P., O'Rahilly, S., Savage, D.B. (2009) CIDEC is required for optimal energy storage in unilocular white adipocytes in humans. EMBO Molecular Medicine. 1, 280-287.
*Co-first authors.
Puri, V. & Czech, M.P. (2008) Lipid droplets: FSP27 knockout enhances their sizzle. J. Clinical Investigation.  118, 2693-6. [PMID: 18654644]
Guilherme, A., Virbasius, J., Puri, V. and Chech, M.P. (2008) Molecular Mechanisms Linking Obesity to Type 2 Diabetes: Adipose Tissue Metabolic Dysfunctions as a Culprit. Nature  Reviews Mol. Cell Biol.  9, 367-77. [PMID: 18401346]
Puri V., Ranjit, S., Konda, S., Nicoloro, S., Chawla, A., Lin, C., Corvera, S., Perugini, R. and Czech, M.P. (2008) Cidea: a novel lipid droplet protein associated with insulin sensitivity in humans. Proc Natl Acad Sci U S A.  105, 7833-8. [PMID: 18509062]
Puri V., Virbasius, J.V., Guilherme, A. and Czech, M.P. (2008) RNAi screens reveal novel metabolic regulators: RIP140, Map4k4 and the lipid droplet associated Fat Specific Protein (FSP)27. Acta Physiologica. 192, 103-115. [PMID: 18171433]
Puri V., Konda, S., Ranjit, S., Aouadi, M., Chawla, A., Chouinard, M., Chakladar, A. and Czech, M.P. (2007) Fat Specific Protein 27: A novel lipid droplet protein that enhances triglyceride storage.  J Biol Chem. 282, 34213-8. [PMID: 17884815]
Puri V, Chakladar A, Virbasius JV, Konda S, Powelka AM, Chouinard M, Hagan GN, Perugini R, Czech MP. (2007) RNAi-based gene silencing in primary mouse and human adipose tissues. J. Lipid Research. 48, 465-471. [PMID: 17093294]
Technologies available for sharing upon request:
siRNA-based gene silencing in cultured adipocytes and various other mammalian cell types; Gene/protein knock down in primary mouse and human adipose tissue;  Adipocyte culture