Maria Trojanowska, Ph.D.
Arthritis Center
Professor of Medicine
Education:
Warsaw University, M.S.
Polish Academy of Science- Ph.D.
Institute of Biochemistry and Biophysics, Warsaw, Poland
Affiliations other than medicine:
Director, Arthritis Center
Contact information:
Office:
72 East Concord St., E-5
Boston, MA 02118
Phone:
617-638-4318
Fax:
617-638-5226
Email:
trojanme@bu.edu
Keywords:
scleroderma, SSc, autoimmune disease, vascular abnormalities, immune system, prominent fibrosis, molecular mechanisms, cellular mechanisms, pathogenic processes, tissue fibrosis, vasculopathy, tumor stroma
Summary of academic interest:
Scleroderma (SSc) is an autoimmune disease characterized by vascular abnormalities, activation of the immune system, and prominent fibrosis of the skin.  Dr. Trojanowska's laboratory focuses on the molecular and cellular mechanisms that underlie pathogenic processes responsible for tissue fibrosis and vasculopathy in scleroderma. Her second area of research is directed towards understanding of the molecular mechanisms governing activation of tumor stroma.
Fli1 deficiency – a dual role in fibrosis and vasculopathy in SSc:
Transcription factor Fli1 is a key regulator of collagen homeostasis in healthy tissues, which functions as a potent repressor of interstitial collagens and other matrix protein genes in fibroblasts. Importantly, Fli1 is an antagonist of the key profibrotic cytokine, TGFb. TGFb abrogates inhibitory effects of Fli1 through a mechanism that involves both phosphorylation and acetylation of Fli1. Expression of Fli1 is consistently reduced in the skin of patients with SSc, supporting the notion that its absence may directly contribute to activation of SSc fibroblasts and uncontrolled matrix deposition in SSc skin in vivo.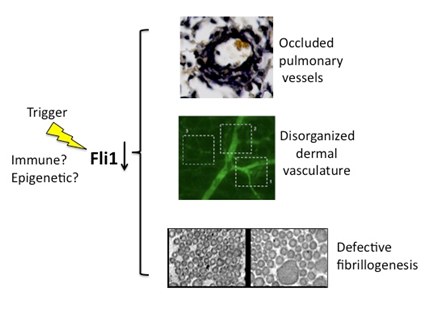 Fli1 is also prominently expressed in endothelial cells (ECs) and pericytes in healthy skin, however it is significantly reduced in SSc vessels even in the early stages of the disease (clinically uninvolved skin). Mice with the endothelial-specific deletion of Fli1 gene (Fli1 CKO) display many features of SSc vasculopathy, including hyperpermeability of dermal vessels, improperly organized dermal vascular network, microaneurysm formation, and dilation of capillaries. Furthermore, Fli1 CKO mice display exaggerated remodeling of pulmonary vessels, when challenged with hypoxia. Fli1 deficiency may provide unifying mechanism for vasculopathy and fibrosis in SSc.
Abnormal TGFb signaling in scleroderma:
While it is well established that activation of the TGFb signaling pathway is central to the process of fibrosis in scleroderma and other fibrotic disorders, the basis for the chronic nature of TGFb signaling in fibrosis remains unknown. Recent evidence from our laboratory and others suggests that activation of the noncanonical (non-Smad3) TGFb signaling pathways contributes to scleroderma fibrosis. We are currently investigating how TGFb induces profibrotic gene program via activation of the Smad1 signaling pathway. This pathway is constitutively activated in a subset of scleroderma fibroblasts. We are also interested in the molecular mechanisms underlying profibrotic function of CCN2 (connective tissue factor). Characterization of the role of noncanonical TGFb signaling in fibrosis offers new molecular targets for the anti-fibrotic therapies.
The role of sphingolipid mediators in fibrosis:
Sphingosine kinase (SK) is a lipid kinase that catalyzes formation of two bioactive lipid mediators, sphingosine-1phosphate (S1P) and dihydrosphingosine-1 phosphate (dhS1P), which signal through the G protein coupled receptors termed S1P1-6. We are interested in investigating the cross-talk between TGFb and these lipid mediators. We found that S1P and dhS1P have opposite effects on TGFb signaling with S1P exerting a profibrotic effect via activation Smad3 signaling, while dhS1P having an inhibitory effect. Tumor suppressor PTEN plays a key role in mediating inhibitory effects of dhS1P. Sphingolipid/PTEN pathway is deregulated in SSc fibroblasts.
The role of Ets factors in activation of tumor stroma:
It is now well established that stromal compartment is a critical modulator of tumor growth and progression. For the solid tumor to grow and to invade surrounding tissue, specific changes have to take place in composition of the ECM to facilitate recruitment of the microvasculature and migration of tumor cells. Specifically, the tumor stroma is characterized by the high turnover of matrix proteins. Our studies focus on two members of the Ets family, Fli1 and Ets1, which are frequently dysregulated in cancer. We investigate the role of these transcription factors in regulating endothelial-stromal interactions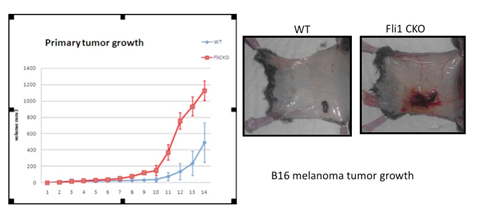 during tumor growth and tumor-induced angiogenesis. Our recent observations indicate that tumor growth and/or metastasis are significantly increased in mice with reduced expression levels of Fli1.
Publications:
http://www.ncbi.nlm.nih.gov/sites/entrez?db=pubmed&cmd=DetailsSearch&term=Trojanowska+Maria&log$=activity